What's more interesting than Neymar, the soon-to-be-challenger to Lionel Messi's throne? Nothing for us inhabitants of planet Reality, but if you're a young Brazilian girl, you might see things differently.
On Tuesday, as Santos landed at Salgado Filho Airport in Porto Alegre ahead of tonight's Libertadores clash with Internacional, a small throng of girls reportedly ditched class and braved seas of commuters to see the 20-year-old superstar. Camped out in the airport's lobby, the group (estimated at 20) were set to make Neymar the Brazilian Bieber before reality set in. When Santos's plane landed, a bus pulled up to sweep the players away. Sorry, girls – Neymar don't do terminals.
In the end, the "Neymarettes" (as Globo Esporte has loosely dubbed them) proved easily satisfied. One glimpse of their Paul transferring from plane to bus sent the crowd into raptures that evoked Beatlemania. Words used in the reporting: Screaming, crying, sobbing. In the end, Neymar waved to them. Swoon.
If there was a Penny Lane of this group, it was probably Natasha Vieira. Now 16 years old, Natasha has a tattoo of Neymar's initials on her left forearm that she's carried since Santos's Copa Brasil run in 2010. Yep, Math majors: There was once a 14-year-old girl who went trailer park-love for an 18-year-old Neymar: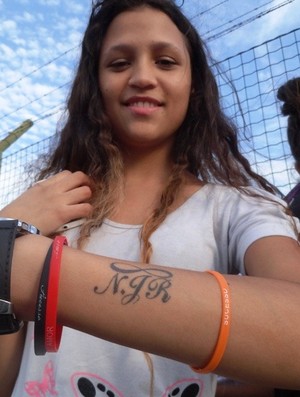 One small detail, mentioned in passing: Santos were working on set pieces in practice.