Oh, crisis schmisis! The economy can wait. This is the Champions League final!
The G8 leaders weren't all business at Camp David this weekend. Yes they are dealing with important matters of collapsing economies and a European financial structure in ruins. But, well, details, details.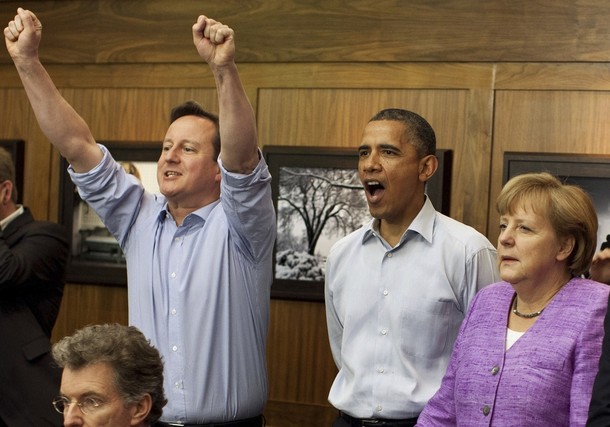 The photo pretty much says it all: That's British Prime Minister David Cameron with his arms raised in triumph the moment Chelsea's Didier Drogba tucks home a historic shot, the one that secured Chelsea's Champions League crown Saturday at Munich's Allianz Arena.
Meanwhile, you may notice the look on German chancellor Angela Merkel's face as one that demonstrates something more gloomy and doomy. If you don't recognize the look, just find your nearest Bayern Munich supporter today; they'll have the same grimace a day after the storied side's surprising loss.
President Obama? I'd classify his look as one of "excitement in a wisely neutral way."
By the way, there's a little back story here between Cameron and Merkel. Two years ago at World Cup South Africa, the two watched in unison as Germany put a proper pounding on England, opening up a humiliating 4-1 can on the Brits.