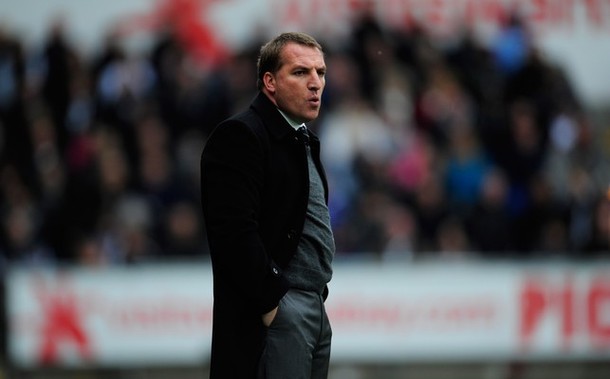 He's only 39 years old. Kenny Dalglish was 59 when he returned. Roy Hodgson was hired at 62. Rafa Benítez was 44, and Gerard Houllier was 50. While the difference between Benítez' and Rodgers' ages isn't that big, the former Swansea City manager's lack of experience makes this a big shift for Liverpool. They're going new. They're going young.
They're also going away from a man with huge playing experience to one with virtually none. Kenny Dalglish is thought by many to be the best player in Liverpool history thanks to his striking exploits from 1977-1990 (scoring 169 times). For Rodgers, a genetic knee problem ended his career just as he was leaving Northern Ireland.
At 18, he had moved to Reading, but Rodgers never played a senior game. By the time he was 20, the defender was done battling his condition in reserve games. He hung up his boots and started his second career.
In time, Rodgers became the head youth development at Reading, a job that would see him spend a large chunk of his 20s driving the English countryside trying to mine talent. While it wasn't playing, it did lead to his big break: Being lured to Chelsea to join José Mourinho.
"I like everything in him," Mourinho told the BBC last year, explaining why he sought out Rodgers to head Chelsea's academy. "He is ambitious and does not see football very differently from myself. He is open, likes to learn and likes to communicate."
His first manager's job came only four seasons ago. He took over Jay DeMerit's Watford after a slow start to the 2008-09 season had the Hertfordshire club near the bottom of England's second division. After some initial stumbles, Rodgers had the Hornets mid-table by season's end.
The turnaround earned him an ill-fated move back to Reading. Steve Coppell had just guided the Royals to fourth but left following his sixth season with the club, having failed to return Reading to the Premier League.
Rodgers' tenure would be much shorter. He lasted half a season, winning only six of 23 matches before agreeing to leave the Madejski Stadium, leaving the then-36-year-old in a bit of a managerial wilderness.
It wouldn't last. The next year, Rodgers was back in the game, moving to Wales to take over at the Liberty Stadium. It was a perfect match: A club committed to playing "progressive" soccer (as Rodgers calls it) hiring a man relishing the responsibility of implementing it.
In his first year on the job, Rodgers returned Swansea to the first division for the first time since 1983. Former Chelsea academy recruit Scott Sinclair, who Rodgers had brought to Swansea, scored three goals at Wembley Stadium to lead Swans through the Championship playoff. And in their Premier League debut, Swansea finished 11th, all the while while cementing their reputation for playing "progressive," attractive soccer.
Now, four years after making his managerial debut (and just over two years after leaving Reading), Rodgers has one of the most prized managerial positions in English soccer. It's a rise not unlike that of Mourinho's, who was steering Chelsea to its first Premier League title just four years after debuting at Benfica.
Rodgers' managerial career
Team
Tenure
Record
(W-L-D)
Win Pct.
Watford
Nov. 2008 – June 2009
13-12-7
40.6%
Reading
June 2009 – Dec. 2009
6-11-6
26.1%
Swansea City
July 2010-May 2012
43-33-30
44.8
Previous Liverpool managers (July 1998-May 2012)
Manager
Tenure
Record
(W-L-D)
Win Pct.
Gérard Houllier
July 1998 – May 2004
165-79-81
50.8%
Rafael Benítez
June 2004 – June 2010
194-79-77
55.4%
Roy Hodgson
July 2010 – Jan. 2011
13-9-9
41.9%
Kenny Dalglish
Jan. 2011 – May 2012
35-21-17
47.9%