This year, there's nobody to disappoint, except for those who think England's dangerous exactly because nobody thinks they'll do well. Ah, punditry.
There are a number of reasons people are down on England. They've lost their coach, Fabio Capello, who resigned after the England football association stripped John Terry of his captaincy. Wayne Rooney, clearly the team's best player, is suspended for two games. And, of course, there's the feeling the Three Lions weren't that good to begin with.
Drawn into an evenly matched group, those small issues may be enough to keep them from the final eight. Somebody needs to step up.
Man that matters:
Steven Gerrard: Stevie G is an England icon, but it's been a while since he played like one. Now 32 years old, the Liverpool captain has only nine goals over the last two Premier League seasons, appearing in just 39 games.
Now wearing the armband for country as well as club, Gerrrard may need to re-find his attacking form if England can offset Rooney's loss. Unfortunately, it's been 21 months since he last scored for country, and with Frank Lampard's health in doubt, Gerrard may be forced into a deeper role.
That won't dampen expectations surrounding Gerrard. Under both Roy Hodgson and Kenny Dalglish, Gerrard's had limited success influencing Liverpool matches from that deep role. Still, for England, he'll be expected to find a way. If Lampard joins Gareth Barry on the sidelines, Hodgson won't have many other options.
First-round games:
June 11: vs. France (Donetsk, Ukraine)
June 15: vs. Sweden (Kiev, Ukraine)
June 19: vs. Ukraine (Donetsk, Ukraine)
Foursome of knowledge:
So against the two toughest teams in the group, England has to play without Wayne Rooney? Those are the breaks when your best player picks up a stupid red card in the last qualifier. And it could have been worse. For some reason, UEFA reduced their customary three-match ban to two, apparently because Rooney was sorry and his opponents believed him. That doesn't exactly seem fair to Ukraine, who have to face Rooney in the third group match, but if form holds in Group D's first two rounds, that game may not matter.
That's not to say England is entirely dependent on Rooney. In fact, given the three men who could lead the Three Lions attack in Rooney's absence, England could be a somewhat scary counterattacking side. If Danny Welbeck gets healthy, he could start between Theo Walcott and Ashley Young. That will be Euro 2012's fastest attack, provided Hodgson actually picks them.
Odds are, Hodgson won't. We may see a lot of James Milner and Stewart Downing, players who will bring the defensive accountability Hodgson likes in this wide midfielders. If those two are wide of a midfield of Scott Parker, Lampard, and Gerrard, watching England could be brutal.
There'll be a distinctly Chelsea feel to the defense. Ashley Cole will start on the left, with John Terry and Gary Cahill in the middle. If you're asking why Terry was selected over Manchester United's Rio Ferdinand (supposedly left off for soccer reasons, not because he would have trouble teaming with a man, Terry, set to go on trial for alleged racial abuse of Ferdinand's younger brother), consider how choosing Ferdinand over Terry would have effected the back line's cohesion. Not to mention Frank Lampard may be playing in front of that blue-tinged defense.
Where they are going:
If England can get at least two points from their first two matches, they can get through. However, playing their two toughest games without their best player, it's difficult to pick the Three Lions to come out of Group D.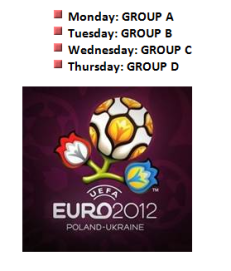 Squad:
Goalkeepers: Joe Hart (Manchester City), Robert Green (West Ham United), Jack Butland (Birmingham City)
Defenders: Glen Johnson (Liverpool), Ashley Cole (Chelsea), Gary Cahill (Chelsea), John Terry (Chelsea), Leighton Baines (Everton), Phil Jones (Manchester United), Joleon Lescott (Manchester City), Phil Jagielka (Everton)
Midfielders: Steven Gerrard (Liverpool), Frank Lampard (Chelsea), Ashley Young (Manchester United), James Milner (Manchester City), Scott Parker (Tottenham Hotspur), Stewart Downing (Liverpool)
Forwards: Theo Walcott (Arsenal), Andy Carroll (Liverpool), Wayne Rooney (Manchester United), Alex Oxlade-Chamberlain (Arsenal), Jermain Defoe (Tottenham Hotspur), Danny Welbeck (Manchester United)
ProSoccerTalk is doing its best to keep you up to date on what's going on in Poland and Ukraine. Check out the site's Euro 2012 page and look at the site's previews, predictions, and coverage of all the events defining UEFA's championship.