This team's done a 180 since World Cup 2010. At least, attitude-wise, they've done a 180.
Laurent Blanc's first priority when trying to revitalize the corpse Raymond Domenech dumped off in South Africa was a complete change of approach. The sullen leadership that sparked a rebellion at World Cup 2010 was excused from the team. It was only after the Patrice Evras and Franck Riberys worked their way back into the FFF's good graces (and none of the gloom returned) that it was clear: Blanc had turned the page on the darkest time in France soccer history.
It's helped that Clairfontaine's next generation of talent is ready to assume control of the national team. France's development academy played a key role in building the nation's first world champion. Now, it's provided the backbone of a team that's restored France's faith in the national team.
Samir Nasri, Karim Benzema, Yann M'Vila – they're good to go. The question for Euro 2012: Is the mix right? Restoring respectability is one thing. Contending for a major title is quite another.
Man that matters:
Yann M'Vila: You might know him as the man Arsenal's prepared to break the bank for, with the wildest of rumors claiming Arsene Wenger's ready to pay a very un-Arsenal $43 million to bring the Rennes midfielder to the Emirates. In Ukraine, we'll get a chance to see if he's worth it.
Ligue 1's best defensive midfielder, M'Vila will be asked to protect a central defense that could be France's undoing. There are wildly differing options of Adil Rami's first season at Valencia (having moved from Lille last summer), while Philippe Mexes brought inconsistency and a lack of fitness to Milan (from Roma). The duo is as capable of failure as success.
If M'Vila can sufficiently shield Rami and Mexes, France will not only get out of Group D, they'll challenge to win the tournament. And if that happens, M'Vila may compel Wenger to break that very small Arsenal piggy bank.
First-round games:
June 11: vs. England (Donetsk, Ukraine)
June 15: vs. Ukraine (Donetsk, Ukraine)
June 19: vs. Sweden (Kiev, Ukraine)
Foursome of knowledge:
Goalkeeper Hugo Lloris has assumed the armband for France after some expected Mexes to be given the honor. The message sent by Blanc: South Africa still matters. Lloris was one of the few core contributors to emerge from the 2010 World Cup with an (eventually) bolstered reputation. For Blanc, stability matters. Lloris can serve an Iker Casillas-esque purpose for a young France squad.
Karim Benzema and Samir Nasri were both controversially left off Domenech's World Cup team. Now, they're key components of a potent France attack that will feature has Franck Ribery, Olivier Giroud, Mathieu Valbuena and Jeremy Menez.
There is, however, a real danger Blanc will not get the most out of that attack. Chelsea's Florent Malouda could still find his way into the starting lineup, with Blanc having previously tried to get him and Ribery (both natural left-siders) into the same XI. The bigger danger, however, has been averted: Blanc held too much nostalgia for the success he had at Bordeaux and called Yoann Gourcuff into the pre-tournament camp. He's since been cut, but not before Blanc raised a number of questions about how he intends to approach this tournament.
There's one big absence could prove debilitating, especially if Blanc is trying to protect his central defenders. Arsenal right back Bacary Sagna is out with a re-broken leg (he's suffered two breaks this year). Lille's Mathieu Debuchy should be fine, but as a natural midfielder, there will always be questions. Thankfully, there are not real left wing threats in Group D. Sorry, Stewart Downing.
Where they are going:
It's a good draw for France. They play their biggest threat, Sweden, last. By then, France could have a knockout round spot sewn up, and if Blanc is aggressive in their first two games, France may only need a draw in round three. They're the group favorites.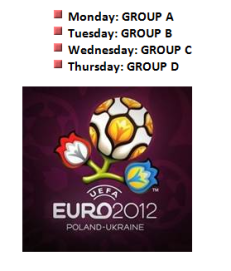 Squad:
Goalkeepers: Hugo Lloris (Lyon), Steve Mandanda (Marseille), Cedric Carrasso (Bordeaux)
Defenders: Mathieu Debuchy (Lille), Patrice Evra (Manchester United), Adil Rami (Valencia), Philippe Mexes (Milan), Anthony Reveillere (Lyon), Laurent Koscielny (Arsenal), Gael Clichy (Manchester City)
Midfielders: Yohan Cabaye (Newcaslte), Franck Ribery (Bayern Munich), Mathieu Valbuena (Marseille), Samir Nasri (Manchester City), Blaise Matuidi (Paris Saint-Germain), Florent Malouda (Chelsea), Yann M'Vila (Rennes), Alou Diarra (Marseille), Marvin Martin (Sochaux), Hatem Ben Arfa (Newcastle)
Forwards: Olivier Giroud (Montpellier), Karim Benzema (Real Madrid), Jeremy Menez (Paris Saint-Germain)
ProSoccerTalk is doing its best to keep you up to date on what's going on in Poland and Ukraine. Check out the site's Euro 2012 page and look at the site's previews, predictions, and coverage of all the events defining UEFA's championship.