Normally there would be immense pressure on a host to perform well in a major tournament, but unfortunately for Ukraine, their national team is beyond that. Their coaching situation was throw into turmoil amid a match-fixing scandal, injuries have spurred questions surrounding the team's best attacker and defender, and a Barcelona-Real Madrid-esque rivalry in the domestic league has created divisions in the national team.
At this point, Ukraine will take what they can get. In a relatively balanced Group D, that could be first. With a very small margin for error, Ukraine could also be looking at a last place finish.
Man that matters:
Andriy Shevchenko: Yes, he's still around. The 35-year-old former Milan and Chelsea striker is writing his career's final chapter back in Ukraine. He remains the national team's only consistent scorer while continuing to carry the armband.
The latter is particularly important, given the drama that's surrounded Ukraine's national team. A contentious title race between Dynamo Kiev (Shevchenko's club) and Shakhtar Donetsk (the clubs responsible for 15 of the national team's 23 members) culminated in a controversial April derby. Shakhtar won, retaining their title, with an erroneous second yellow card to Dynamo's Denys Harmash (also on the national team) heightening tensions between the rivals. Arguments between members of the national team, divided by club allegiances, have hung over the team's preparations, with Ukraine's media fearing the acrimony may have sabotaged the European campaign.
If anybody can unite the team, it's Shevchenko. The nation's other key veteran presence, Oleksandr Shovkovskiy (Dynamo's captain), was left off the team, leaving Shevchenko as the key figurehead. If he can leverage the clout acquired during his 18 years on the national team and draw on a stature built beyond Ukraine's borders, Shevchenko might be able to see the team past this turmoil.
First-round games:
June 11: vs. Sweden (Kiev, Ukraine)
June 15: vs. France (Donetsk, Ukraine)
June 19: vs. England (Donetsk, Ukraine)
Foursome of knowledge:
It remains to be seen whether Shevchenko will be 100 percent come June 11. He and defensive linchpin Dmytro Chygrynskyi (of brief Barcelona fame) are both fighting to be fit for Ukraine's first game. Even if they are in coach Oleg Blokhin's first XI, there are questions as to how much they can contribute.
Blokhin was in charge when Ukraine made the quarterfinals at Germany 2006, but only recently did he re-assume his role with the national team. The Ukraine federation had picked Metalist Kharkiv's Mryon Markevych to guide the team through Euro 2012, but a match-fixing scandal forced him out of the national team picture.
Another man that can help mend fences is Anatoliy Tymoshchuk. The Bayern Munich midfielder spent a decade at Shakhtar but has not played in Ukraine in five years. His 115 caps is the highest total in the squad. Detached from the day-to-day of the Dynamo-Shakhtar dynamic, he may be able to bring some stabilizing perspective to the team's problems.
The schedule is not kind to Ukraine, with their third match coming against England. That means Wayne Rooney will play, and by then, we should have a good idea whether Chygrynskyi and Oleksandr Kucher are capable of containing him. In Ukraine's first two matches, their defense will be tasked with slowing Zlatan Ibrahimovic (Sweden) and Karim Benzema (France).
Where they are going:
Not far. On their best day, they're still a step behind France and Sweden. With the turmoil surrounding the team coupled with their health concerns, Ukraine could be done before their final group game.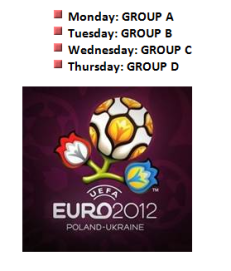 Squad:
Goalkeepers: Maksym Koval (Dynamo Kyiv), Andriy Pyatov (Shakhtar Donetsk), Oleksandr Horyainov (Metalist Kharkiv)
Defenders: Yavhen Selin (Vorskla Poltava), Yevhen Khacheridi (Dynamo Kyiv), Oleksandr Hucker (Shakhtar Donetsk), Vyacheslav Shevchuk (Shakhtar Donetsk), Taras Mykhalyk (Dynamo Kyiv), Yaroslav Rakitskiy (Shakhtar Donetsk), Bohdan Butko (Illichivets Mariupol)
Midfielders: Anatoliy Tymoshchuk (Bayern Munich), Denys Harmach (Dynamo Kyiv), Oleksandr Aliyev (Dynamo Kyiv), Oleh Husyev (Dynamo Kyiv), Ruslan Rotan (Dnipro Dnipropetrovsk), Serhiy Nazarenko (Tavriya Simferopol) , Yevhen Konoplyanka (Dnipro Dnipropetrovk)
Forwards: Andriy Shevchenko (Dynamo Kyiv), Andriy Voronin (Dynamo Moscow), Andriy Yarmolenko (Dynamo Kyiv), Artem Milevskiy (Dynamo Kyiv), Yevhan Seleznyvov (Shakhtar Donetsk), Marko Devych (Shakhtar Donestk)
ProSoccerTalk is doing its best to keep you up to date on what's going on in Poland and Ukraine. Check out the site's Euro 2012 page and look at the site's previews, predictions, and coverage of all the events defining UEFA's championship.