The Alessandro Del Piero-to-MLS rumors are about to kick into high gear. And it's about time. Del Piero's final season with Juventus ended two weeks ago, and given rumors linking the 37-year-old icon with North America have persisted since before he embarked on his contract's final season, we could do for a little more Del Piero gossip.
Earlier today, we talked about Tuttosport's latest report, one which speculates only New York and LA Galaxy are on Del Piero's radar. Now, let's go over the implications.
Del Piero in play … for big two
It's a scenario a lot of fans fear: LA and New York's spending putting the franchises on a different level from the rest of the league. For those who have fully bought into some of the level playing field rhetoric, it's like Dr. Strangelove wheeling in and blurting out that the doomsday device is possible. Based on how MLS has slowly liberalized franchise's spending restrictions, there probably aren't any refugee German scientists floating around the league's New York office.
If you're worried about the league's other teams having fewer attendance-drawing stars (and perhaps that translating into ticket sales, television ratings, local sponsorships and merchandise sales), the big two consolidating power could be an issue. Whether that problem will translate into competitive imbalance is less certain.
Before hitting bottom this year, LA had a great three-year run. It's "only" yielded one title, judging success by the number of titles is a ridiculously exclusive standard. Galaxy have been the league's best team over the league since 2009. Undoubtedly, AEG's checkbook enabled that success, but that same checkbook wasn't buying results pre-Beckham (and, in the beginning of the Beckham era). Bruce Arena, Omar Gonzalez, Donovan Ricketts and Todd Dunivant? These are not products of something that's exclusive to the AEG.
There's been even less success in New York. Despite two years of Thierry Henry and Rafa Marquez (and cameos from Dwayne De Rosario and Frank Rost), the Red Bulls have been more bust than boom. A couple of stretches of championship form have been buried beneath questions about Henry's effort (no longer as much of an issue) and Marquez's commitment (jury's still out).
And let's not forget about Toronto. Although they're big ticket items aren't as pricey as LA or New York's, they've still opened up their wallets. And what has that got them? A bunch of questions about what's going on off the field.
No doubt spending has helped all these teams, but it hasn't created an imbalance. Yet. It's also not clear that it ever will. As teams like Real Salt Lake and Seattle have shown, there are ways to fight the real big spenders.
Assessing the landing spots: New York versus Los Angeles
That might be a more difficult argument to make in a few months, because if Del Piero lands in LA or New York, he should have a big impact – big enough to upset people already upset about big two spending.
Hans Backe continues to go back to the Mehdi Ballouchy well hoping the Moraccan attacker can be the link between midfield and attack. In theory, Thierry Henry can do that (a role Henry seems more comfortable with as the years pile on), but letting Henry sit and distribute takes New York's most dangerous scorer farther from goal. While Backe will be hard-pressed to get everybody enough playing time if Del Piero signs up, at least he'll appease Red Bulls' supporters by reducing Ballouchy's time.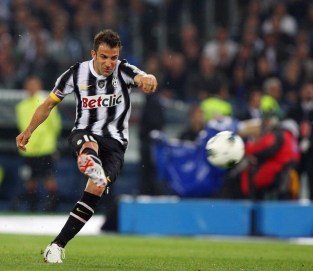 On a recent edition of the BBC's World Football Phone-In, NBC Sports' Arlo White speculated something may be brewing in New York. When asked by a caller which North American destinations made sense for Didier Drogba, White leaned on his personal intuition and the eyebrow-raising Juan Agedulo deal as reasons to think Red Bull Arena might be a landing spot for the former-Chelsea star. While the Drogba-to-China rumors have persisted (with new Shenhua coach Sergio Batista hoping to reunite Drogba with Nicolas Anelka), the logic remains the same for a Del Piero acquisition.
Red Bull also has something Los Angeles lacks: An open designated player spot. LA has Robbie Keane, Landon Donovan, and David Beckham on the books. With Frank Rost's retirement after the 2011 season, New York only has two DPs: Henry and Marquez.
That's not to say LA couldn't find room for Del Piero, particularly if Bruce Arena decides the current mix can't be salvaged. David Beckham's not going anywhere, having turned down Paris Saint-Germain this winter to stay with his family, but LA's other two stars? Either could move.
Keane is in the last year of his deal, while Donovan, having recently reaffirmed his desire to return to Everton, is in the second year of the three year deal. When he initially signed it, many felt this would be the window where MLS and Los Angeles would have to cash in, were they so inclined. Once Donovan hits the last year of his contract, his price drops dramatically . Clubs become more inclined to wait, hoping to get him for free at the end of his contact.
And as for a non-DP contract for Del Piero? That certainly would be one way to get him to LA without breaking up last year's championship-winning core. Still, file that possibility in that crowded "I'll believe it when I see it" folder.