Talking points are sparse after a U.S. team that looked kinda pooped played out a 0-0 draw in Canada – and Jurgen Klinsmann's team might have been lucky to get that. Still, we found three worthy ones:
The odd situation at left back
Edgar Castillo's surprising appearance (for Fabian Johnson, who was injured during warmups) may be fortuitous for Jurgen Klinsmann's team.
Johnson is the U.S. left back for the future, but a reliable backup is clearly required for Klinsmann and Co., and Castillo's night at BMO Field is one to inspire confidence in the young left back.
The question, of course, is why we didn't see more of this in previous matches? It makes you wonder if perhaps the moment was just too big for Castillo in those other opportunities? And it that's the case … well, let's hope that wasn't the case. Because if Castillo can only be effective when he doesn't have time to get himself twisted in knots over things, what good is that?
But for one night, at least, Castillo wasn't bad at all – not outside of 6-8 minutes late in the first half when he fumbled concentration and lost possession too easily on two or three sequences. And his tendencies along the left (cut inside rather than cross) will be sniffed out as scouting complicates the outings. (Teams don't game plan and scout as extensively for friendlies.)
He was generally sharp on the ball, putting those quick feet to good and nimble use. Castillo wasn't a bit afraid to thrust himself forward at every opportunity. He was certainly busier on offense than right back Steve Cherundolo. (Although in fairness, Cherundolo had Dwayne De Rosario to deal with most of the match.)
Finally, Castillo enjoyed a good relationship with Jose Torres along the left. (Although, again, Castillo's tendencies to funnel his runs inside sometimes clashed with Torres' desire to do the same; that can be worked out on the training ground, though.)
Clarence Goodson, clearly up for the job
I mentioned earlier today that Clarence Goodson might need to be included in more conversations as we talk about U.S. center back combinations. Tonight that sentiment should be even stronger.
In a night devoid of too many great choices, Goodson may have been the best man on the field for the United States.
Goodson, in his 29th U.S. appearance, was well-positioned, always strong in the air, smart about where he directed attackers in critical moments, solid in distribution and generally composed as the United States kept the clean sheet.
Defensively, he was big in one particular moment as Tosaint Ricketts barreled into the U.S. penalty area, past Edgar Castillo, in one particularly dicey second-half moment. Goodson did just enough to hold up Canadian striker Olivier Occean in front of goal, impeding him sufficiently to give Tim Howard room to cut out the sharp cross, but not so much as to incur referee wrath.
More USA vs. Canada
Canada 0-0 USA
Match report: It was only a friendly, but the U.S. gave a flat performance in Toronto.
---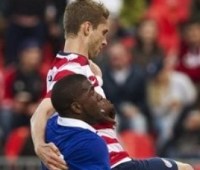 PST USMNT MotM
Did Clarence Goodson move into Jurgen Klinsmann's starting XI?
Three matches brought three different central partners for Carlos Bocanegra. It's tough to compare apples for apples here, because Brazil is surely one of those fancy, expensive green ones, while Scotland and Canada are something else.
But Goodson certainly made a good case for himself.
A muddled midfield mix
The midfield mix still just doesn't look quite right, as if the roles simply haven't been sufficiently sorted out.
Maybe it's the personnel that remains insufficient; the United States may need one more passer in the central third. Because Jermaine Jones was quite average on a night that needed better.
Sunday, Michael Bradley played deeper defensively in Klinsmann's 4-4-2. So Jones pushed a little higher up the field, attempting to link Bradley with Torres and Clint Dempsey. Only, again, he's just not fantastic at it.
(Aside: who can accuse the United States of being tactically rigid under Klinsmann? In three matches we saw a high-pressure 4-3-3, a more defensive 4-2-3-1, a 4-4-2 and by the end of Sunday's match, a 4-3-1-2, with Dempsey positioned behind strikers Jozy Altidore and Chris Wondolowski.)
Bradley is a better choice as that linking man, but that might mean Maurice Edu sitting deep, and he's not the distributor that Bradley is. Asking Jones to play that deeper, screening role is asking for early yellow card jeopardy considering his overly tenacious tackling in a position that demands prudence and selected aggression.
Perhaps using Kyle Beckerman as the holding man is an option that gets Bradley further up the field. That way, Dempsey might not need to wander so far south in order to get the ball, as he did increasingly Sunday.
There is one more way to look at all this: maybe the team was just tired, a pox which would affect the midfield as much as anywhere else. It has been a tough couple of weeks, and the U.S. legs looked spent.