U.S. Men's National Team fans better hope this doesn't become an annual occurrence, because even though El Tri played 1,450 miles from Toronto on Sunday, they still found a way to upstage the United States.
It was the same last year, when Mexico stormed back in Pasadena to claim the Gold Cup. Two years ago, an experimental Mexico side routed a trial U.S. team in East Rutherford. Now the teams don't even need to be in the same country for Mexico to trump the U.S.? This is getting ridiculous.
That's part of the flotsam from the USMNT's disappointment in Toronto, the 0-0 draw coming four hours after Mexico had defeated Brazil in Arlington. In front of 84,512 (a state record for soccer), Mexico got a fortunate opener when Giovanni dos Santos's cross-turned-shot beat Rafael. Eleven minutes later, Juan gave away a penalty which, buried by Javier Hernandez, provided the final margin. An outstanding performance from El Tri's defense kept Brazil off the scoresheet.
[youtube http://www.youtube.com/watch?v=8jYWej2SiR4]
Given the difficulties the United States had against Brazil on Wednesday, the contrast couldn't be more stark. Mexico, a team with an ascending young core, is moving on to bigger and better challenges. The United States, in transition, has its hands full against CONCACAFers struggling to qualify for World Cups.
That would be the most pro-Mexico way of looking at Sunday's results, and unfortunately for USMNT backers, it's probably not far from the truth. It would, however, be a mistake to assume the results mean the U.S. is somehow regressing. At least, it would be a mistake to assume the U.S. is regressing in a broad way (relative to  countries other than Mexico).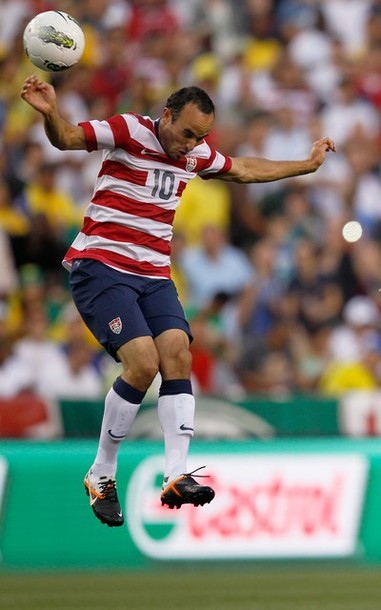 U.S. (men's) soccer culture often creates this ridiculous rhetorical gambit. It not only almost exclusively compares their national team to Mexico's but also construes it as a zero-sum game. If the U.S. is ascending, Mexico must be struggling, and vice-versa. The countries can't be improving at the same time because they define themselves in terms of each other. Right?
Of course not. As we're reminded every time Mexico plays a Brazil or Argentina, El Tri have other teams in their world view. The United States is their biggest rival and a benchmark of sorts, but it's not their only standard, a view that should serve them well as they prepare for 2014. With a collection of talent set to peak near-simultaneously, Mexico is positioning themselves to challenge for CONCACAF's first World Cup semifinal spot since 1930. Were they merely content with besting the United States, Mexico would have little hope of meeting escalating expectations.
The U.S. can't be expected to match those expectations. Anything can happen, but if USMNT fans want to compare the U.S.'s progress with what may prove to be an unprecedented time in Mexican soccer history, it will be hard to notice any progress Jurgen Klinsmann makes. The U.S. could make another World Cup quarterfinal, but if El Tri makes the final four, there'll be naive detractors who dwell on the U.S. losing ground to Mexico.
As ludicrous as that sounds, that sentiment comes for the same place that spawns this weekend's comparisons. Mexico did better in their friendly than the U.S. did in theirs, and if you feel the need to make a direct comparison, then yes, it doesn't look good for the U.S. But that sure seems like a long way to go to make a comparison which, no matter how recently the teams played Brazil, is still dependent on friendlies contested with vastly different goals. The United States is still laying its foundation. Mexico, however, is testing out a near-finished product.
At some point, it might be easier to judge Mexico and the States on their own merits. It makes more sense than continuously comparing them to each other.