Alex Morgan's "baby horse" nickname has taken hold, transcending into even the causal USWNT fanbase, though I never asked if that had anything to do with FC Dallas attacker Brek Shea.
Obviously, I was missing something: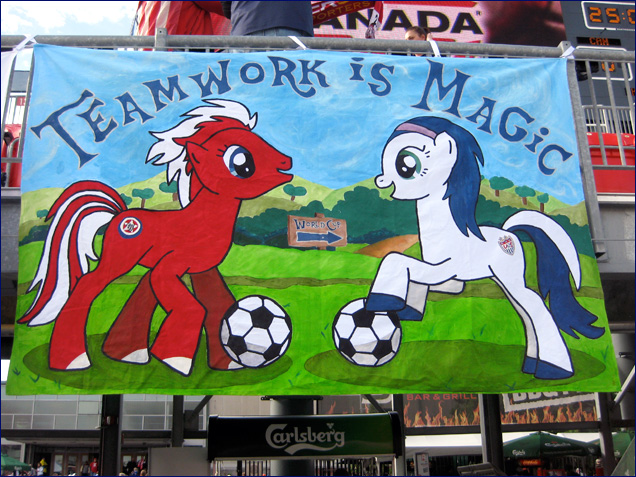 In case you're confused (and really, you should be), that's Shea (left) and Morgan as My Little Pony characters in a picture that was making the rounds on Twitter this weekend.
The logic behind this? There isn't any, but there's an explanation here. In short: A fan with too much time and an incredible imagination (and perhaps some childhood trauma) gave us something amazing.
And apparently, after some debate as to whether the idea was too crazy to see the light of day, this northeast native drove to Toronto to unveil the masterpiece at this weekend's match at BMO Field:
All of this-plus the promise of a WCQ cycle starting with an easy driving distance friendly in Toronto–added up to one thing: The silliest banner idea I've done yet. I thought about having a contest to see what would pay more: people who would pay me to do it, or people who would pay me NOT to do it. (I may actually sell this after it's been to a couple more games.) The more I thought about it, the more I just had to run with this for [stuffs] and giggles.
You were really that close to not doing this? OMG. I honestly can't remember my life before seeing it …
Though I'm not really trying.