Journalists get themselves in trouble when they overstep on pronouncements of historical importance. Truly, it's easy to get swept up in the cross currents of hyperbole and get pulled out to sea.
But I'll chance it here and say this: We stand today on the 10-year anniversary of the most important day in U.S. Soccer history.
The United States national team manufactured one of its biggest moments on this date, 10 years ago. Don't underestimate what a stunning 3-2 win over Portugal that day meant going forward.
It came in Suwon, Korea, where John O'Brien, Landon Donovan and Brian McBride scored in the first half against Portugal to open World Cup 2002. (That was surely the most shocking 45 minutes of U.S. Soccer history; that much we can all agree on, no?)
That match launched the U.S. soccer team's breakthrough quarterfinal march. (A march that ended perhaps unfairly, blunted at least partially by one notoriously incorrect decision). That was the match that started the U.S. movement beyond also-ran status in world soccer.
Don't forget, the United States was coming off a brutal performance at World Cup 1998, adjudged 32nd best out of 32 teams. They had escaped as hosts from the first round of World Cup 1994 and had been spanked like the young bucks they were at Italia '90. So, honestly, who saw this coming, this rise against the established global soccer order?
Twelve days later, another grand moment would be achieved: the 2-0 win over Mexico in World Cup elimination play. More important in the big picture, because it moved the United States into the quarterfinals and helped create critical mass in the burgeoning psychological edge over regional rival Mexico? Perhaps. It was probably a better team performance in athletic terms.
But as historic moment: that match never happens if not for the shocking Portuguese ambush in Suwon. Because, if we're honest, the remainder of the U.S. first round consisted of an underwhelming (although pulsating) draw with Korea and a full crash landing against Poland, a 3-1 loss with booboos aplenty.
So, the stunner over Portugal gets my vote.
Other "biggest moment" candidates: the day in 1988 (July 5) when FIFA awarded World Cup 1994 to the United States. Or perhaps a November day in 1989 when Paul Caligiuri carried the United States into World Cup 1990.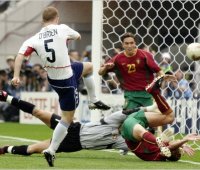 But I'll propose that June 5, 2002, was the most important date in U.S. Soccer – over the last 20 years, at very least.
The day was resplendent with Grade A performances from U.S. men, as Arena's young group, confident beyond its years, dealt a devastating blow to Portugal's ballyhooed and certainly overly confident Golden Generation.
O'Brien scored that shocking first goal after just four minutes. (He was also force in midfield ball handling that day.) Young DaMarcus Beasley, having never blinked when Arena informed him of an impending start, was a dervish, harassing Portuguese attackers and bothering the opposition with his fast feet going forward. Donovan announced himself to the world by engaging a Portuguese team that suddenly looked sluggish and slow – and perhaps irritated for being made to defend.
Tony Sanneh's one-on-one defending at right back was flawless for most of the match, and one of his bursts forward provided the cross to McBride that situated his team with a 3-0 lead. In the 36th minute!
And about McBride: what a match that man had, undressing Portugal's decorated center backs with a brilliant combination of skill, wits and American want-to.  Portuguese goalkeeper Vitor Baia couldn't hold McBride's blistering 4th-minute header off a corner kick, for instance. O'Brien was there to clean up. Later, McBride cleverly feinted toward the near post before breaking to the back, knowing exactly where Sanneh was about to drop that critical cross. And that was the 3-0 lead.
How ironic that such a momentous occasion was seen by such a precious few; that match started in pre-dawn hours. So, many sleepy U.S. fans awoke to the stunning news. Either way, the world was awake to a new player in the global game.
.
[youtube http://www.youtube.com/watch?v=dj6orSJ8JUE&w=420&h=315%5D