An early Wednesday morning tweet from the BBC's chief soccer writer summed it up: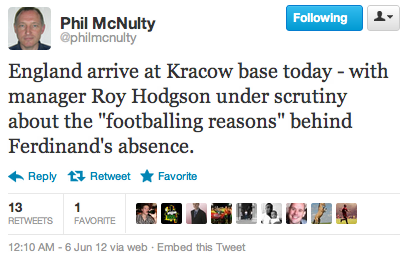 And this being Twitter, there were more than a few counterweights to those 13 retweets: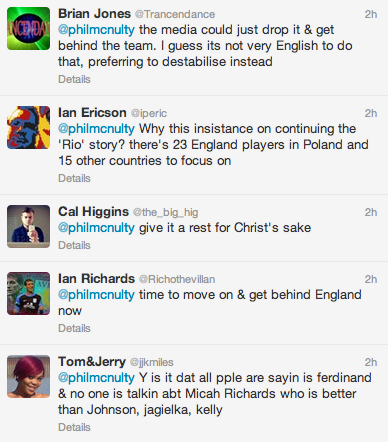 I'm just shocked that's clean enough to publish. Usually Twitter's a bit more profane.
It's a little naive to think the story should just be dropped. With England players dropping like flies (Barry, Lampard, Cahill, and now potentially Terry) the absence of one of the England's better defenders continues to be an issue. Of course, as "Tom&Jerry" notes, Ferdinand isn't the only player that could feel slighted.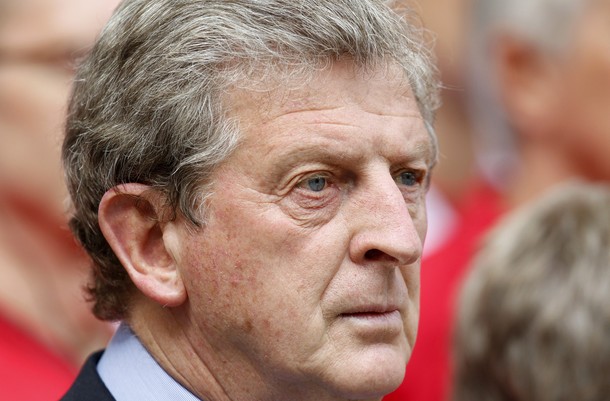 I gave my thoughts on the topic yesterday, but as with everything I've ever written, there are a couple of things I would have done differently, given the chance to Marty McFly the situation. I would have put more emphasis on Hodgson's abdication of his managerial responsibility (his unwilling to try and get England's best team to Ukraine). I would also have stressed that people like me should have spoken up before the 23-man squad was named, as it was pretty clear Ferdinand was going to be omitted. Without going on record when the squad was named, it appears slightly revisionist to suggest Hodgson should have chosen differently.
Instead of the conversation starting two weeks ago, we're now five days from England's first match, and a firestorm is igniting. Today's three pieces of evidence (so far):
England's leading anti-racism organization is about to hand down a condemnation of Hodgson's decisions. While over here in the U.S. such statements get lost in the maelstrom of spurious organizations and excessive cable news, it's a slightly more meaningful step in England.
In the Telegraph, former Manchester United, Liverpool, and England national team star Paul Ince says Hodgson is "trying to pull the wool over our eyes" by insisting Ferdinand's exclusion is for "football reasons."
Jason Roberts – active player, former Premier Leaguer who has been outspoken during England's various recent incidents – has published a strongly-worded condemnation in The Daily Mail, an article that includes a series of eye-opening statements One of the more mild: "We have already lost one generation of black and ethnic minority players who might have made a contribution as coaches, managers, administrators or in the media, and if we are not careful we will lose another one."
It's may be inappropriate to comment on another culture's issues with race when you're almost 5,000 miles away, but it's difficult to read Ince and Roberts' words and not feel Hodgson has made a major misstep. Given how hard The FA came down on Luis Suarez for his racial abuse of Patrice Evra, it's difficult to believe Hodgson's been allowed to get to this point.
Then again, where was this post a week ago? Where were all the articles and op-eds two weeks ago, when this issue should have been discussed in full? Why did we have to wait for Ferdinand to be passed over a second, third, and fourth time for it to become clear that something was wrong?
We all seemed to have this idea of Roy Hodgson as a kind, intelligent, soccer-first man who wouldn't make this kind of misstep. We didn't see Hodgson as a political person. It was impossible, given the imperfect information of the 23-man selection, to reconcile something so wrong with the image we had of England's boss.
But we still should have been talking. We should have discussed that dissonance, more fully fleshed out why the "football reasons" explanation didn't seem to ring true. At the time, we all felt that "football reasons" was thin, yet we moved on, apparently eager to get to our Czech Republic and Ukraine previews.
There are some issues where Hodgson's earned the benefit of the doubt, but given Terry's tumultuous history (and the videos that are out there documenting what was said to Anton Ferdinand), this was not one of those issues. And yet, unless you feel he's acted maliciously, it's impossible to not feel sorry for Hodgson, who finds himself embroiled in controversy before his first competitive game, having been on the job for barley a month. In all likelihood, he's only tried to do what he thought was best for the team, however misguided his decisions now seem.
But better late than never, this issue is finally being discussed in a meaningful way. If we learn our lesson and become determined to not put tough topics off, the next issue on the agenda will be determining how a world's worth of reporters, columnists and bloggers dropped the ball.
ProSoccerTalk is doing its best to keep you up to date on what's going on in Poland and Ukraine. Check out the site's Euro 2012 page and look at the site's previews, predictions, and coverage of all the events defining UEFA's championship.