This one fell under our radar, given we were concentrating on one, major Sunday story. That same day, Borussia Dortmund took a major step to solidifying their place as a European power, though Mats Hummels' contract extension was not reported that way.
Hummels, who was on a deal that ran through the 2013-14 season, signed a three-year extension with the two-time defending Bundesliga champions. Had he road out the upcoming season and entered the last year of his deal, he likely could have forced a move to whichever club he wanted (as a former teammate did on Tuesday). Given Hummels' growing reputation, he'd be welcomed at any club. Not only is he Germany's best defender, his combination of skill, size, and strength mean he could play in any system, with any style.
That's why Dortmund coach Jurgen Klopp was so delighted to keep the 23-year-old.
"Mats could easily have left for other European clubs but instead he opted for Borussia, which I am delighted about," Klopp said to AFP.
Hummels said the deal was a no-brainer.
"I didn't hesitate when the club proposed extending the contract, after all the success we have enjoyed and the huge amount of pleasure I have got out of it," he said.
Contract extensions for notable players aren't exactly rare, and we've highlighted very few on this blog. So why take time to breakdown this one?
Because keeping players like Hummels is the key to Dortmund cementing themselves as a new European power. With two straight Bundesliga titles, they're undoubtedly a German power, but finishing bottom of their group on their return to Champions League, BVB still lacks a continental profile. Players could still justify career-progressing moves to clubs with more established records of European success.
It creates a Catch-22. In order to establish that reputation, Borussia Dortmund needs to keep elite players, but until that reputation is established, Borussia Dortmund could have trouble keeping players.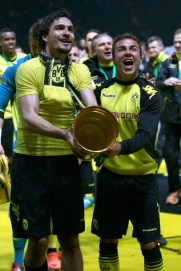 At least, that was the thought going into last season, the first campaign Dortmund had to deal with their new-found success. If BVB didn't do well in Champions League, they may have to sell players to teams profiling as Champions League winners. Mario Goetze, Shinji Kagawa, Marcel Schmelzer, Sven Bender, Ilkay Gundogan, Kevin Grosskreutz, Neven Subotic and Robert Lewandowski: all in their early 20s, all key components to BVB's success; all potential targets for Europe's big boys.
Yet here we are, six months after Dortmund flamed out of Champions League, and they've been able to re-sign Hummels. Not only did they re-sign him, they have him under contract until 2017. Hummels agreed to more than just a one-year, customary, statement extension. He committed to the club.
True, Kagawa's gone to Manchester United, but with Marco Reus arriving from Borussia Moenchengladbach, he was expendable. Dortmund's going to be able to take the $25 million profit they made on the Kagawa sale and put it toward wages that will keep their core together.
And with Hummels' signed up, it will be that much easier to keep the rest of the group around. Now, there is a guy who's make the leap. And it's not just any guy. Hummels is arguably the most important member of the group.
That's why Hummels' new contract is more than your run of the mill extension. The defender's new deal should render Dortmund's Catch-22 irrelevant. Now that Hummels has committed, BVB may not need a Champions League breakthrough to keep their core intact. The club can go to their stars and say Mats made this commitment to us, we're willing to make this commitment to you, and you should feel good about the fact that we're going to keep this team together.
And if BVB does keep this team together, we could, over the next few years, finally see another team build to that Real Madrid, Barcelona-level of greatness.