TAMPA, Florida – Trusty captain Carlos Bocanegra will surely patrol his usual beat, left center back, as World Cup qualifying opens here.
But picking Bocanegra's partner looms as one of Jurgen Klinsmann's crucial decisions ahead of Friday's meeting with Antigua & Barbuda – if "crucial" is a word we can use when talking about tiny Antigua & Barbuda, a two-island speck on the CONCACAF map. But never mind that; this is World Cup qualifying, a.k.a. "business time."
Three tune-up friendlies saw three different central partners for Bocanegra. The choices are hardly dire; this isn't U.S. left back circa 2008. It's just that none are "go-to" guys ideal for the part. The case files for and against Klinsmann's trio of choices:
Geoff Cameron: Klinsmann kept talking up the Houston Dynamo man, doing so even after pulling Cameron from the starting lineup after his night against Scotland. That evening included an own goal and a couple of the occasional positioning blips that we sometimes get from Cameron. His instincts as a center back, not quite honed to an international edge after all those years in the midfield, sometimes nick him.
But if Cameron can get a handle on that, he's got everything else Klinsmann could want in a center back: range, adequate speed, long legs perfect for dislodging and disposing, aerial ability, and toughness. What he has most: ability to pass as sharply from center back spot as anyone in the U.S. player pool this side of Tim Ream.
That ability to move the ball forward, quickly and precisely, might be just what the U.S. needs against teams that sit back in heavy numbers – and a lot of that is out there in qualifiers ahead.
All three men can pass; Cameron is the one who passing might actually constitute a threat.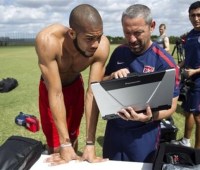 Oguchi Onyewu: Was he just a victim of unfortunate timing? The big U.S. center back had the toughest assignment of the trio, attempting to corral the quick-footed and quicker-thinking Brazilians. So perhaps it's little wonder that he looked beyond his element alongside Bocangera during last week's 4-1 loss to the five-time world champs. The problem, of course, is that last week's wobble wasn't unfamiliar. I count just one good start from Onyewu (last fall against Ecuador) since that devastating knee injury late in 2009.
That's coming up on three years now. So perhaps we ask a lot for Onyewu to stride confidently into the breach at highest level right now. Clearly, Brazil (even its slightly watered down version) is tha game at "highest level."
For now, perhaps Onyewu's best use falls under "spot starter," strategically deployed against opponents who rely on a bigger, powerful striker, a la Panamanian frontrunner Blas Perez. "Young and fast" just is a good pairing for Onyewu at present.
Clarence Goodson: Last week I asked Alexi Lalas, a former U.S. center back, why Goodson doesn't garner more mentions in conversations of potential U.S. starters. (This was before Goodson's first XI appearance Sunday against Canada.)
Lalas' best guess: doubts perhaps linger because Goodson has yet to play club ball at elite level. His league games in Denmark aren't hamburger, but they aren't Grade A prime, either. And that makes some sense as a theory, helping explain why Goodson may need to consistently do more just to tread water in the depth pool, to stay even with someone like Onyewu, whose resume is dotted with better club addresses.
I agree with Lalas about the perception that Goodson hasn't played "big boy soccer," but it's misguided. Because games in the Danish Superliga aren't that far behind games in Scotland or Portugal. And I doubt they'd play second fiddle in quality to MLS.
Klinsmann may not believe so either, especially after Sunday's Man of the Match evening from Goodson against a motivated Canadian team, one that always seems to bring its best against the United States.
If Klinsmann is just evaluating each man's 90-minute sample over the last two weeks, it looks like a fairly simple call: it's Goodson on Friday in Tampa as World Cup qualifying for 2014 begins.