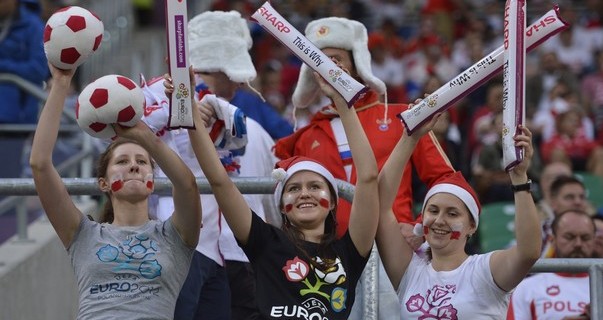 How we'll remember …
Poland 1, Greece 1: A host nation comes out and dominated for 30 minutes, getting some help from an official with a very short leash. Despite this and a half of exhibiting the capabilities of their Borussia Dortmund-based trio, Poland lets Greece back into the match and, half-way through the second half, needs a substitute goalkeeper to come off the bench to preserve a draw after their one English Premier League player sees red.
Russia 4, Czech Republic 1: This was the day that Alan Dzagoev became known west of the curtain. Two goals from the 21-year-old went a long way to setting up another quarterfinal match up with the Dutch. The star beyond the scoresheet? The Russian Prince: Andrei Arshavin. The Zenit star used Euro's opening day to remind the world he's still quite good.
Team of the Day
G: Vyacheslav Malafeev, Russia
LB: Yuri Zhirkov, Russia
CB: Sergei Ignashevich, Russia
CB: Aleksei Berezutskiy, Russia
RB: Lukasz Piszczek, Poland
DM: Igor Denisov, Russia
M: Roman Shirokov, Russia
M: Kostas Katsouranis, Greece
LW: Andrei Arshavin, Russia
RW: Alan Dzagoev, Russia
F: Dimitris Salpingidis, Greece;
Subs: Robert Lewandowski, Poland, Przemyslaw Tyton, Poland; Vaclav Pilar, Czech Republic
Three lessons to take home
1. Goalkeepers wanted – Three of the day's four starting goalkeepers had horrible days:
Wojciech Szczesny misread the ball that led to Greece's goal (then got sent off);
Kostas Chalkias gave himself no chance to stop Poland's goal; and,
Petr Cech got beaten four times, and a couple of the goals were preventable.
If there's one position that's most susceptible to big tournament pressure, it's goalkeeper (though Aleksandr Kerzhakov made his case for striker). Who knows if that happened today.
Cech, in particular, would have wanted to put in a better performance. The last time he played in this competition, his error saw the Czechs out of Euro 2008.
2. Don't look a gift horse – Poland had so much going for them in the first half and then let up. They completely abandoned building down the right, a tactic Greece never dealt with well. Between that and how the Polish defense was exploited in the second half, the co-hosts seemed naive with their advantages, both on the scoreboard and in manpower.
3. From Russia, with love – The Russian national team and Zenit St. Petersburg raised their country's profile in 2008. Today, they re-raised it, with a national team that inherited Zenit's backbone breaking the Czech Republic. The fluidity and directness they showed in attack portrayed a veyr well-prepared team. How much the Czechs contributed to that, we'll find out on Tuesday.
Group A "Power" Rankings
1. Russia – They're now more than just Group A favorites. They're sitting in that second tier of favorites with France.
2. Poland – It's a disappointing start, but when you ask which of them or Greece is more likely to succeed going forward, Poland at least showed (for 30 minutes) they can be a dangerous side.
3. Greece – They controlled the second half. If you're a coach preparing for Greece, you spend three days hammering home one message: You can not take these guys for granted.
4. Czech Republic – Get out Roy Hodgson's ropes and tie that defense together. And while you're at it, bring somebody who can break up play in transition. It looked like whomever was controlling them put the game on expert mode for the first time.
Crystal Ball – What Needs to Happen
Group A resumes play next Tuesday:
Greece and the Czech Republic face each other in a what, for the Greeks, is must win game. They can't go into a final match with Russia holding only two points (or less) when Poland and the Czechs play each other to close group play. The Czechs, however, have some major work to do ahead of Tuesday. Based on today's performances, Greece should feel good about getting full points.
In Tuesday's second game, Russia takes on the co-hosts. Poland needs to get back to using the right side of their attack and commit to putting pressure on Yuri Zhirkov (and push back Andrei Arshavin). If they do that, Poland will win. If they don't, Russia will clinch a spot in the quarterfinals. I like Poland's chances to throw this group back into turmoil.
PST's Euro 2012 "More Powerful" Rankings
1. Germany
2. Spain
3. Netherlands
4. Russia
5. Croatia
6. France
7. England
8. Sweden
… and PST's Player of the Tournament Wunderlist
1. Alan Dzagoev, Russia
2. Andrei Arshavin, Russia
3. Roman Shirokov, Russia
ProSoccerTalk is doing its best to keep you up to date on what's going on in Poland and Ukraine. Check out the site's Euro 2012 page and look at the site's previews, predictions, and coverage of all the events defining UEFA's championship.