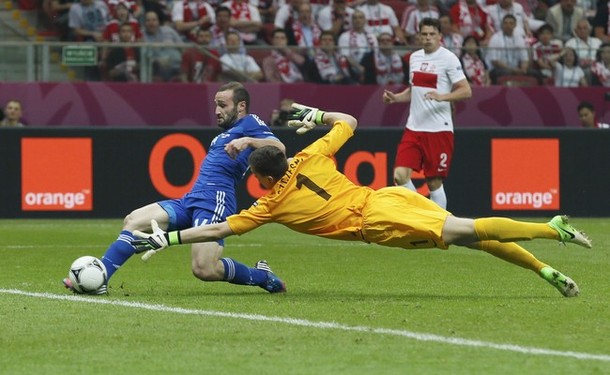 Man of the match: It was a curious halftime substitution, Greece bringing on a forward for somebody who could play midfield (after going a man down). Fernando Santos obviously knew his team well, because veteran Dimitris Salpingidis was the right move. In the 51st minute, Salpigidis poached an equalizer, and midway though the second, he won a penalty kick and red card, evening the numbers.
NBC Sports: Poland held by Greece as two sent off
As it happened: Monday's action from Euro 2012's opening night
Packaged for takeaway:
What a disappointing result for Poland. You come out, dominate the first half hour, and take a one goal lead into half time with a man advantage. Then not only do you fail to get full points, you're lucky to get one after a penalty kick isn't converted.
Experience is largely overrated (and overused, but commentators). Tonight, it really seemed to matter. Poland seemed naive in the second half, never working to put the game away when they had control. Greece, on the other hand, overcame their disadvantage and, by full time, were clearly the better side.
After the first half hour, it was clear Poland had three advantages, none of which they used in the second half:

Greece couldn't handle the right side of Poland's attack. Robert Lewandowski would come back and play forward to Jakub Blaszczykowski and Lukasz Piszczek (all Borussia Dortmund players). The combination was almost never stopped and produced Poland's only goal (a first half header from Lewandowski from a Kuba cross). In the second half, Poland only threw Piszczek forward once.
Poland was dominant on set pieces in the first, but in the second, they never pressured the Greece defense enough to earn more opportunities.
And twice in the first half, Poland had jailbreak counter attack chances. Greece played too deep in the second to concede any counters.
Aside from Przemyslaw Tyton's penalty kick save (becoming the first substitute `keeper to save a kick in the tournament), the goalkeeping was terrible. Kostas Chalkias took himself out of position on Lewandowski's opener, while a meek decision poorly executed left Wojciech Szcesny's goal open for the equalizer. Szczesny also got himself sent off after he took down Salpingidis. Normally you'd saw Poland will miss him, but as bad as he was today (with little to do), they probably won't.
As Gareth Southgate would later point out, Giorgios Karagounis had a ton of time to wait before the penalty kick. Tyton was allowed a lot of time to come on after Szczesny's unexpected sending off.
It bares repeating: Poland abandoning the advantages they had down their right was ridiculous. The three best players on the field were Lewandowski, Blasczcykowski and Pisczcek, none of whom were a factor in the second.
Instead, Poland's defense nearly gave away the game. Central defenders Damien Perquis and Marcin Wasilewski were continuously beaten by passes chipped over their head, while left back Sebastian Boensich kept Salpingidis onside on the play that saw Szczesny sent of.
Greece deserves a lot of credit, though. At halftime, I said Fernando Santos's first priority needed to be keeping this a one goal game, the idea being Greece had little chance to advance should they leave the match with a -2 difference. Instead, Santos helped orchestrate an unexpected point.
But neither of these teams look like quarterfinal material. Group A is weak, but it's not weak enough for the two teams we saw today to advance. Both teams need improved defenses before they take the field again on Tuesday. And it needs to be made clear to Poland's players: They have to put in 90, not 30, minutes.
ProSoccerTalk is doing its best to keep you up to date on what's going on in Poland and Ukraine. Check out the site's Euro 2012 page and look at the site's previews, predictions, and coverage of all the events defining UEFA's championship.