TAMPA, Fla. – You know how a dog cocks his head to the side when he's perplexed, when he can't quite figure something out, seeking additional information before deciding whether to wag on or to chomp?
That's been me for the last few days, leaning my head sideways, straining to figure out what's happening with Jozy Altidore (pictured right, with Jurgen Klinsmann).
There's something there. I just can't …quite… figure… out… what?
Count me among the punditry who assumed some sort of U.S. striking arrangement this summer that included Altidore and Clint Dempsey, both coming off outstanding European campaigns.
But along came Herculez Gomez, who was scarcely on the national team radar in January, but who rose dramatically through a spirited and prodigious spring. And along came Terrence Boyd, the Borussia Dortmund German-American who has been such an impressive go-getter.
And those two fellows are on it.
They've both impressed Klinsmann, bringing the workload, the belief, the want-to and the hell-bent desire to improve into every single training session. So I've been told, anyway. And listening to Jurgen Klinsmann talk, I believe it.
Meanwhile, there was this unpleasant matter of Altidore's club, AZ Alkmaar, refusing to let their young striker join the Americans a minute before the FIFA mandated date. Altidore was away from team training about three weeks, joining the U.S. camp eight or nine days later than most teammates.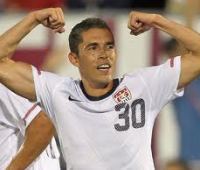 Still, there was something I couldn't finger. Altidore told me he was working out the entire time. Training alone and team training is apples and oranges; I get that. But it's not like the guy was lolling around, eating Frosted Flakes from the box all day.
"That's a pretty long gap for not training with a team, not doing three training sessions a day like we did in Orlando and this is what you see then," Klinsmann told a small group of us Friday night. "You can see it in every training session that he was behind, and we help him, and we'll work on it.
"He's working hard, and he's positive about it. But then you have somebody else, like Terrence Boyd and Herculez [Gomez, pictured above] against Brazil. They used their chance, they made a very strong case for themselves and the competition is open. It's an open competition.
"It's always about the moment. How do you present yourself right now, not how you present yourself two weeks from now. It's about today, so we need to evaluate, as coaches, where they are right now and make the best decision for the team and for the purpose of getting results."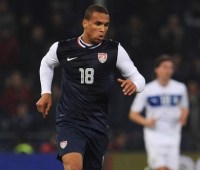 Read between the lines there. I had asked Klinsmann about Altidore. And there he was again, telling us about Gomez and Boyd (pictured left).
I think maybe that's it. Altidore had a great season in Holland; no one around here is disputing that. But he's still got something to prove to Klinsmann. He still needs to demonstrate that nothing-else-matters hunger, that "all in" approach that Klinsmann had as a player – that he's working so hard to pound into his players.
Right now, it just looks like Gomez and Boyd are getting it – a little faster than Altidore, perhaps.