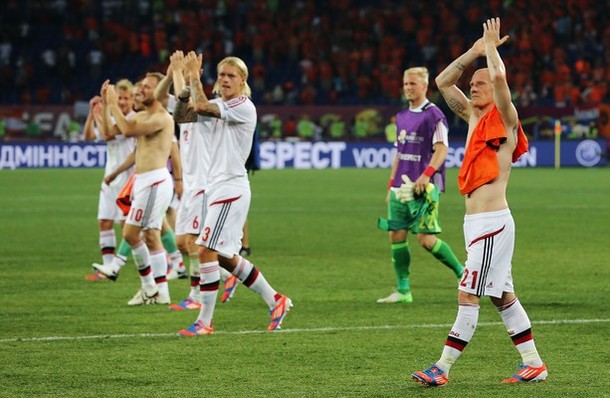 How we'll remember …
Denmark 1, Netherlands 0: Just one of those games where the inferior side grabs a goal and holds on for dear life, though that memory won't be fair. The Netherlands' lack of ambition was the defining quality of the first half hour, and their lack of urgency while chasing the match portrayed a team that didn't realize the stakes. Years from now we might look back and ask "why," but if you watched today, you'll know: The Dutch never looked like a team that needed a goal. Denmark, on the other hand, perfectly executed their best chance and rode some luck.
Germany 1, Portugal 0: This game was only scarcely less mundane than the scoreline. We'll remember Germany won and how they won, but nobody's soccer life will be compromised if they forgot it all together. Portugal played very conservatively, and while they occasionally played for an opening goal (particularly early in the second), they would have been content to let the match end as it started. Sitting, waiting, they gave Germany time to implement a Plan B, one that relied almost exclusively on crosses from the right. And one of those crosses eventually decided the match.
Team of the Day
G: Stephan Andersen, Denmark
LB: Simon Poulsen, Denmark
CB: Bruno Alves, Portugal
CB: Mats Hummels, Germany
RB: Joao Pereira, Portugal
DM: William Kvist, Denmark
M: Sami Khedira, Germany
AM: Wesley Sneijder, Netherlands
LW: Michael Krahn-Dehli, Denmark
RW: Thomas Müller, Germany
F: Mario Gómez, Germany
Subs: Miguel Veloso, Portugal; Mesut Özil, Germany; Holger Badstuder, Germany
Three lessons to take home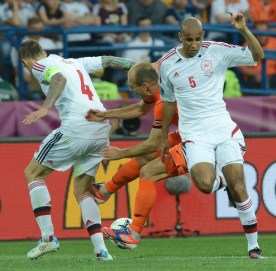 1. Games are defined by moments – Well, perhaps not every game is defined by singular moments, but today's were.
Denmark's moment came early, with left back Simon Poulsen's run that opening up the Netherlands' defense, creating Michael Krahn-Dehli's winner. For all the possession and chances the Dutch ranked up, they never matched that moment. Nobody seized play and created something that could not be denied, as much as Wesley Sneijder tried.
You can just imagine Bert van Marwijk sitting on the sideline, frustrated, thinking "At some point, these guys are going to have to do something. I've put them in a position to control this game, but somebody has to want to do it."
At some point, the Dutch players just needed to perform.
For Portugal, the moment went against them. They defended much better than Denmark (who gave up a number of good chances), but when Mario Gómez got matched up on right back Joao Pereira at the end of a Sami Khedira cross, Germany's striker decided the game, perfectly placing a header inside Rui Patricio's right post.
They were isolated instances. Krahn-Dehli's chance, Gómez's header – they were singular opportunities for those players to affect a result. Nobody from the Netherlands or Portugal stepped up to do the same.
2. Don't fight on two fronts – The terrible part about this lesson is there's no way to prove it's true, but as we alluded to in today's preview, you couldn't help but think all the talk coming out of the Netherlands' Friday training session could be a distraction. If there was racial abuse lobbed at Dutch players, it's very hard to suggest they just get past it an concentrate on the game. How do you tell a man that's how he should feel?
Regardless, Bert van Marwijk seemed concerned. He tried to downplay the incident, ended up giving an account that contradicted Mark van Bommel's, but couldn't kill the issue. Once van Bommel had put the story center stage, it was something to deal with, not avoid.
Normally, I don't buy into these types of explanation, especially when there's no way to prove it. Usually you say "these guys are professional athletes, they're used to this," but in this case, it was the professional athletes stepping up, declaring this a concern. Was it a concern that would influence their Saturday result? Nobody said that, but when Mark van Bommel starts talking to the press about it in a way that represents the views of his teammates, you know it's at least on their minds.
Who knows if it played a part in Saturday's result. Even if a player suspects it did, his view might just be a post hoc justification – an easy way to explain why the team failed.
Regardless, taking on two opponents at once can't help. The Danes showed they were just good enough to win. If the Netherlands' last training session hadn't been defined by something other than Denmark, would they have performed better on Saturday? Unfortunately, there's no way to prove it, but it couldn't have hurt to have one less thing to worry about.
3. It's one win. That's all. – Even though Denmark got three points, they've still got Portugal and Germany on the schedule. The three they got today may be their last, if they let up. Morten Olsen's biggest task over the next two days will be making his team forget about Saturday.
The Danes have every reason to believe the success they've had against Portugal (2-1-1 in their last four competitive matches) will carry over to Wednesday. If they let the Netherlands result or their quarterfinal prospects distract them from what made them successful against the Seleccao, they'll essentially be giving back the three they took from the Dutch.
For Germany, it's almost the opposite. True, they have the Netherlands on Wednesday, but Joachim Löw's goal is winning the title. What does he need to go to get Germany to where they can win on July 1? Because while today's performance was nice, it wasn't one that would win the tournament. Germany has work to do.
Group B "Power" Rankings
1. Germany – Clearly the class of the group.
2. Denmark – Four days from now, they could be in the quarterfinals. And, they can play much better than they did today.
3. Netherlands – The loss goes beyond mere first match disappointment. Denmark's got the tiebreaker on them now, something the Netherlands can't even think about until they deal with Germany on Wednesday.
4. Portugal – Losing to the Germans wasn't a surprise. That they played so conservatively wasn't a shock, either. The question is whether Portugal can change gears and score enough goals to get out of this grou. They're only scored once in their last four matches.
Crystal Ball – What Needs to Happen
Group B resumes play next Wednesday:
Portugal and Denmark shared qualifying groups for World Cup 2010 and Euro 2012. The Seleccao won only one of four, with the Danes winning the last time the teams met (in November). Wednesday's game will be different, though. It will be on a neutral site, in a major competition. It's debatable how much qualifying's experience will influence Wednesday's game.
If Portugal employs an approach similar to what we saw against Germany – using Ronaldo and Nani to attack Poulsen and Lars Jacobsen – they could reverse qualifying's trend, particularly if their middle three can keep Christen Eriksen silent. That middle three is also going to have to provide a little more support for their attackers, but that was probably already in Paulo Bento's plans.
Then comes the big game: Netherlands against Germany. Expect both teams to play much better than they did today, but you have to worry about the Netherlands' fullbacks – Gregory Van der Wiel and Jetro Willems – particularly given Germany's willingness to play very wide.
Van der Wiel had a difficult time against Denmark. Thankfully, Philipp Lahm might be occupied by Arjen Robben on Wednesday. On the other side, though, the 18-year-old Willems will be tasked with containing Müller as well as making the correct choices when Mesut Özil drifts into the space. It's asking a lot of a young man whose club career is comprised of 36 Dutch league appearances.
PST's Euro 2012 "More Powerful" Rankings
1. Germany (–)
2. Spain (–)
3. Russia (+1)
4. Croatia (+1)
5. France (+1)
6. Denmark (NR) – Recent history hints they should be favored against Portugal. A win there likely puts them into the quarters.
7. Netherlands (-4) – A loss is a loss. We may think they're better than this, but look on the horizon: That Germany match. Lose that, and they're out.
8. England (-1)
… and PST's Player of the Tournament Wunderlist
1. Alan Dzagoev, Russia
2. Andrei Arshavin, Russia
3. Simon Poulsen, Poland
4. Roman Shirokov, Russia
5. Dimitrios Salpingidis, Greece
6. Wesley Sneijder, Netherlands
7. Michael Krahn-Dehli, Denmark
8. Mario Gomez, Germany
9. Thomas Muller, Germany
10. Lukasz Pisczcek, Poland
ProSoccerTalk is doing its best to keep you up to date on what's going on in Poland and Ukraine. Check out the site's Euro 2012 page and look at the site's previews, predictions, and coverage of all the events defining UEFA's championship.