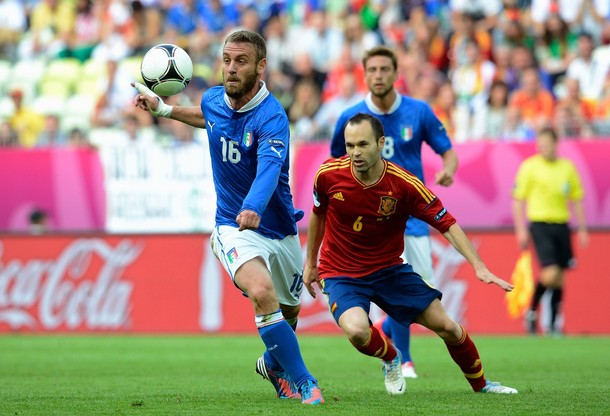 Man of the Match: Andreas Iniesta was just on another level. There were so many small instances where he showed himself as clearly the best player on the field. It's hard to pick out one or two, and given how subtle and mundane each instance was, the few I could pick out would surely understate his brilliance.
Every time Iniesta got the ball, he moved with a directness and intent that consistently threatened the Italian defense. He had not trouble beating one, two men off the dribble before finally having to give up the ball in the penalty area.  He teamed with David Silva and Cesc Fabregas to produce almost all of Spain's significant chances, and the work he did off the ball guaranteed him constantly getting touches.
NBC Sports: Italy earns tie with defending champs Spain
Packaged for takeaway:
The match was amazing, if subtly so. Italy was well organized and found ways to constantly challenge Spain, keeping the favorites from bearing down on them. Spain incessantly asked questions but just couldn't find the right combinations to unlock the Italian defense.
The buzz prematch surrounded Spain going without a striker, through the choice was barely noticed. Cesc Fabregas came in where David Villa might otherwise be, but Spain employed the same, short passing, possession, movement-based approach. It's been a while since Villa played like a traditional striker, with the national team gravitating more and more toward Barcelona's tactics. Today was just an extension of that.
It was Barcelona except Del Bosque still insisted on using both Sergio Busquets and Xabi Alonso. Alonso was superfluous, yet as Spain spent the last half hour looking for a winner, he stayed on. Between that choice and bringing on Fernando Torres for the last 20 minutes (more on that, later), I'm convinced Vicente Del Bosque is either a Liverpool fan or Rafa Benítez's uncle. At this point, it's a reasonable suspicion.
Spain's best tactic was building through Iniesta on their left, avoiding the side defended by Giorgio Chiellini (with Thiago Motta in front of him) while targeting Leonardo Bonucci, Christian Maggio and Claudio Marchisio. Daniele de Rossi, dropped into a back three for the game, was called on a number of times as Iniesta and Silva picked the side apart.
The approach had the unfortunate consequence of marginalizing Jordi Alba. All the building on the left blocked Alba's runs from left back. When Del Bosque brought off Silva for Jesus Navas (who played right wing), Alba came alive, his flank opened up.
On the other side, it seemed Spain missed Sergio Ramos at right back. Alvaro Albeloa (another former Liverpool man) was adequte, but he provided nothing going forward. The one time he ventured into attack, he put a cross out for a goal kick. With David Silva naturally cutting inside, that flank is wide open. Ramos could take advantage of it. Arbeloa can not.
But let's not get ahead of ourselves. Italy didn't just sit back an let themselves be picked apart. With Antonio Cassano and the center of all their first half changes, Italy hit intermission having come closer to an opener. Cassano created three chances (two by taking on Alvaro Arbeloa), drew a foul that led to a Andrea Pirlo crack at Iker Casillas's net, and put two shots of his own on goal.
Italy eventually found an opener, but Cassano wasn't involved. Spain broke down on multiple levels, allowing Pirlo to carry a ball from deep to the edge of the attacking third, where he let go of a pass that beat Gerard Pique, allowing substitute Antonio Di Natale to run onto a go-ahead goal. Either Pique and Sergio Busquets, who allowed Pirlo to dribble around him, could have prevented the goal.
Spain responded two minutes later with Iniesta playing a ball to Silva, who turned near the arc and found Cesc Fabregas sprinting through the Italy defense. Fabregas buried an equalizer and, from then on, Spain was largely the more dangerous side (save a late chance for Claudio Marchisio).
Within seven minutes, Del Bosque had taken both his goal scorer and his assist man off. David Silva never saw another play, with Jesus Navas coming on before the kickoff. That change worked out well, even if it would have been better to sacrifice Alonso. The next change, bringing off Fabregas for Fernando Torres, turned comical:

In the 71nd minute, Torres was put in alone on Gianluigi Buffon only to have Buffon take the ball off his foot without needing to go to ground. Torres, taking the ball 28 yards from goal, had plenty of time to set up Buffon.
In the 82nd minute, Torres was set up for one-on-one against Chiellini, and after backing him down to the edge of the six, he failed to get provide a ball for either of his two oncoming teammates. Again, the ball was taken off his feet.
In the 82nd minute, he was yellow carded.
In the 85th minute, he was played into space between Italy's central defenders and chipped a ball over the crossbar.
In the second minute of injury time, he gave away a ball with Spain on a mini-break.

On final note on Italy: The pressure their forwards provides really helped limit the amount of effective possession Spain could keep. Whether it was coming back to challenge Spain's midfielders or forcing Iker Casillas into long kicks where he might otherwise want to play to defenders' feet, the Azzurri's pursuit high up the pitch provided a small distraction.
It's a great point for Italy, but it's unclear how much it will matter as it concerns advancing. They still have to face Croatia and Ireland, but they can do so with the certainty that they've left South Africa being them.
For Spain, it's a disappointing result, but they didn't play bad. They just played bad by their standards. There's lot of room for improvement, even if Del Bosque's unlikely to ditch Alonso. They saw what Alba can provide with a less congested left flank, and they saw the possibilities presented by their three interchanging forwards. Now Del Bosque just needs to find the right tweaks.
ProSoccerTalk is doing its best to keep you up to date on what's going on in Poland and Ukraine. Check out the site's Euro 2012 page and look at the site's previews, predictions, and coverage of all the events defining UEFA's championship.