For the second day in a row, the main event kicks off Euro 2012's match day, and since we are an English-speaking nation, you've undoubtedly been made keenly aware of who's playing. You may not like England. You may not care about England. But like it or not, you're going to hear about England.
They're in the first game, and although they face Group D favorites France, the Three Lions will undoubtedly be happy just to get back on a field. Key players have been falling like flies ever since new manager Roy Hodgson named the squad (all of Gareth Barry, Frank Lampard and Gary Cahill are out). The squad has had to deal with a one minor controversy (race issues riled up by the BBC's expose on Polish and Ukranian soccer fans) as well as a major one (questions regarding why former captain Rio Ferdinand was excluded from the squad).
All this, and England's facing a France squad that hasn't lost in 21 games. Win, lose or draw, it's only one game, but when the whistle blows at noon Eastern, the action will finally be back on the field.
Side 1: England vs. France
1. Leaving the river
Side with Rio Ferdinand or side with Roy Hodgson, but now that the tournament's here, England will surely be better off. They'll be able to put the controversy behind them.
The first major mistake of Roy Hodgson's reign, the new England boss mismanaged the exclusion of the Manchester United defender, creating a distraction. Whether that distraction truly hurts, we'll likely never know, but it's not the type of thing you can spin into a positive.
This weekend, Hodgson finally expounded on his "footballing reasons" excuse, explaining that Ferdinand was, essentially too good to be a mere squad player. It's kind of like breaking up with somebody because they're too good looking – it's never the real reason. But if those are footballing reasons, they're bad ones, particularly considering Ferdinand didn't seem to see himself too big to be included.
Once England's playing, we'll have something else to talk about. Since Ferdinand is not likely to touch down in Ukraine any time soon, kickoff can't come soon enough.
2. The other side of me
Most people would call Roy Hodgson conservative; at least, they would call his approach conservative. He rarely strays from a 4-4-2 variant, and his teams are more opportunistic than creative.
Against France, he has a chance to let a more adventurous side peak out. While James Milner, a poster boy for Hodgsonian conservatism, seems set to start on the right of midfield, there's still a chance that Alex Oxlade-Chamberlain could start on the left.
A dynamic attacking midfielder who plays his club soccer at Arsenal, the 18-year-old Chamberlain's inclusion would be a sign of a coup, where Hodgson a head of state. In this context, he's a sign of life.
If Hodgson chooses Liverpool winger Stewart Downing (a Costco-brand James Milner), England could be the most boring team in the tournament. If he picks Oxlade-Chamberlain, England could actually be interesting.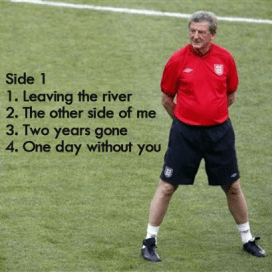 3. Two years out
Many people still link France with what happened in South Africa, where the national team mounted a small strike against then-coach Raymond Domenech. Since then, new coach Laurent Blanc has cleaned house (eventually letting some of the ruffians back in) and restored France's reputation.
The nation's glory, however, still needs to be reclaimed. Les Bleus have flamed out of their last two major tournaments and remain very much an unproven article. They have won 21 in a row, but it wasn't so long ago that Blanc was playing down his team's chances to get to the quarterfinals.
In fairness, that was before the groups were drawn. While Group D is not an easy group, it was one of the best-case scenarios for France. Despite recent tournament failures and a complete overhaul of the squad, France is favored to get out of group and picked by many to make the semifinals.
We're only two years out from South Africa, but thanks to a run of form, a fortunate draw, and a rebuilding project that's ahead of schedule, the team is hoping to make the World Cup ancient history.
4. One day without you
Yann M'Vila, France's most promising young star, will likely miss Monday's game, still recovering from an ankle injury suffered in a pre-tournament friendly (note: some are hinting he will play). A defensive midfielder who plies his trade in France with Stade Rennes, M'Vila has been linked with a big money move to Arsenal. It's high praise. Arsenal doesn't pay big money for just anybody.
In his place Blanc's likely to call on Alou Diarra. Thirty years old with 41 caps, Diarra is a more-than-adequate replacement, but he'll be tasked with containing Ashley Young.
Young, who played a major part in both goals England mustered in pre-tournament friendlies, has turned into the key-player in England's Wayne Rooney-less team. He also has enough speed to make it a long, tiring day for Diarra, provided England can find him.
ProSoccerTalk is doing its best to keep you up to date on what's going on in Poland and Ukraine. Check out the site's Euro 2012 page and look at the site's previews, predictions, and coverage of all the events defining UEFA's championship.