Earlier, we went through the day's big match. In the matinee, tournament co-hosts Ukraine finally take the field, hosting Sweden in Kiev. It's the last match of group stage's first round, and based on the atmosphere we saw from Ukraine's first set of games, the host nation could have used a Saturday appearance from their team.
The two extra days haven't made Ukraine any easier to figure out. Usually home teams can expect some kind of boost from playing (and living) in familiar surroundings, but this team looks set to join three other hosts that failed to make it out of group. Not only are they in a deep group, but questions about age, health, and unity have been allowed to define their run-up to Euro.
Sweden's preparation's been muted, though they have reason to be optimistic. Going back to 2010, the team's 21-5-2 (W-L-D), a run that includes a 1-0 win last August in Ukraine. While their team's built around a star that tends to overshadow the rest of the squad, the likes of Sebastian Larsson, Johan Elmander and Ola Toivonen must also be accounted for.
That accounting starts at 2:45 p.m. Eastern. Here's your playlist.
Side 2: Ukraine vs. Sweden
5. Not The Type I Can Love – Spain came into Euro 2012 with fears the Barcelona-Real Madrid rivalry might undermine squad cohesion. Given the success the team had in South Africa, it seems more likely the rift is being blow out of proportion.
If you want a real, national team-dividing club rivalry, look to Dynamo Kiev and Shakhtar Donetsk. The teams' final, title deciding derby of the season ended in animosity, with both sides engaging in verbal altercations during and after the game. Given 15 of the national team's 23 players come from Dynamo and Shakhtar, there's concern two months of cooling down isn't enough.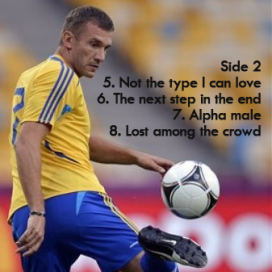 6. The Next Step In The End – Ukraine captain Andriy Shevchenko is 35 years old, has been capped 108 times, and still finds himself as the team's most important attacker. His 46 international goals are never four times as many as the next most-prolific player in the squad.
This will surely be his last international tournament. After Ukraine failed to qualify for World Cup 2010, the former Ballon d'Or winner made being selected for Euro 2012 a mission, but coming off a season where he scored only six goals for Dynamo, Monday is another step in the former Milan star's farewell.
7. Alpha Male – True, Sweden is more than Zlatan Ibrahimovic, but they're not getting anywhere without him. Serie A's top scorer have re-incorporated the previously-retired superstar into the team by building their formation around him. No longer are they putting him up top, kicking it to him blindly only to watch other teams beat on him for 90 minutes. Now they have Ibrahimovic playing as a trequartista – their playmaker. Despite being a monster when deployed as a No. 9, Ibra will play behind a striker, his more natural position.
It's the same role he's come to play for Milan, where he's won a championship and a scoring title since returning from Barcelona. Taking Ibra a step back from goal is unlikely to curtail his scoring, while it will Elmander, Larsson and Rasmus Elm into the attack.
8. Lost Among The Crowd – Like every other team in the tournament (including Ukraine, who are without Dymtro Chygrynskiy), Sweden has questions at the back. Injuries have forced head coach Erik Hamrén to constantly shuffle his back four, and while a line of (right to left) Mikael Lustig, Olof Mellberg, Jonas Olsson, and Martin Olsson looked likely two weeks ago, Hamrén completely reshuffled the line in Sweden's last friendly. Andreas Granqvist started on the right and Behrang Safari was on the left. A few days later, Granqvist displaced Martin Olsson in central defense.
Many coaches value cohesion at the back, something that usually comes after the team's best defenders have been identified. It looks like Hamrén hasn't gotten past step one.
ProSoccerTalk is doing its best to keep you up to date on what's going on in Poland and Ukraine. Check out the site's Euro 2012 page and look at the site's previews, predictions, and coverage of all the events defining UEFA's championship.