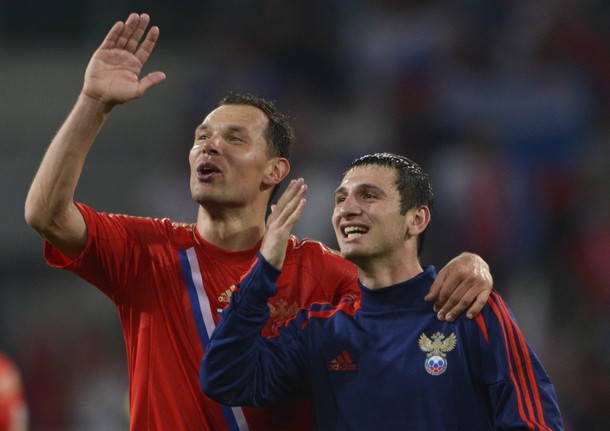 Tuesday's main event will be the most attractive game of Group A, with the mesmerizing counterattack of Russia facing Robert Lewandowski, Jacob Blasczcykowski, and a Poland side who may need a result to maintain a viable chance of qualifying.
With Poland-Russia the last Tuesday kickoff, both teams will know the result of Greece-Czech Republic. If Greece win, they move to four points, challenging Poland to keep up. If Poland then loses to the favored Russians, they'll go into Saturday's final match knowing a mutually-beneficial draw between Greece and Russia puts both teams into the quarterfinals (the Russians securing first place).
As strong as Dick Advocaat's team looked on Friday, Poland has one major advantage they can exploit. They're also going to be less accommodating than the Czechs.
Match kicks off at 2:45 p.m. Eastern. Here's your Tuesday B-side.
Side 2: Poland vs. Russia
5. Why I Dream of Dortmund
For 30 minutes on Friday, Poland looked like a team ready to live up to people's wildest expectations. Some saw them making the quarters thanks in part of their thin group. When Robert Lewandowski headed them in front (and Greece had a man sacrificed before halftime), Poland looked like dark horses.
The second half was a mirror image, so starkly different than the first that it's difficult to tell what the true Poland team looks like. Is it the team that ruthlessly moved down their right side, destroying Greece left back José Holebas? Or is it the team that forgot everything that worked once they went into half time?
If Poland is going to beat Russia, they're going to have to keep it simple. What worked? Going down the right. Why? Because that's where all their best players are: right back Lukasz Piszczek; right midfielder Jacob Blasczcykoski; Roberto Lewandowski dropping back from forward; with Ludomir Obraniak supporting from midfield.
As important come kick off, Russia's weakest defender is their left back (Yuri Zhirkov), and Andrei Arshavin, their left winger, is not going to provide much support. All day, all the time, Poland can tear that side apart, and since the Russians aren't likely to be overly selfish with the ball, the hosts are going to get their chances.
6. One Mistake And You're Gone
Wojciech Szczesny was having a relatively quiet day. Then he got sent off. He misjudged a cross, leading to Greece's second half equalizer, but before taking Dimitris Salpingidis down in the penalty area, he did nothing to deny the notion he was a starting goalkeeper on an elite Premier League club.
Now, he's suspended, and 25-year-old PSV backup Przemyslaw Tyton will get his chance. He has six caps, served as a first choice `keeper for one season in his career, and is now the only player in European Championship history to come off the bench and save a penalty kick.
Allow me to state the obvious: Playing 90 minutes against a team like Russia is a lot different than an adrenaline-fueled cameo against Greece. That's not to say Tyton won't be good. He could actually be better than he was on Friday. He could also be a major liability.
7. Punching My Ticket Early
A win, and the worst Russia can do is finish second. If Greece and the Czech Republic draw, a win clinches Group A. It seems like this competition just started, but quarterfinal spots are already up for grabs.
Don't put Russia in your final eight just yet. There are a number of reasons why Poland can pull an upset. We talked about the advantage down their right, but Lewandowski also poses a significant problem for a slow Russia defense that's missing one of their first choices. Poland plays with two deep midfielders, giving them one extra player in front of their defense that can help defuse Russian counters. And, lest we overlook the obvious, Poland's playing at home.
8. Irresistible
No team in this tournament plays better soccer than Russia. They're three parts Dutch fluidity, two parts Spanish technique, and one part German ruthlessness.They have nowhere near the talent of those sides, but their entertainment factor makes up for it.
Now I know, as a soccer guy, I'm supposed to say that Spain or the Netherlands play such beautiful soccer and it's such and pleasure to watch them and if only other teams could … As we stand right now, that's clichéd garbage. Spain's technique is unmatched, but without a direct element to their game, too many of their games end up low scoring affairs that make you question whether they practice shooting the ball. The Netherlands as a exemplar of beautiful soccer is a stale joke thanks to the style implemented by Bert van Marwijk. Brilliant Oranje is now a synonym for rust.
The reason people rallied around Russia in 2008 and are falling in love with them again this simple: They play soccer people like – soccer people have no unconscious misgivings about being rewarded. When Russia wins, you feel as if they earned it, and their victories can be explained without caveats. The fact that they don't always win makes it easy to justify supporting them.
There are, however, three reasons not to be excited about Russia, all equally ridiculous: a.) Red scare, b.) Prideful support of a rival (possibly an aesthetic rival), and c.) You aren't going to let a blogger be the boss of you.
The first three responses that come to my mind? Alan Dzagoev, Andrei Arshavin, and Roman Shirokov.

ProSoccerTalk is doing its best to keep you up to date on what's going on in Poland and Ukraine. Check out the site's Euro 2012 page and look at the site's previews, predictions, and coverage of all the events defining UEFA's championship.