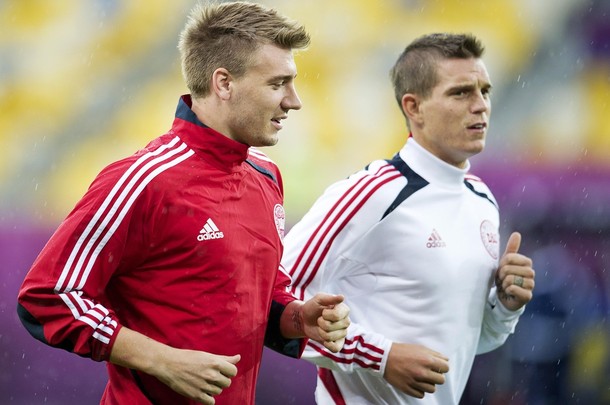 When Group B was drawn, most people felt sorry for Denmark, seeing them as the group's weakest link. It just shows you how little people care about international soccer outside of major tournaments. They weren't paying attention to the two qualifying campaigns, where Denmark went head-to-head with Portugal and beat them.
Side 2: Your Netherlands-Germany playlist
In 2008, the countries were drawn together in Group 1 of UEFA World Cup qualifying. Denmark finished top of the group, taking four points from Portugal. In 2010, they were drawn together in Group H of Euro 2012 qualifying. Denmark finished top of the group, splitting their games with Portugal.
In 2012, the teams are drawn into Group B of the European Championships. Denmark probably won't finish top of the group, but based on the teams' recent meetings, there's a good chance they'll finish ahead of Portugal.
The craziest thing about people overlooking recent history: Portugal hasn't won anything. Usually when teams are overrated, it's because they won major tournaments (think France, Italy in the last two major tournaments). Portugal's not only never won, the only time they made a major final was when they hosted Euro 2004. Denmark, on the other hand, has won a major title (Euro 1992).
But that's all in the past. Portugal may very well be better than Denmark. We might find out on Wednesday. But there's no reason to see the Danes a fourth of four.
Here's your playlist for Wednesday's noon Eastern kickoff:
Side 1: Denmark vs. Portugal
1. Miss you when you're gone
Christian Eriksen was a non-factor on Saturday. Given the drama underscoring the result, nobody missed him, but if the 20-year-old Ajax midfielder goes the whole tournament without doing something special, all his hype will be for naught. Having led his club side (Ajax) to consecutive Dutch titles, Eriksen's been tabbed as a potential breakout star.
How much that Dutch performance is worth is open to debate. There is this strange aura surrounding the Dutch league because of historic successes at Ajax and PSV as well as the luster of the Dutch national team. But it's been a while since the Eredivisie was among Europe's best leagues, something reflected in Eriksen's stats. In his three year career, Eriksen's been good for a goal every six games in league, and an assist in every three. In Europe, his rates fall to a goal every 11 games, an assist every seven.
How good is Christian Erikson? He looks very good to the eye. If he did some damage in this group, it would help his case.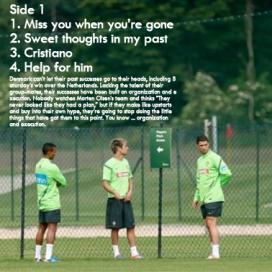 2. Sweet thoughts in my past
Denmark can't let their past successes go to their heads, including Saturday's win over the Netherlands. Lacking the talent of their group-mates, their successes have been built on organization and execution. Nobody watches Morten Olsen's team and thinks "They never looked like they had a plan," but if they make like upstarts and buy into their own hype, they're going to stop doing the little things that have got them to this point. You know … organization and execution.
With Denmark, there's little chance of that happening. Morten Olsen's been in charge of the team for 12 years, an eternity for a national team coach. His players are more drilled in team's system than anybody they'll face in this tournament. Against a familiar opponent, they'll be very aware of what works and what doesn't, who to stop and who they don't have to worry about.
Come kickoff, none of Denmark's previous successes matter. They probably be drilled in that, too.
3. Cristiano
Cristiano Ronaldo had a good game on Saturday. He created four scoring chances, mostly exploiting one-on-one situations against Germany right back Jerome Boateng. His teammates weren't able to convert, and Paulo Bento's tactics left him without support, but he was still able to have an impact (albeit a small one).
That's not quite good enough for a player that's supposed to be the world's best. While it's not fair to judge Ronaldo exclusively against that standard, it is fair to say Portugal have adjusted their approach based on expectations of his performance. That means their midfield sits very deep, plays long balls behind the defense for him to run onto, and they expect him to produce.
Plan B is to the do the same with Nani (who plays right while Ronaldo plays left), but it's a plan subject to the same shortcomings as Plan A. Much of the time Nani has the ball, he's expected to create and finish his own chances.
The only difference: Nobody thinks he's a failure when he can't do the remarkable.
4. Help for him
Analysts noticed how effective Portugal was after Germany scored and they had to open up. The pressure Portugal applied over the last 20 minutes had people asking why they don't play that way all the time. Apparently every other opponent plays as if protecting a 1-0 lead in match's final moments?
There's this assumption about a Portuguese style of play that's turned into a fallacy. People assume they're entertaining, but they rarely are. Just because they have Cristiano Ronaldo doesn't mean his teammates play like him.
Nonetheless, Portugal does need to open up. Their midfield three played far too deep against Germany, and while they almost got a point, they were also sitting ducks. When Germany made its second half adjustment and started crossing for Mario Gómez, it was a matter of which came first: the final whistle, or the inevitable Germany goal.
Against decent competition, Portugal can't expect to hold out. They need to have something going forward, if for not other reason than to offset the goal they'll probably allow.
ProSoccerTalk is doing its best to keep you up to date on what's going on in Poland and Ukraine. Check out the site's Euro 2012 page and look at the site's previews, predictions, and coverage of all the events defining UEFA's championship.