Some U.S. fans may be spilling their beer in frustration at a U.S. World Cup qualifying bid being built on small, solid taps rather than one decisive sledgehammer blow.
But a 1-1 draw Tuesday in Guatemala leaves the United States adequately positioned after two matches in semifinal round World Cup qualifying. Four points and a tie with Jamaica atop the group isn't a terrible spot.
What to talk about from this one:
Night of U.S. composure – and that's not as easy as it sounds
Admit it, you were sure Jermaine Jones would twist off at some point, yes?
But Jones mostly kept his cool. So did his teammates, even when it wasn't easy.
No one can be surprised that Guatemala got more of the referee calls. It's a road game in CONCACAF, and that's how the regional cookie crumbles. Still, it's not easy for players to keep a lid on the frustration. Especially given that …
Some of the U.S. yellow cards were soft as warm butter. Michael Bradley's early in the second half for time wasting was just this side of bizarre.
Meanwhile, there was way too much Guatemalan fouling; never did a match cry out for a persistent infringement booking or two like this one. I mean, what they were doing to Clint Dempsey out there, time after time, was absolutely criminal.
And poor Jozy Altidore. Yes, he fell asleep frustratingly as Michael Bradley squared one ball for him beautifully. But otherwise, no calls from the man in the middle were going his way, and that wasn't Altidore's fault. One PK shout needed further review. And he wasn't to blame as a whistle went early, a potentially game-turning sequence that defined advantage clause.
U.S. midfield up for the job
Let's just cut and paste this one, to save the weary fingers a few keystrokes in the future: "Michael Bradley was easily the most important and influential U.S. midfield figure."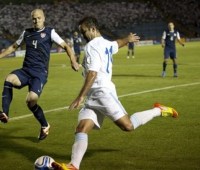 Bradley linked the lines and provided more than his share of attacking push through midfield. He was always connected to Maurice Edu on the defensive end, ready to provide necessary cover.
Jermaine Jones moved reliably into attacking positions and covered ample ground along the right. Maurice Edu sat deeper, screening the defense.
I know that not everyone saw a good match from Edu and Jones.
Yes, Jones lost possession a few times. What can you say; the man is not Michael Bradley. On the other hand, Jones didn't lose the ball in bad spots. He moved possession aggressively forward when possible and did the tackling and tracking without being, well, all Jermaine Jones about it.
Edu? As I said on Twitter during the match, people sometimes forget what that position is about, especially in a scrappy, shapeless contest like this one. He never needed to "make" the game for the United States; he just needed to make things tough on Guatemala coming into dangerous spots. So, mission accomplished.
U.S. set pieces need work
And how. Guatemala handed Jurgen Klinsmann's men opportunity after opportunity on set pieces. By halftime the United States had been gifted five free kicks inside the attacking third – and any visitor must make defenses pay for that rate of fouling. But Donovan's insufficient deliveries and one poor shot from Herculez Gomez let the hosts off the hook before the break.
More of the same in the second half. For instance, if Jones needs reminders as to why he should never stand over another U.S. free kick, he can look back at his ridiculous blast over the bar Tuesday.
Meanwhile, from about the same spot, Guatemala's Marco Pappa kept his team in the World Cup hunt with a swell free kick strike.
Too much emotion from the hosts
Guatemala came out like a loaded spring, too emotional, too anxious, straining too hard to make something happen. It's a fine balance, admittedly uneasy to strike. Underdogs must play with emotion; it's really their best hope to unearth something special. On the other hand, too much emotion is counter-productive.
Too-frequent fouling isn't the only danger of being overly keyed up; Dempsey's opener demonstrated a further threat. Dempsey still had lots of work to do as he accepted Fabian Johnson's pass just outside the penalty area. Dempsey's nimble turn left one Guatemalan defender flailing, and one more quick touch to his right took another man out of the play.
Both Guatemalan players needed to get position and defend. Rather, they took big, sliding swipes and finished on their butts. Rather than keep their feet in a composed stance, they lunged rashly, leaving Dempsey with a clear view at goal and an unchallenged shot from 16 yards.
Yeah, he's going to make that one.