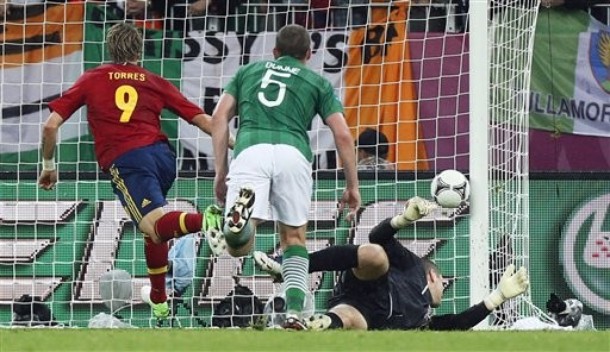 Man of the Match: When the lineups came out, we flippantly said Fernando Torres could score two goals without being very good, such were the advantages Spain over Ireland. Torres did get a pair, but rather then blindly stumble onto his goals, he was quite good. Opportunism led to his first, taking the ball off Richard Dunne in the fourth minute to create an easy chance. In the second half, David Silva put him in from 30 yards out, and while it was not a difficult finish, it was a confidence-booster – the type of chance we've seen Torres struggle to finish throughout his prolonged swoon.
NBC Sports: Torres scores 2 as Spain eliminates Ireland
Packaged for takeaway:
There isn't much to say about a match that was so completely dominated from start to finish. In our preview, we speculated this could be the most lopsided match of the tournament, and unfortunately, we were right. Ireland can be as disciplined as they want at the back, but if they don't have the quickness to react to Spain's passes, they're nothing more than highly evolved pylons.
Spain had 66 percent of the game's possession (per UEFA), outshot the Irish 26 to 6, and set a tournament record with 859 passes.
Giovanni Trapattoni made one change from Monday, bringing Simon Cox in for Kevin Doyle. Doyle was Irelands best player on Monday, you say? No matter.
There was some speculation that this meant playing 4-5-1, but the system was largely unchanged, and Cox was ineffective. Jon Walters, coming on at half time, provided some energy that would have helped at the get go.
Beyond his two goals, Torres's value was seen in the effectiveness of the front three worked. With somebody playing at a level higher than Andres Iniesta and David Silva, the area behind the forward as freed up for not only those wide attackers but also Xavi Hernández, who was more active tonight than he was against Italy. Silva had a goal and two assists, while Iniesta was involved in building all three goals.
Spain didn't wait to see if Ireland would change how they played. They pushed everybody forward from the start. Jordi Alba attacked, even making some runs into the box (which he didn't do against Italy). Gerard Pique had some trademark incursions into the attacking third. Even Alvaro Arbeloa was dangerous, putting two good shots on Shay Given. Every Spaniard attacked when they could, with Ireland posing no threat of retaliation.
Given had a very bad night. The first goal went a foot over his head into net. The second goal was more excusable, but it was not a well struck ball and came after Given's poor punch on an Iniesta shot. The fourth goal (from Cesc Fabregas) was shot from a very sharp angle to the right of goal, an angle from which a `keeper should never concede.
Spain carried so many advantages into this game, it's useless to infer anything from the result. There's no team in this tournament that will make life as easy as the Irish did. Between their two-man midfield, lack of foot speed, absence of physical strength in middle of the park, propensity to sit and wait, and weak threat on the counter, Ireland was tailor-made for Spain. Nothing the holders did today makes them a better (or worse) bet to win the tournament.
Ireland is eliminated. They'll be playing for pride against Italy. For an Azzurri side that seems to be better on the counter (and has only scored one open play goal this tournament), Ireland will be a significant obstacle.
For Spain, the lopsided result means a draw with Croatia is likely to give them the group, which they'll claim outright with a win.
ProSoccerTalk is doing its best to keep you up to date on what's going on in Poland and Ukraine. Check out the site's Euro 2012 page and look at the site's previews, predictions, and coverage of all the events defining UEFA's championship.