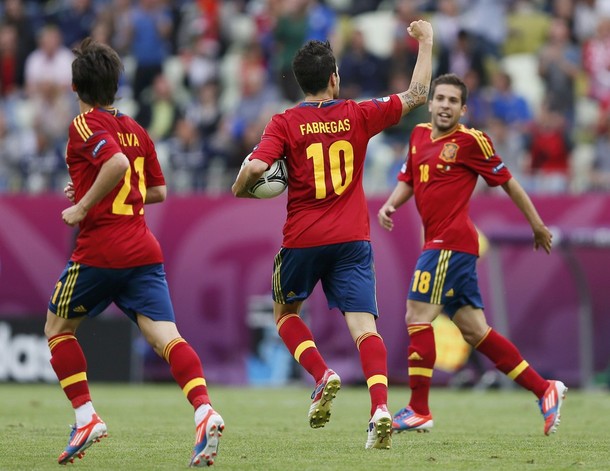 Spain's players performed well in La Roja's 1-1 Sunday draw with Italy, a final that illustrated the extent to which the world champions are slowly regressing. It wasn't so long ago that anything but a win was a setback. Now, it's just a disappointment. The players played fine, but the result didn't come. Oh well.
At some point, Spain's coaching staff needs to ask what's going wrong. The answer is easy. They don't have enough attackers to make their possession pay off. Why? They're playing one too many holders. One of Sergio Busquets or Xabi Alonso should be sacrificed for a non-Fernando Torres forward.
Against Ireland, these problems shouldn't matter. Spain's far too quick for an Irish defense that will look stoic and impotent if the holders play like they did on Sunday. The idea of Richard Dunne chasing around Andres Iniesta goes from fun to sad in seconds. If Ireland replicates the performance they gave against Croatia, this will be the most lopsided match of the tournament.
The festivities kick off at 2:45 p.m. Eastern. Here is your playlist:
Side 2: Spain vs. Ireland
5. Don't forget the new guy
When Jesus Navas came on for the final half hour on Sunday, he gave Spain some desperately needed width on the right, width they lost when they had to move Sergio Ramos into central defense. An ancillary benefit: As Spain started playing through the right (and balanced their attack), Jordi Alba found room on the left.
Against an Ireland team that's likely to play deep and narrow, releasing Alba will provide the width Spain needs without having to inject Navas into the starting XI. Dragging Damien Duff behind right back John O'Shea, Alba can turn Ireland's defense and take offside out of play, allowing Iniesta, Fabregas and Silva to use their speed to get to onto passes rolled into the area. If the defense collapses, Xabi Alonso can become useful coming onto balls played to the top of the arc.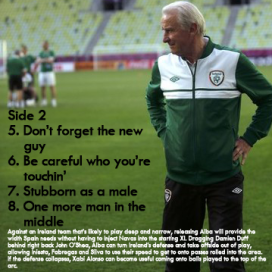 More broadly, Alba's an element Spain need to start utilizing. When Joan Capdevila was there, Spain didn't have the same attacking presence coming from left back. Sergio Ramos was utilized more on the right. Now that Alba is ensconced in the first team, Vicente del Bosque can open up the flank knowing he has somebody to cover that ground.
6. Be careful who you're touchin'
Ireland scored their goal against Croatia after drawing a foul, Sean St. Ledger heading Ireland even early in the first half. Kevin Doyle's hard work holding up the ball enticed the whistle. Ireland's dead ball execution allowed them to turn the innocuous play into a goal.
It's one of the few ways Ireland have of scoring against Spain. Neither Robbie Keane nor Kevin Doyle can outrun anybody in Spain's defense. All Spain's defenders need to do is be patient, keep the play in front of them, and not give up any cheap fouls …
… which is completely out of character for Sergio Ramos.
7. Stubborn as a male
So what does Giovanni Trapattoni do to put a little more danger in Ireland's side?
He doesn't care. If he did, this Ireland team would look a lot different. As is, he plays with two banks of four. He doesn't want his wide midfielders being wingers. He doesn't want his fullbacks posing as wing backs. Ireland's success if predicated on discipline, even if that manifests as rigidity.
For six months, Ireland fans have been clamoring for Sunderland's James McClean to start. A dynamic wide player whose declaration for Ireland was seen as a minor coup (he was born in Northern Ireland), McClean's only appeared twice for the Republic. There's no defined use carved out for him in Trapattoni's plans. He didn't make it off the bench against Croatia.
Trapattoni's had a lot of success since taking over Ireland. He's earned the right to be stubborn. It's part of the reason he's so successful, but it's also the reason why Ireland's not going to include dynamism for dynamism's sake.
8. One more man in the middle
Trapattoni has indulged small changes to his formation, provided they're consistent with his approach. You're not going to see him deploy a 4-2-3-1 or a 4-3-3, but you could see him sacrifice somebody to bring in another midfielder, going to a 4-5-1.
With Spain likely to be their possession-hogging selves, Ireland will be even more reliant than usual on the counter. Spain's passing game is likely to pack them deep in their own end, with the Irish will have even more problem connecting midfield to attack.
Inserting Everton's Darron Gibson could help, but even if he's able to play long balls toward the center line, who will be there to hold it up? Robbie Keane or Kevin Doyle … and … ?
ProSoccerTalk is doing its best to keep you up to date on what's going on in Poland and Ukraine. Check out the site's Euro 2012 page and look at the site's previews, predictions, and coverage of all the events defining UEFA's championship.