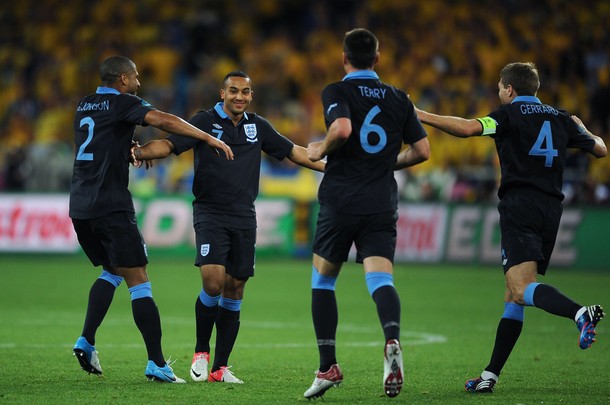 Man of the match: As much as I try to avoid giving man of the match to substitutes, I can't deny Theo Walcott's contribution. Within minutes of coming on, Walcott blasted England even from 24-yards out. Fourteen minutes later, Walcott took a ball from Glen Johnson, blew through the Sweden defense, and played the pass in for Danny Welbeck's winner.
NBC Sports: England eliminates Sweden from Euros with 3-2 win
Packaged for takeaway:
An even first half separated by one moment of great execution exploded in the second, with control of the game swaying to Sweden and back to England before the Three Lions saw out the match.
That one first half moment came off the foot of Steven Gerrard, who served a great 23rd minute cross for Andy Carroll, who gave England another early lead. Gerrard is getting a lot of credit for the cross, but you will see 10 crosses like that for every header like Carroll's. Just over 12 yards out, Carroll uncoiled onto a ball, getting enough power on it to beat Anders Isaksson from that distance, bouncing a ball near the left post.
It was a somewhat deserved halftime lead, as England was the only team to do anything. Had the teams gone into halftime scoreless, it might have been a more accurate reflection of the match. Despite playing less conservatively than they did against France (throwing Ashley Cole forward from left back, getting one of their midfielders into the play early), England wasn't doing very much in their attacking phase. Sweden was much the same, with nobody doing enough work off of Zlatan Ibrahimovic, who was dominant in possession but had nobody to target.
England carried the confidence of a team in control into the second half, when a freak play swung momentum. Kim Kallstrom was brought down 24 yards from goal. Zlatan's shot went into the wall, deflected up, and while coming down was met by a scissor kick from the Sweden captain. The ball went to the right, found Olof Mellberg (kept onside by Glen Johnson) who had his shot saved by Joe Hart. The rebound, however, went off Johnson and in for the equalizer.
The goal shocked England, who were very passive over the next 20 minutes. Toward the end of the spell, James Milner got beat on a run back by left back Martin Olsson and had to take him down. On the restart, Sebastian Larsson lofted a ball far post to a collection of unmarked teammates. Mellberg rose and hammered the go-ahead goal into the left side netting while Glen Johnson stood watching.
Then Walcott came on. The first goal was a play that could happen at any time. Corner put in by Ashley Young; Martin Olsson clears; Theo Walcott's standing outside the box to take a crack; it goes in.
The second goal was amazing, particularly Danny Welbeck's part. As Walcott broke through the right channel, Welbeck ran near post, a run that was cut off by Mellberg. The ball in, however, was just behind Welbeck, who pirouetted on his left leg, swining his right around the ball so when he made contact, his right ankle was pointing toward goal. Worthy of a game-winner in any tournament, the ball went into the left side of goal, giving England their 3-2 lead.
I was somewhat critical of Steven Gerrard's positioning toward the end of the France match, though fatigue was probably the main factor. Tonight he still showed a dangerous tendency to take himself out of position and then jog. However, England's captain more than made up for it, serving dictating the game for England. At the end of the match, he found the energy to jump into some dangerous counters.
For Sweden, they're only going to be as good as the people around Zlatan want them to be. Ibrahimovic was in control whenever he had the ball, and while every decision wasn't the right one, he set the stage for somebody to step up. Mellberg did, but among Sweden's attackers, there were no volunteers. Sweden's out of this tournament because they had nothing more than Ibrahimovic.
England, however, move on to a Tuesday showdown with Ukraine. Win or draw, and they're through. Lose and they're probably out, though Sweden can help.
ProSoccerTalk is doing its best to keep you up to date on what's going on in Poland and Ukraine. Check out the site's Euro 2012 page and look at the site's previews, predictions, and coverage of all the events defining UEFA's championship.