The second round of the group stage round robin comes to an end today at Euro 2012 with Group D's four contestants looking to position themselves for next week's final push.
The day starts with co-hosts Ukraine seeking to clinch a quarterfinal spot with a win against favored France. That match that kicks off at noon Eastern.
Then at 2:45 p.m. Eastern, England get the unenviable task of containing Zlatan Ibrahimovic as the Three Lions look for their first win of the tournament against Sweden.
Today is also the last day of two kickoff times. Over the next four days, the final rounds of group stage matches will see games kick off simultaneously (2:45 p.m. Eastern). After that, there's only one game per day.
In all, 14 of the tournament's 31 games have been played. Once today's matches are finished, we'll be past the halfway point.
But before we get to those matches, here's today's reading list:
And now that you're through skipping over the bullets, here's Friday's action:
---
(All times Eastern)
1653 – Sweden 2-3 England, Final – The whistle blows on a remarkable match for England, who gave up two second half goals before coming back to claim full points. They move second in Group D while Sweden becomes the second team eliminated at Euro 2012.
1648 – Sweden 2-3 England – Danny Welbeck comes off. Alex Oxlade-Chamberlain comes off, tasked with helping see this game out.
1643 – Sweden 2-3 England – After the goal, England's gone very conservative. We're end seeing Carroll in defense as the team plays very deep, has ceased challenging potential crosses, and seeks to hold on.
It has led to a couple of interesting counter attacking chances. With Welbeck, Walcott and Young on, they're always fun.
1636 – Sweden 2-3 England – Two great individual effort have England back in front. Danny Welbeck will get the honors, but it wouldn't have happened without Theo Walcott.
Glen Johnson plays a ball for Walcott, who bursts through the right channel and gets to the line. He cuts it back to the edge of the six, but it's slightly behind Danny Welbeck. Welbeck turns on his left foot and, with his back to goal, brings his right behind the pass, deflecting the ball into the left side of goal.
1635 – Sweden 2-2 England – After 10 minutes of even play, Martin Olssen creates a turnover and sets Sweden into transition. A ball played left to Elmander is but right to Ibrahmovic. He has a crack from 20 yards out and forces Isaksson into a leaping save, winning a corner (which comes to nothing).
1622 – Sweden 2-2 England – What's going on here? The first half was stoic save on moment. Now, we have three goals in 19 minutes.
Corner from Ashley Young is swung in from the left but headed clear by Jonas Olsson. The ball goes straight to Theo Walcott who traps and shoots. Isaksson just collapses backward. He has no chance to get to that ball in the right of goal. It's 2-2, Walcott scoring from 24 yards out.
Andreas Granqvist has had to come off. Mikael Lustig is on.
1620 – Sweden 2-1 England – James Milner's off. Theo Walcott's on.
1617 – Sweden 2-1 England – Thousands of Swedish fan are in raptures as Olof Mellberg heads Sweden in front.
The danger started with a Kim Kallstrom pass from the middle of the park that had picked out Martin Olssen making a run on the left. James Milner had been beaten and needed to take him down, earning a card.
On the restart, Sebastian Larsson puts a perfect ball from 30 yards out (on the left) to the far post. Three Sweden players are there, unmarked, as Glen Johnson looks on. Olof Mellberg rises, hits it, and Joe Hart's shoulders instantly slump. The ball bounces before going into the side netting. England's down.
1615 – Sweden 1-1 England – The goal has chance the entire dynamic of the game. England's confidence is gone. Sweden is on the front foot, which means more activity around Ibrahimovic, who England can't get the ball from.
1608 – Sweden 1-1 England – Oh, wow. The second ball in from a set piece undoes England, giving Sweden a very fortunate goal.
Kim Kallstrom is brought down 28 yards out, giving Zlatan Ibrahimovic a chance straight on goal. His shot hit the wall, deflects up, and on the way down a scissor kicked by Ibrahimoic to Olof Mellberg – eight yards from goal, even with the right post, kept onside by Glen Johnson. Joe Hart some out and saves the shot, but the rebound bounces off Johnson (now coming back toward goal) and in.
1604 – Sweden 0-1 England – Second half has started. No changes.
1559 – Sweden 0-1 England, Halftime – Stats: Possession: England 55-45; Shots: 5-5; Shots on target: Sweden 4-3.
1548 – Sweden 0-1 England, Halftime – That's halftime, and one well-execute moment has England up on Sweden. Andy Carroll's paid off Roy Hodgson's decision, and the defense has been solid. It's 1-0, and probably deservedly so.
1545 – Sweden 0-1 England – Last minutes of the half and things have opened up a bit. Long ball for Ibrahimovic sees him win a prolonged battle with Lescott before a mis-executed back heel by Rasmus Elm gives the ball away. At the other end Danny Welbeck blows by Jonas Olsson and runs 30 yards before Olof Mellberg wins the ball.
1533 – Sweden 0-1 England – Sweden's in transition, and the ball's at Zlatan's feet. He's got three attackers with him but England's stay tight as they collapse. Zlatan cuts back onto his left foot and takes a shot from 21 yards out. It's deflected but an easy catch for Joe Hart.
The game has not changed much since the Carroll goal. Sweden has a little more possession, but it hasn't been particularly meaningful. When England gets it and is able to set up their attack, a lot seems to rely on Steven Gerrard eventually trying something, for better or worse.
1525 – Sweden 0-1 England – That's a header. Andy Carroll's first chance, and he buries it. England's up.
Steve Gerrard, ten yards within Sweden's half, is given time on the ball near the right flank, He serves a nice ball in between Martin Olssen and Andreas Granqvist, neither of whom can get up to challenge Gerrard. The England striker uncoils onto a header from 12 yards out, burying it behind Isaksson.
Up until then, the match had been even, with Sweden seemingly aspiring to some rhythm. The ball had been on Ibrahimovic's feet more and more.
Then England strikes, takes the lead, and it's all for naught. England, for the second match in a row, is out in front.
1515 – Sweden 0-0 England – It's been an even if relatively uneventful first quarter-hour. Scott Parker's had the best crack at goal, blasting a 22-yard shot that forced a leaping save from Anders Isaksson. Sweden's analog, from Sebastian Larsson, went right at Joe Hart. The most interesting part of the game is the disorganization being caused as Olof Mellberg tries to be the one challenging Andy Carroll for balls in the air. At least, that seems to be what's happening, drawing Mellberg from right-center half as Carroll's shading a bit more to the defense's left.
1501 – Sweden 0-0 England – Sweden kicks off going left to right in yellow. England's in blue and have decided to go the opposite direction.
1458 – Teams are antheming in Kiev. Here are the lineups:
England: Hart, Johnson, Cole, Terry, Lescott, Gerrard, Young, Milner, Parker, Carroll, Welbeck SUBS: Green, Butland, Kelly, Baines, Jones, Jagielka, Walcott, Henderson, Downing, Oxlade-Chamberlain, Defoe.
Sweden: Isaksson, Mellberg, Granqvist, M. Olsson, J. Olsson, Elm, Larsson, Svensson, Källström, Ibrahimović, Elmander SUBS: Wiland, Hansson, Lustig, Antonsson, Safari, Wernbloom, Holmén, Bajrami, Wilhelmsson, Hysén, Toivonen, Rosenberg.
England brings Andy Carroll in, moves Young wide, and benches Alex Oxlade-Chamberlain. Sweden has made three changes. Martin Olssen's into central defense. Anders Svensson's into midfield. Johan Elmander's up top.
1447 – Ukraine 0-2 France, Final – The last quarter hour played out predictably (hence the lack of updates). We're 12 minutes from England-Sweden, and France has claimed their first win of the tournament.
1429 – Ukraine 0-2 France – Olivier Giroud will play the last 15 minutes for Karim Benzema. France, having brought on Marvin Martin for Jeremy Menez a few minutes before, are out of subs.
The teams are playing this one out as if they've accepted the final score. There's still a lot of time left, but it's been a strange day.
1422 – Ukraine 0-2 France – France gives Yann M'Vila his first action of the tournament. He's on for Yoann Cabaye.
1417 – Ukraine 0-2 France – Program note, and sorry for note mentioning this sooner: England-Sweden's kickoff has been moved back to 3:00 p.m. Eastern.
1410 – Ukraine 0-2 France – Yoann Cabaye doubles France's lead, and Karim Benzema collects his second assist.
The movement starts on the right with a ball played to Jeremy Menez 30 yards out. Karim Benzema comes and receives the ball then turns back to the field, away from goal, before spotting Cabaye in the left channel. A great pass hits the Newcastle man, who has so much of the goal to choose from. He goes right and converts. It's 2-0.
1407 – Ukraine 0-1 France – A open second half bites Ukraine just as they looked like they had something going on the counter, but caught out, Ukraine gives up the first goal.
The play starts in France's end with a pass from Oleh Gusev intercepted by Yoann Cabaye and played up to Franck Ribery. France busts into transition, with Anatoliy Tymoshchuk forced to cover for Gusev. That leaves nobody in the middle in front of the defense, where Ribery plays for Benzema, who turns and moves the ball wide right for Jeremy Menez. Menez cuts onto his left foot, turns Yevhen Selin, and lets one go. He beats Pyatov inside the right post. France has their first lead of the tournament.
1359 – Ukraine 0-0 France – Teams are back, we've restarted, and Andrei Voronin is off for Ukraine. Marko Devic is on. Somewhat like-for-like. Devic will be more of a target, but he's still a forward.
135 – Ukraine 0-0 France – Stats: Possession: France 54-46; Shots: France: 7-3; Shots on target: France 6-1.
1359 – Ukraine 0-0 France, Halftime – This picture is amazing.
1345 – Ukraine 0-0 France, Halftime – Intermission sees the teams head to the locker rooms even, with a couple of interesting events just before half time. Near the 43rd minute, France enjoyed a long, long spell of possession that finally ended with a nice reason from Selin on a Debuchy overlapping run earning Ukraine a goal kick. Ukrain had all but Shevchenko back defending as France had slowly pushed them back. Les Bleus, however, seemed very reluctant to pull the trigger and, ultimately, didn't get a shot on Pyatov.
Second, Jeremy Menez probably should be off. He picked up a dubious yellow halfway through the period, and on a ball coming out of France's end in stoppage time, the put the bottom of his boot to Selin as the Ukraine left back went to play the ball. Selin went down in pain, but Menez was spared, not being booked. It was a dumb challenge to make while carrying a card.
1337 – Ukraine 0-0 France – Ukraine shows some vulnerabilities on two crosses. Gusev dives up a foul, and on Nasri's restart, Mexes hammers a header far post, with Pyatov making a nice save. Resulting corner is played long for Diarra who makes solid contact. Gusev blocks.
1332 – Ukraine 0-0 France – Ukraine's first good chance. Yevhen Selin hits a nice long ball for Andriy Shevchenko, who leaves Adil Rami standing flat footed. I nice touch set him up for a blast on Hugo Llris, but the angle's not going to allow it. The ball's blocked clear.
1327 – Ukraine 0-0 France – First good chance of the match. Anatoliy Tymoshcuk with a terrible pass for defender Taras Mikhalik ends up at the feet of Ribery. Mikhalik persues and, as Ribery tries to pull back for Karim Benzema, gets a foot to the pass. It deflects to Jeremy Menez in the right of the area whose first touch blasts a shot at Andriy Pyatov. Saved.
1320 – Ukraine 0-0 France – Following up from a question we were asking at the onset: Nasri is in the middle, the shape is 4-2-3-1, Menez is on the right. Cabye's shuttlin'. Diarra's destryin'.
1315 – Ukraine 0-0 France – Since we restarted France has controlled the ball, but there hasn't been much in it. Andriy Pyatov's been relatively unbostered. At the other end, Hugo Lloris is taking a nap, I assume. At least, he could take a nap.
1302 – Ukraine 0-0 France – We're back in the fifth minute. They're going to give it a go.
1256 – Ukraine 0-0 France. Match Stopped – Looks like we will restart at the top of the hour.
1252 – Ukraine 0-0 France, Match Stopped – I just took a nap and woke to more bad news:
1240 – Ukraine 0-0 France, Match Stopped – UEFA officials are on the field, inspecting it. It looks terrible. Groundskeepers steps met with water, splashing at even the most mild of movements.
1232 – Ukraine 0-0 France, Match Stopped – They're five hours ahead of Eastern time, and according Gary Lineker, it's not looking good:

1230 – Ukraine 0-0 France, Match Stopped – I'm now intent on posting as many Twitter screen shots as possible:

1226 – UKraine 0-0 France, Match Stopped – Rain is still coming down in Donestk. We're told we won't have a kick off before 1:00 p.m. Eastern, if at all.
1223 – Ukraine 0-0 France, Match Stopped – Looking for news, and I can't find any. I feel like I need to update this post. As of now, we have no idea when the game will resume.
1213 – Ukraine 0-0 France, Match Stopped – Both on and off the pitch, there are a number of safety issues that come in to play the longer this goes on. There's also the issue of the matches running together. England-Sweden are supposed to kick off in 150 (or so) minutes.
If the match is suspended, it will be replayed tomorrow. At least, that's what I'm told.
1208 – Ukraine 0-0 France, Match Stopped – As thunder roars in Donetsk, Jacob Steinberg addresses those who scoff at a little water forcing the players off.

No information on how long we'll be stopped. Water is forming into small puddles on the pitch. When these players come on, the match will be played in a bog.
1205 – Ukraine 0-0 France, Match Stopped – Another crack of thunder and notes of lightning right over top of the stadium forces the official to take the players off the field. The match is stopped. The rain is just pouring down. Shots show water streaming down the stadium's concrete steps.
1203 – Ukraine 0-0 France – Rain pouring down. Thunder reportedly heard in the distance. Ukraine is pressing high and playing a high line at the back. France adjusting.
1201 – Ukraine 0-0 France – The annoying countdown is done. France, in blue, kicks off going from right to left. The all-yellows go from left to right.
1159 – Anthems done. We're minutes away.
1153 – Television cameras show an area full of blue-and-yellow clad supporters, and I think to myself "Oh, crap. Is Sweden-England the first game?" Yeah, Richard … Ukraine's colors?
Clearly, I'm on point this morning.
Teams and in the tunnel, ready to come out. Anatoly Tymoshchuk gives club teammate Franck Ribery a nice pat on the head.
1147 – Perusing pre-match punditry … listening to British media discuss Zlatan Ibrahimovic is tiresome. They don't shine to his ways – that's fine (and maybe fair). But this meme about Zlatan not performing in certain games. That may be true, but it happens to the best (Messi in the Champions League semis?). Also, Zlatan scores a goal and set up some nice chances against Ukraine. The criticism is ill-timed. In addition, it wasn't too long ago that Zlatan was bagging Champions League braces in London.
1146 – Semi-random: Tomas Rosicky didn't train today and will be a game-day decision for the Czech Republic. He left Tuesday's game at halftime with an Achilles injury.
1137 – Reading Twitter reports from Ukraine confirming England fans are drastically outnumbered by Sweden's. Speculation based on ticket sales was somewhere on the order to 3/4 to 1. If Peter Forsberg's not one of the 15-20k traveling Swedes, I'm not too interested.
1136 – And it don't stop:
You're going to love these screenshots when the page is super slow to load later in the day.
1127 –Wow, check me out with the time to kill:

1121 –Screenshots!

That would be crazy.
1117 –Re: Nasri/Menez's positioning: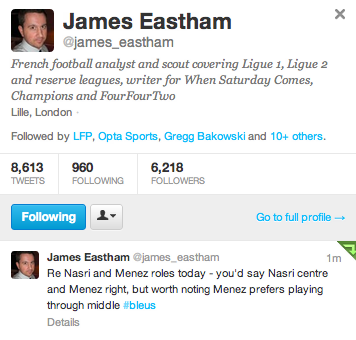 So there's that. Also, Nasri apparently has courted controversy by doing the Shhhhh gesture after scoring against England. If that's bad, can you imagine how much negative karma Andrei Arshavin's accumulated over the years? And who really wants to thing of that stout little elf carrying some dark, ashen cloud on his shoulders. No, I don't like this at all. Let's all just settle down.
1104 – Lineups:
France: Lloris, Debuchy, Rami, Mexès, Clichy, Cabaye, Ribéry, Nasri, Ménez, Diarra, Benzema, SUBS: Mandanda, Carrasso, Evra, Réveillère, Koscielny, Valbuena, Matuidi, Malouda, M'Vila, Martin, Ben Arfa, Giroud,
Ukraine: Pyatov, Khacheridi, Mikhalik, Tymoshchuk, Yarmolenko, Nazarenko, Konoplyanka, Shevchenko, Voronin SUBS: Koval, Goryainov, Kucher, Shevchuk, Rakitskiy, Butko, Garmash, Aliyev, Rotan, Seleznyov, Dević.
Two big changes for France. Gael Clichy comes in at left back for Patrice Evra after the Manchester United defender gave up the cheap foul that gifted England their set piece opportunity (and goal) on Monday. Also, Paris Saint-Germain attacker Jeremy Menez comes in, pushing Florent Malouda to the bench. If Laurent Blanc stays with a 4-3-3, that means Samir Nasri will play through the middle; however, we could see (gulp) 4-2-3-1, though that would against have Nasri centrally.
For Ukraine … that's right. They're only starting nine! I'm sure that's a mistake. I copy-pasted that from UEFA, though other places on their side they list left back Yavhen Selin and right back Oleh Gusev as starting. Why don't we do with that?
1058 – I've got the thread up a bit early today. Lineups will be coming in a few. Kickoff isn't for another hour. For now, my picks for Group D's second games …
Ukraine 1-2 France
Sweden 0-1 England
Sidenote: I have no idea if or how we'll do running commentary over the next four days with simultaneous kickoffs. There's a logical issue: update collisions. We'll have two people watching tomorrow's games, but it may not be tenable to have two people updating a post.
ProSoccerTalk is doing its best to keep you up to date on what's going on in Poland and Ukraine. Check out the site's Euro 2012 page and look at the site's previews, predictions, and coverage of all the events defining UEFA's championship.