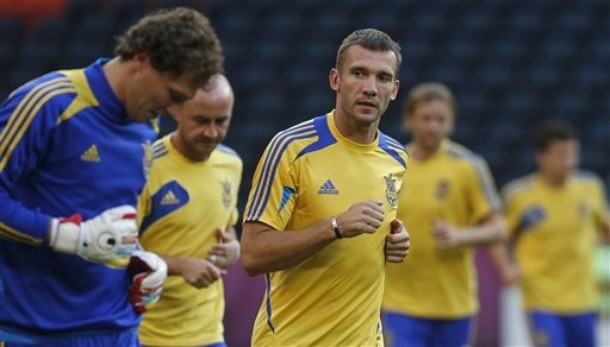 When Group D was drawn in December, it looked like the tournament's most balanced group. In the six months that followed, France posted a victory in Germany that announced Les Bleus as the favorite. Ukraine, undermined by internal tensions, injuries and an unsettled coaching position, looked like England without the talent. Few saw the co-hosts getting out of the group.
Fast forward to mid-June and Ukraine sit top of the group after one round, and while France still profile as the group's best team, the label will be untenable if they don't take full points on Friday. The moniker is already circumspect after witnessing France's inability to break through a one-tracked England, but if Laurent Blanc's team ends the second round on two points, Ukraine will have pole postion on the group's top seed.
That scenario's not on Ukranian minds, yet. Andriy Shevchenko's opening match fairy tale has the co-hosts living in the moment. On Friday, they'll have no choice but to move on, but until then, Ukraine continue absorbing the glow of their perfect start.
If they get a result against France, they can dare to dream.
That match, the first of the day, starts at noon Eastern. Here's your playlist.
Ukraine vs. France
1. Look outside
Put aside Shevchenko's two moments of brilliance and Ukraine's two most dangerous players were wingers Andriy Yarmolenko and Yevhen Konoplyanka. Yarmolenko is a sort of star in waiting – the likely face of the national team once Shevchenko starts to fade out. He was expected to be a contributor, whereas fellow 22-year-old Konoplyanka secured his place in the starting XI during the run up to the tournament.
Against Sweden the pair took advantage of an opponent that proved weak on the flanks. Against a France side that will set up in a 4-3-3, Ukraine will need a similar effort to make up for their midfielders being outmanned in the middle.
If Yarmolenko and Konoplyanka win their individual battles with French fullbacks Patrice Evra and Mathieu Debuchy, Ukraine will have a route to France's big weakness: central defense. By getting behind the defense or getting crosses in, the young wingers can allow Shevchenko and Andrei Voronin to challenge Adil Rami and Philippe Mexes. That's where the knockout round dreams might start.
2. Trick No. 2
There is the possibility Shevchenkno isn't up to the task. At 35 years old and coming off his least productive season at club level, speculation held he was out of gas. To some, he was a surprise starter against Sweden, and when he looked flat in the first half, those same people called for him to be taken off. Two goals later, and all's quiet with the Sheva recall campaign.
But what if the critics are right and Shevchenko really can't be relied on? What if Monday was an aberration? Andrei Vorinin has only eight goals in 74 international appearances, while Sergey Nazarenko (12 goals in 48 games) was playing farther from goal against Sweden.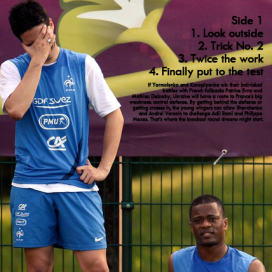 The young wingers may need to do more than just provide for Shevchenko. With a combined 13 goals in 41 games, Yarmolenko and Konoplyanka are the best backup plan Ukraine have.
3. Twice the work
England's tactics gave France's wide attackers – Samir Nasri and Franck Ribery – an easy night, the duo rarely having to track back and help defensively. They're unlikely to have the same luxury on Friday.
Yarmolenko and Konoplyanka are key to Ukraine's upset plans, and although Nasri and Ribery are the most important players to France's attack, their role in Blanc's 4-3-3 mean they laso provide cover for their fullbacks.
The easiest ways for France to get tripped up would be a set piece, penalty, or a thunderbolt from midfield. Not too far down the list is failing to provide help for their fullbacks.
4. Finally put to the test
Rami and Mexes are the reasons why France still have doubters. Every other spot in their starting XI can compete with the best of Europe. To this point, the central defense hasn't been up to that standard.
Philippe Mexes struggled with injuries over the last season. There are questions about his fitness, and even when healthy, there are differing views about how good he actually is.
The same can be said for Rami. The Valencia defender ascended to the starting lineup as Blanc cleaned out the malcontents who went to South Africa. One of a number of (current and former) Lille players who've benefitted from the club's recent success, Rami is seen by some as more Blanc favorite than justified selection.
Blanc is sticking by his central pairing, but with England only occasionally venturing into attack, Mexes and Rami were untested in France's first match. It's still unclear whether they remain a weakness.
ProSoccerTalk is doing its best to keep you up to date on what's going on in Poland and Ukraine. Check out the site's Euro 2012 page and look at the site's previews, predictions, and coverage of all the events defining UEFA's championship.