When Poland met Russia on Tuesday, I opined the match would be the most attractive of Group A's mini-tournament. The game almost lived up to the billing, but Saturday's match in Wroclaw will likely eclipse it. Combine Poland and the Czech Republic's styles and the stakes of their group-closing meeting, we should see a higher scoring version Poland-Russia.
Poland comes into the match needing a win to advance. The Czech Republic also need a win, though depending on the result of Russia-Greece, they could still get through with a draw.
Don't expect the Czechs to start by playing for that draw. When the first whistle blows at the Municipal Stadium, we'll likely see a brief feeling-out period before the teams start jumping on their perceived advantages. And as they try to exploit those edges, they'll will leave themselves open for new attacks.
Unfortunately for the Czechs, their best attacking player will likely miss the match. Tomas Rosicky left Tuesday's game at halftime with an Achilles problem, and although the team will wait until just before the game (if necessary) to make a final determination, Rosicky failed to train during the week. For a team that's already having trouble utilizing their striker, losing their best connection to the forward position will be a significant setback.
Which brings us to today's playlist:
Side 2: Poland vs. Czech Republic
5. Lasted for too long
Striker Milan Baros has been invisible for the Czech Republic through two rounds, but there's little indication Michal Pilek will go in another direction, especially with so many doubts surrounding Rosicky. Baros, the leading goal scorer at Euro 2004, has an impressive record (41 goals in 91 games) but has been ineffective for some time. Backup Tomas Necid is the future, but he's also been dealing with injuries. Tomas Pekhart and David Lafata are also options, if unconvincing onces.
Many associate the Czech Republic with an attractive style of play, something which should serve them well on Saturday. With Rosicky injured, it's unclear they'll be able to pull off a more progressive approach. If they try, they may end up outgunned, especially if they're relying on Baros for goals.
6. Trend I have to break
Going back to 2008, Czech goalkeeper Petr Cech has given up a suspect goal in three consecutive Euro matches, an amazing string considering the impecable form he had while Chelsea were winning their first Champions League. Then, Cech was reestablishing his reputation as one of the world's best `keepers, a reputation that faded thanks in part to the events of 2008. With his troubles four years ago seemingly inspiring a club-world slump, it took Cech a couple of years to return to his best.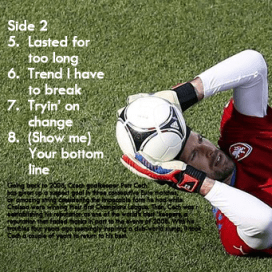 Chelsea fans have to be worried the same will happen this year, but first things first. Cech needs to make it through 90 Euro minutes without a howler. While it the Czech Republic could advance despite another mistake, that may only prolong Cech's agony.
7. Tryin' on change
Poland came into the tournament projected to play a 4-2-3-1 formation. Against Russia, they switched to a 4-1-4-1, presumably in response to the specific threats Russia offers.
The Czech Republic has a more dangerous attack than Greece (against whom Poland played 4-2-3-1), but they're not Russia. Will Franciszek Smuda go back to the 4-2-3-1, which was so impressive for the first half hour against Poland? Or will he stay 4-1-4-1, a system that played Russia to a stand still?
It likely won't matter. The formations can play so similarly, the more important issue may be how Poland plans to use Robert Lewandowski. Against a Czech central defense that has been suspect, Lewandowski could have a big day.
8. (Show me) Your bottom line
Poland has already raised their profile on the international stage, an ascendance that has little to do with their place as co-hosts. They've played attractive soccer, and with stars like Lewandowski and captain Jakub Blaszczykowski, they've given onlookers the kind of star performances that are easy to latch onto.
But aesthetics only count for so much. In fact, they can be counter productive at this point. Now that Poland has shown their quality, the expectation is they beat the Czech Republic and get out of this group.
For a team that's drawn both of their games thus far, it's a significant ask. But it's also a reasonable one. Looking player for player, there's no reason that can't beat the Czechs and secure a place in the quarterfinals, where they'll likely get a match with Germany.
ProSoccerTalk is doing its best to keep you up to date on what's going on in Poland and Ukraine. Check out the site's Euro 2012 page and look at the site's previews, predictions, and coverage of all the events defining UEFA's championship.