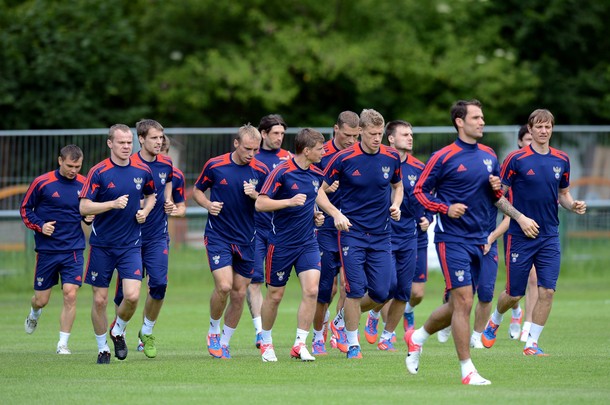 For as good has Russia has been, they still have work to do on Saturday when Group A finishes it mini-tournament. And as bad as Greece has been, they still have a chance to advance. If Greece wins and Poland-Czech Republic doesn't end in a draw, Greece is in and Russia, as imperious as they've looked (at times) in this group, would be out in what would be a huge, cautionary tale.
For the last two weeks I've made allusions to past successes, past failures, but it bares reminding that three games is a very, very small sample. You get consistent results for consistent reasons? Fair enough. Let's make some conclusions. But if Russia's group stage goes blowout versus the Czech Republic, draw versus Poland, and loss to Greece, what would we learn?
That Russia's bad? They're clearly not. That'd be drawing a conclusion based on only the Greece result.
That they're good? Perhaps aesthetically, but the end product wasn't there.
That they were good but unlucky? Three games seem enough to tease that out.
That they're inconsistent? Three games doesn't seem like enough to make that call.
I know that seems like a lot of equivocation, but it's hard to be unequivocal about anything after 270 minutes.
I point this out now because Greece beating Russia wouldn't be that big of an upset. Within the context of this tournament? Sure, it's pretty big, but right now, people like me are making everything out to be more than it is. But it wouldn't be that big of an upset within the context of world soccer.
It would, however require a lot of backtracking.
That game starts at 2:45 p.m. Eastern, as does Group A's other match, Poland vs. the Czech Republic. I'll have that preview up soon. Until then, here's your playlist.
Side 1: Russia vs. Greece
1. Nothing to bring home
Russia coach Dick Advocaat hasn't said whether Aleksandr Kerzhakov will start. After a terrible first game, Kerzhakov maintained his place against Poland and improved. That's not saying much, though. He didn't set a record for most shots off target (which he did against the Czech Republic, with seven). Pretty much anything he did on Tuesday would be a step up.
Even while he's struggling, Kerzhakov has done some positive things. His mobility is a good fit for what Russia wants to do with Alan Dzagoev and Andrei Arshavin. Good with the ball at his feet, he's capable of dropping back from the defense to act as a fulcrum when Russia's breaking into the counter. Neither Roman Pavlyuchenko nor Pavel Pogrebnyak offer as much in that area.
But right now, Pavlyuchenko has more goals than Kerzhakov in about one-third of the time. At some point, the virtues Kerzhakov offers in other areas are offset by his struggles finding goal.
2. Push and pause
At the end of the Poland match, Andrei Arshavin was out of gas. Now he's going into his third match in nine days, and if it's a close one, he'll need to go 90. While it'd be nice to be able to take him off, the last moments of Tuesday's match showed Russia has little idea what to do in the final third if the ball doesn't go through Arshavin. It's unclear when that's going to change.
An ideal scenario for Dick Advocaat: Russia takes a two goal lead into halftime, and after getting a measure of how the second half's playing out, he takes Arshavin off.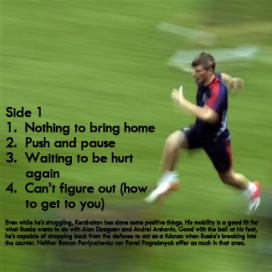 As bad as Arshavin was at the end of the Portland match, Advocaat could make the case that Russia would be best served by resting Arshavin. If he tried that and Russia lost, it might end his coaching career.
3. Waiting to be hurt again
In both of Greece's matches, they've had to take injured players off before halftime. Beyond losing first choice players, this has limited Greece's tactical substitutions. For a team that's fallen behind in both their matches, it's also inhibited their ability to find something that works.
Facing elimination against Russia, Greece has run out of time. No more experimenting. No more trying combinations. What they do needs to work, and it needs to work now. Injuries didn't let them do that before? That's sad, but come kickoff, it's also irrelevant
That said, they sure could use some better luck in the health department. Beyond it's effect on fine-tuning, burning subs handoffs Fernando Santos. It would be nice it he made it to the second half with his three options intact.
4. Can't figure out (how to get to you)
Against Poland, Greece started Theofanis Gekas at striker, didn't seem satisfied with that, and brought him off in the second half. Against the Czech Republic, Santos tried normal left-sided attacker Giorgios Samaras as his number nine. But he wasn't happy with that, and in the second half, he brought back Gekas.
Going into their third match, it's unclear what Greece will do. They've scored two goals, but both came in desperate circumstances – after their original plans had been crumpled up and thrown out the window. Perhaps they'll try an entirely new approach, but you know how that will turn out. They'll fall behind, get desperate, make a change, and then find a goal.
It's the same process I use when making soup. I start with something simple and it sucks, so I start digging in the back of the fridge to use all the junk that's about to expire. That usually makes it worse, at which point I have to add ingredients that I know are good but I didn't really want to use. I was saving them for something better than this stupid soup. Ultimately, I have something that tastes decent, but I have no idea how I did it, and I really don't want to make it again.
I guess what I'm saying is Greece is like my soup. Or that last paragraph. It's just this collection of stuff. And it's really hard to be excited about a collection of stuff.
ProSoccerTalk is doing its best to keep you up to date on what's going on in Poland and Ukraine. Check out the site's Euro 2012 page and look at the site's previews, predictions, and coverage of all the events defining UEFA's championship.