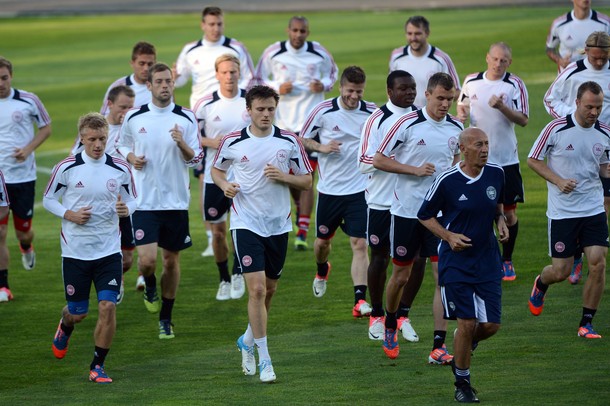 Saturday's Group A shake up cautions us against taking anything for granted, but through the first two rounds of group play, Germany looks like the tournament's best team. Their defense has only given up one goal, striker Mario Gómez is the competition's leading scorer, and each of their midfielders has given team of the tournament-type performances. The team seems like too much for anyone to handle, let alone Denmark.
The Danes, however, have already shown they shouldn't be patronized with phrases like "let alone Denmark." They opened the tournament by taking down the Netherlands, a team ranked one spot behind Germany in the world rankings. If they can derail the Dutch, who's to say they can't take down the Germans?
Nobody, though the ease with which Germany dispatched the Netherlands on Wednesday shows they're a much more formidable opponent. And when you think back to last Saturday, when the Germans had to shift gears and adopt a new approach to break through a packed in Portugal, it's hard to imagine Germany continuously banging it's head against the wall the way the Dutch did versus Denmark.
The Danes had a great plan for the Dutch, but they may need a couple of different plans on Sunday. Germany's sure to have more than one trick at their disposal.
The game kicks off at 2:45 p.m. Eastern, as goes Group B's other game, the Netherlands-Portugal. Germany wins the group with any result and can still get through with a loss in certain scenarios. For Denmark, they're through with a win. They also advance with a draw, provided the Netherlands beat Portugal.
Here is your playlist.
Side 1: Germany vs. Denmark
1. The right foundation
Niki Zimling looks set to start after leaving in the first half against Portugal. Paired with William Kvist in front of the back four, they'll be Denmark's first line of defense against the German midfield: Mesut Ozil, Bastian Schweinsteiger, and Sami Khedira. That trio has been allowed to control each of their first two games. Zimling and Kvist will get the unenviable task of holding them at arm's length.
Outnumbered two against three, Zimling and Kvist will need help. That's where Christian Eriksen comes in. The 20-year-old Ajax star had been largely invisible this tournament. He started turning up in the second half against Portugal, but he has still failed to meet the expectation that he'd be one of the competition's breakout stars.
On Sunday, his defensive contributions are going to be as important as his passing. Germany will send one of Schweinsteiger or Khedira forward in the attacking phase. Eriksen needs to track back onto the sitter, else Germany will be lay siege to Denmark.
2. The same every time
Denmark central defenders Daniel Agger and Simon Kjaer were better against Portugal than they were against the Netherlands. Strangely, Denmark gave up three to the Portuguese while keeping a clean sheet against the Dutch.
Goal totals aside, Morten Olsen needs his best effort from his central pair if Denmark can contain Mario Gómez. Germany's striker has three goals in two games operating exclusively within the width of the 18-yard box, where Agger and Kjaer are expected to neutralize the opposition. Between Thomas Müller's crossing and Özil's creativity in the middle, Gómez's going to get plenty of service.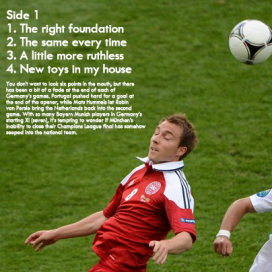 Denmark needs the pair that faced Portugal to show up on Sunday. If they get beaten as many times as they were by the Dutch, Germany will win.
3. A little more ruthless
You don't want to look six points in the mouth, but there has been a bit of a fade at the end of each of Germany's games. Portugal pushed hard for a goal at the end of the opener, while Mats Hummels let Robin van Persie bring the Netherlands back into the second game. With so many Bayern Munich players in Germany's starting XI (seven), it's tempting to wonder if the same attitude that allowed Chelsea to comeback in the Champions League final has carried over into the national team. It's far too early to tell, but the symptomatology's there.
If Germany takes another lead, it would be nice to see them be a little more ruthless. Go and get that extra goal, and once it's yours, don't be so willing to let the other guy decide how the rest of the match plays out.
4. New toys in my house
If Germany can build a safe lead, it'd be nice to see some of the young stars collecting dust on the bench get a run out. Mario Goetze and Marco Reus are part of the next wave reinforcing the national team, but they've also been injured for much of 2012. It'd be nice to get them some time. Twenty-one-year-old André Schurrle has seven goals in 14 caps, while Borussia Dortmund's Ilkay Gundogan's providing yet another midfield option.
Germany has too many players for so little time. It'd be nice to see a few.
ProSoccerTalk is doing its best to keep you up to date on what's going on in Poland and Ukraine. Check out the site's Euro 2012 page and look at the site's previews, predictions, and coverage of all the events defining UEFA's championship.