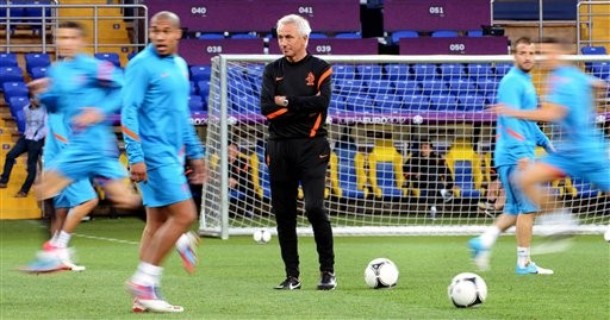 Come 4:45 p.m. Eastern on Sunday, the Netherlands' Euro 2012 nightmare will be over. They'll either be eliminated and can fade from the spotlight or they'll be in the quarterfinals, which is exactly how far they got in 2008. Having lost their first two games, the Dutch are fortunate the knockout round is still in frame.
They need to beat Portugal, and they need some help from Germany, but given how they've performed to this point, their play needs a major turnaround before they can get tangled in scenarios. The Dutch have trailed for 73 percent of the tournament. They've never led and they've only scored one goal, all of which is consistent with how they've actually played. Their attack has underperformed, their defense has been terrible, and their midfield seems incapable of providing a link to attack.
All of which would play perfectly into Portugal's hands if the Seleccao went through with a draw. And they might. If Germany beats Denmark, one point sends Portugal through, though there is a chance the Portuguese will have to play for  a win.
Against Germany, we saw even the most fluid of teams need a blunt option to break through an ensconced Portugal defense. After an hour, the Germans changed tacts, went to the air, and got their goal. Does the Dutch attack have that kind of versatility?
We'll find out at 2:45 p.m. Eastern on Sunday when the Netherlands-Portugal kicks off simultaneously with Germany-Denmark. There are a number of scenarios where Portugal advances, almost all of which require help. The most simple way to the quarterfinals: Collect more points than the Danes.
Here's your playlist:
Side 2: Portugal vs. Netherlands
5. Change of one sort
Dutch fans want to see Klass-Jan Huntelaar and (to a much lesser extend) Rafael van der Vaart start. It looks like'll get part of their wish. Huntelaar looks set to be named to the XI, though it's unclear who will be dropped.
Most assumed it would be captain Mark van Bommel, but at a Saturday press conference, coach Bert van Marwijk implied van Bommel's presence before the press (having also attended the presser) told the media all they needed to know. That seems to leave three options.
Destroyer Nigel de Jong could be sat through the same logic that called for van Bommel's exclusion.
Ibrahim Afellay could be benched, with Wesley Sniejder going left (as he done before in this tournament), or
Arjen Robben, subbed out on Wednesday, could be the shock exclusion.
Oh, and then there's the obvious: Huntelaar could come in for Robin van Persie, with van Marwijk leaving the system unchanged. It's obvious, if unlikely.
6. Something to protect us
The defense has been terrible, particularly at fullback. They're getting no help from their midfielders or wingers, and most disconcerting, Bert van Marwijk has almost no other options. There is, after all, a reason an 18-year-old with no significant international experience is starting at left back.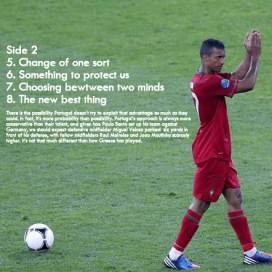 The Netherlands' best defense is going to be offense: Holding the ball, dictating play, being patient. If that doesn't work, they need to be willing to play a more open game, even if that means needing three or four goals to win. Given the talent Portugal can throw at the Netherlands' fullbacks, they many have no choice but to engage in a shootout.
7. Choosing between two minds
There is the possibility Portugal doesn't try to exploit that advantage as much as they should. In fact, it's more probability than possibility. Portugal's approach is always more conservative than their talent, and given how Paulo Bento set up his team against Germany, we should expect defensive midfielder Miguel Veloso parked  six yards in front of his defense, with fellow midfielders Raul Meireles and Joao Moutinho only scarcely higher. It's not that much different than how Greece plays.
Against Denmark, Portugal played like a team cognizant of an attacking game and scored three goals. They're clearly capable. Instead of looking at the Dutch as a team to be feared, they need to see a flawed defense with fullbacks that can be exploited. They need to be aggressive.
8. The new best thing
All the focus on Cristiano Ronaldo's failures have allowed Nani's Wednesday performance to fly under the radar. It's not fair, given "the other Portugal winger" put in the best wide performance we've seen this tournament. His passing was exceptional, as was his work shutting down Simon Poulsen on Portugal's right flank.
On Sunday, Nani will be up against Jetro Willems – the 18-year-old PSV defender who had only two international appearances prior to the tournament. Forced into action because of Erik Pieters' injury, Willems was constantly abused by Thomas Müller and Germany, leading many to say it would have been better for van Marwijk to put midfielder Stijn Schaars in defense.
Now Willems gets Nani – a bigger one-on-one threat than Müller, and somebody who's arguably out-performed the German attacker through two rounds.
It's an advantage that could render Cristiano Ronaldo's performance irrelevant.
ProSoccerTalk is doing its best to keep you up to date on what's going on in Poland and Ukraine. Check out the site's Euro 2012 page and look at the site's previews, predictions, and coverage of all the events defining UEFA's championship.