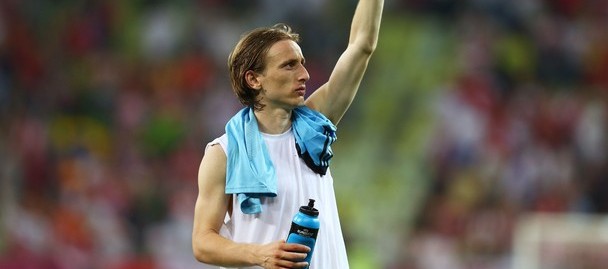 How we'll remember …
Spain 1, Croatia 0 – As a typical match from Spain's dominant period, but we'll also remember it as a game that saw a deserving team seen out of Euro 2012, finishing third in what turned out to be the true Group of Death. If Croatia didn't have to go for a win at the end, they probably hold out for a draw and finish group play undefeated. They still would have finished third in the group, but when you look at the rest of the tournament, you could make a case that one of the competition's three of four best teams (on form) are out after three games.
Italy 2, Ireland 0 – As boring as we could have predicted. It wasn't a bad game, and it certainly wasn't as dull as the worst soccer games we've seen. It was just so predictably passive. "Oh, Italy and Ireland? Neither of these teams are going to do anything." And they didn't. Italy hogged possession and, aside from Antonio Cassano, offered no creativity. They just kicked the ball around Ireland's defense, trying to open it up, and when that didn't happen, they'd try something unlikely to come off because they hadn't put the hard work into setting it up.
Team of the Day
Suffice to say, there weren't a lot of stellar performances on Monday.
G: Iker Casillas, Spain
LB: Jordi Alba, Spain
CB: Gordon Schildenfeld, Croatia
CB: Sean St. Ledger, Ireland
RB: Ivan Strinić, Croatia
M: Sergio Busquets, Spain
M: Xabi Alonso, Spain
M: Andrea Pirlo, Italy
AM: Luka Modric, Croatia
AM: Andres Iniesta, Spain
F: Antonio Cassano, Italy
Subs: Kevin Doyle, Ireland, Daniele de Rossi, Italy, Andrea Barzagli, Italy
Three lessons to take home
1. Order of matches matter – If Croatia had gotten Italy's order of games, they might be going through. At least, they would have finished the tournament without a loss (who knows how the tiebreakers would have gone), since they wouldn't have had to open up at the end of today's game in pursuit of a goal. Instead, they'd be beating Ireland.
Don't fell bad for the Croats, though. They were one of the better teams in group stage, but they also controlled their own destiny. They weren't subject to fate, the tides, Mike Seaver – whatever force you think controls the world. Going into their match with Italy, they knew without a win, they's probably three from Spain. It's a scenario they should have tried harder to avoid.
Italy, on the other hand, could draw their first two matches knowing a win over Ireland would probably put them through. Their goal against Spain gave them the edge in the three-way tiebreaker and the knowledge that they wouldn't have to alter their game during group stage.
Croatia knew what they had to do and didn't; however, the order of matches didn't help them.
2. Getting it right doesn't always mean getting it done – In our previews, we mentioned the delicate balance that needs to be struck when facing Spain. You need o account for their threat, but you have to maintain a threat of your own to keep them from completely laying siege.
Slaven Bilic got it right. We didn't talk about the possibility of him dropping a striker, but that's what he did. He switched from a 4-4-2 formation to a 4-4-1-1, moving pushing Luka Modric up while going with three defensive-minded players and Ivan Rakitic in midfield.
Spain dominated possession but thanks to Modric, Croatia very nearly took the lead in the second half. The plan didn't fully come off, but that doesn't mean it wasn't the right plan.
The same can be said for Giovanni Trapattoni's approach. Under pressure to change things up for Italy, Trap decided to start the team that got him to the tournament. And it worked, from open play at least. Ireland were on even footing with Italy before Shay Given misplayed an Antonio Cassano shot. The resulting corner led to Italy's opening goal.
Like Bilic, Trapattoni got his tactics right, but whereas Croatia was up against a team you can't completely solve, Trapattoni saw player error undo his planning.
3. Cagey soccer is not good soccer – Monday's matches were painful. I wanted to turn mine off but decided that wasn't a good career move.
Croatia and Spain were through at the start of the day, which may have led to some measured play from the Croats, who waited for Italy to break through. Of course, they did, temporarily went top of the group, leaving Croatia looking winning goal. Unfortunately, they couldn't get the ball off a Spanish team that had more incentive to prevent goals than score them.
It brings us back to one of this week's themes: These three-game mini-tournaments are weird. They don't feature enough games to truly distinguish the teams from each other, so you're left with final days where complications can overwhelm drama.
Over the last two days, that wasn't the case, as the group dynamics led to interesting scenarios. Today, however, everything felt stagnant.
ProSoccerTalk is doing its best to keep you up to date on what's going on in Poland and Ukraine. Check out the site's Euro 2012 page and look at the site's previews, predictions, and coverage of all the events defining UEFA's championship.