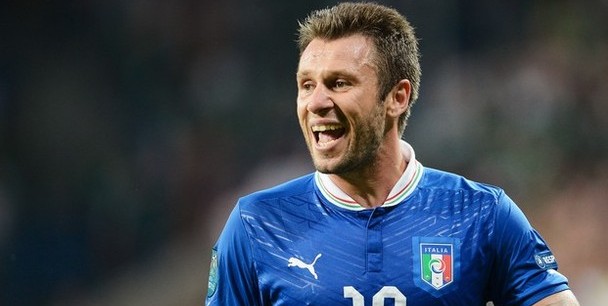 Man of the Match: That makes three straight games Antonio Cassano's been one of Italy's better players. Even if he hadn't have scored the winning goal (heading home an Andrea Pirlo corner), he would have likely won the award, being at the center of everything Italy tried to go in their attacking third. Unfortunately, he still can't go 90 minutes and was brought off at the hour mark, but during his time on the field, he may have been the only player on either team doing anything meaningful in attack.
NBC Sports: Italy does bare minimum in 2-0 win over Ireland
Packaged for takeaway:
The final score hints at a comfortable Italy win, and it was, but there really wasn't much separating these teams. Italy converted a first half corner and repeated the trick near the end, but there were very few scoring chances from two teams that lacked imagination.
The teams had played a fairly even half hour before Italy broke though, but corner should have never happened. Italy gained possession ahead of the kick through a bad Glenn Whelan giveaway. Their pressure seemed to end when Cassano tried his luck from 26 yards only to see Shay Given bungle it out for a counter. This was moments after Given had come out on a through ball for Cassano, failed to get it, and left his goal wide open.
Given has said this will probably be his last international tournament. It wasn't a convincing farewell. The veteran Aston Villa `keeper caused many of his team's problems.
Late in the match, an athletic volley of an Alessandro Diamanti corner got substitute Mario Balotelli on the scoresheet. We'd speculated pre-match that benching him might mentally lose him for the tournament. Obviously, we were dead wrong (shocking, right?), but after the goal, Balotelli seemed to want to yell something over to Cesare Prandelli. Leonardo Bonucci ran up, covered his mouth, and tried to make it into a joyous occassion.
Italy switched back to 4-4-2 for this match, pushing Daniele De Rossi into midfield. They didn't, however, move Giorgio Chiellini to the left. Instead, Palermo's Federico Balzaretti started on the left. Chiellini stayed in the middle, with Bonucci dropped to make way for Andrea Barzagli. Ignacio Abate got the start on the right, with Christian Maggio benched.
Whether the changes worked, who knows. Ireland has such a unique, conservative approach, it's hard to draw any conclusions.
Prandelli made one other change, of course: Antonio Di Natale started for Balotelli. He was a non-factor, and although Balotelli wasn't good in the first two matches, he still offered more than Toto.
In a likely matchup against France on Sunday, Italy will probably be without Chiellini. Late, the Juventus defender had to be removed, signaling to the sideline that his left hamstring had popped after he stretched to play a ball. He might be out for the tournament.
Ireland was out of the tournament four days ago, but their ceremonial exit off came near full time when midfielder Keith Andrews sought and received a second yellow card. Kicking anything that lay in his way as he went to the tunnel, Andrews' dismissal provided the appropriate closing image for the Irish's tournament.
Ireland's -8 goal difference ties a competition low, also set by Yugoslavia in 1984, Denmark in 2000, and Bulgaria in 2004.
Italy knows they'll play on Sunday, but who is still up in the air. Even though France is favored to win Group D, all of France, England, and Ukraine could still take end up facing the Azzurri in Kiev.
ProSoccerTalk is doing its best to keep you up to date on what's going on in Poland and Ukraine. Check out the site's Euro 2012 page and look at the site's previews, predictions, and coverage of all the events defining UEFA's championship.