Italy has faced Ireland three times since former Azzurri coach Giovanni Trapattoni took over the Republic. They've failed to beat them, drawing twice during World Cup qualifying before losing in Belgium last June. Italy's not worse off for it, qualifying for South Africa without having to go through a playoff, but the results are reason for worry ahead of the team's Monday Group C finale.
Trapattoni spent 23 years building his coaching legend in Serie A, his nine league titles a testament to his ability to manage and manage against Italian players. Yes, a lot has changed in world soccer since he left Fiorentina in 2000, but if there's one place that's willfully holding on to the last decade, it's Italy.
With the national team, Cesare Prandelli is trying to change that. Italy played more of a possession game through qualifiers, though that's changed in this tournament. Through two rounds, Italy's looked little different than the teams they're used to sending to major championships.
Monday's their chance to regain their qualifying form. If they can't – it they approach this game the same way they approached Spain and Croatia – Trapattoni will have them right where he wants them.
Game starts at 2:45 p.m. If Italy wins, the only way they don't go through is if Spain and Croatia play to a multi-goal draw. If Italy don't win, their tournament's over.
Here's your playlist:
Side 2: Italy vs. Ireland
5. Re-change
Italy shifted to a 3-5-2 formation ahead of their opening match and stayed with it against Croatia. Now that defender Andrea Barzagli is back from injury, Cesare Prandelli's ready to return to a back four. That will push Giorgio Chiellini to left back, Daniele de Rossi into midfield, and Italy back into a 4-4-2.
The most interesting implication of the switch will be the positioning of Thiago Motta. The former Brazil international is likely to be deployed at Prandelli's most advanced midfielder – in a role you might call a trequartista if there was anything creative about Motta's play. He may be positioned at the three-quarter point of the formation, but he's unlikely to make anybody forget Alessandro Del Piero.
Against Ireland, it's a plus just to have another player in an advanced position. It's less certain whether the approach is viable beyond group stage.
6. Time you were gone
If Mario Balotelli loses his confidence, he loses everything. Given how Balotelli took his chances against Spain and Croatia, it seems everything's gone. The man's playing like he is first priority is not screwing up. He's over-thinking, turning off the natural instincts we see when he plays for Manchester City, and predictably screwing up.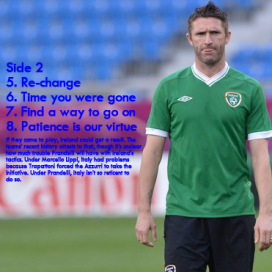 Prandelli's ready to move on, making the move most would have made a while ago: putting Antonio Di Natale in the starting XI. It's a decision that may have significant consequences. It's hard to imagine Balotelli being a viable contributor off the bench, part of the reason why Prandelli might have held off for so long. Moving Balotelli out of the starting XI might make Italy's most talented player useless for the rest of the tournament.
7. Find a way to go on
Ireland was the first team eliminated from the tournament, and having giving up seven goals in two games (as many as they gave up throughout qualifying), the team may be done. It's one thing to be eliminated. It's another thing to be humiliated.
There's a pride that keeps you from completely turning off (even if they try, most athletes find it's easier to play than completely tune uot), but that's different than trying to win. With no chance to advance, the Irish may not be up for a fight.
If they come to play, Ireland could get a result. The teams' recent history attests to that, though it's unclear how much trouble Prandelli will have with Ireland's tactics. Under Marcello Lippi, Italy had problems because Trapattoni forced the Azzurri to take the initiative. Under Prandelli, Italy isn't so reticent to do so.
Still, Italy lacks the speed or passing game to manage Ireland as easily as Spain did. And they don't have the aerial threats Croatia used to win last Sunday.
They will have a ton of possession and 90 minutes to find a solution, but if Ireland comes to play, those 90 minutes could fly by.
8. Patience is our virtue
Italy may be more used to playing with the ball. That doesn't mean they're good at it. They easily won their qualifying group, posting a +18 goal difference, but it's an accomplishment that's looking less impressive by the minute. The second place team in the group, Estonia, was demolished in their playoff by Ireland.
Ireland's best hope is to wait Italy out. Force Antonio Cassano to try to create something, and when that doesn't work, press for advantages when Italy has to push for a win.
If Ireland can pull off an upset, they finish third in their group. That may not sound like much, but considering what little Ireland has had to hold on to throughout the tournament, besting Italy is more than a silver lining.
ProSoccerTalk is doing its best to keep you up to date on what's going on in Poland and Ukraine. Check out the site's Euro 2012 page and look at the site's previews, predictions, and coverage of all the events defining UEFA's championship.