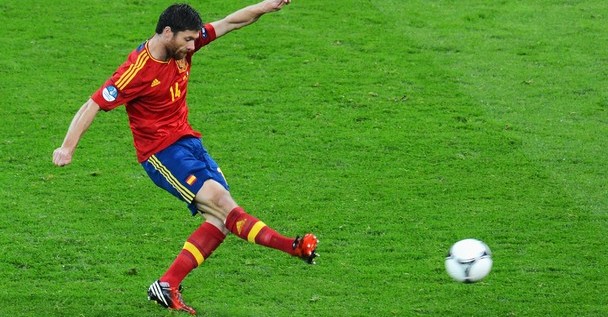 The one weakness Croatia harped upon ahead of Euro 2012 was a lack of speed, particularly at the back. Thus far, that weakness has rarely been tested, with only Mario Balotelli giving the Croats scares during their first two matches. And even though Balotelli had another bad game on Thursday, he has still able the draw a foul that led to Italy's only goal.
Ireland's goal also came from a dead ball, a threat Croatia's won't have to worry about against Spain. Instead, they'll have to worry about that weakness they never bothered hiding. Spain's speed's could kill Croatia.
It was the biggest advantage the holders had over Ireland, who they beat 4-0. Still, Spain's speed isn't raw, Usain Bolt-style explosiveness. There are a number of players in this tournament that could beat Andres Iniesta, David Silva, Cesc Fabregas, and Xavi Hernandez is a 100 meter dash. What they can't do is move full speed with the ball at their feet, and while it's a slight exaggeration to say Spain's playmakers can, they sure seem to come close.
That speed will be on display starting 2:45 p.m. Eastern. Both sides go through with a win, while any other result leaves them at the mercy of the Italy-Ireland result. That game kicks off at the some time.
Here's your playlist:
Side 1: Spain vs. Croatia
1. Finally finding use for you
Since Vicente del Bosque took over for Luis Aragones, I've bemoaned the inclusion of Xabi Alonso in the Spanish national team, arguing that swapping a sitter in for an attacker limited what had the potential to be a dominant team. Against Croatia, however, having a second man in deep will help, especially considering the second man is Sergio Busquets.
Croatia plays with two forwards who can play as outright strikers. In Spain's attacking phase (when fullbacks Alvaro Arbeloa and Jordi Alba are released), the leaves central defenders Gerard Pique and Sergio Ramos matched two-on-two with Nikica Jelavic and Mario Mandzukic. Basic defensive principles: That's one defender too few.
That's where Buquests comes in. For Barcelona, he's used to dropping into defense, becoming a third man in the back. With Alonso in the team, he can do that while Spain retains one outlet when Croatia's defense gets packed in.
2. The Next Coming, Again
A man who scored a stoppage time winner in a World Cup final doesn't need a coming out party, especially when he has three Champions Leagues and a European Championship on his resumé. Yet through two games, Andres Iniesta is having his best major championship yet. Though no player has distinguished himself as a clear player of the tournament favorite, Iniesta is on top of our early list. For whatever that's worth.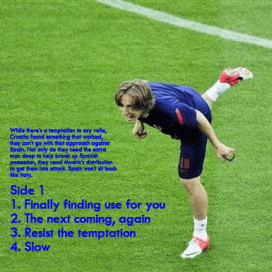 Of Spain's five goals, he's been involved in four, and he has been the driving force behind most of the Spain's movements that haven't come off. Among all of Spain's weapons, he's asserted himself as the one that needs to be stopped.
3. Resist the temptation
When Croatia came out of halftime against Italy with Luka Modric pushed higher up the pitch, their game against opened up. They looked like a completely different team, and by match's end, they were pushing for a win that looked unlikely at halftime.
While there's a temptation to say voila, Croatia found something that worked, they can't go with that approach against Spain. Not only do they need the extra man deep to help break up Spanish possession, they need Modric's distribution to get them into attack. Spain won't sit back like Italy.
It's always a difficult balance. You have to make allowances for Spain's attack, but you can't completely abandon yours. And you can't get into a shootout against a team that's never going to give you the ball.
4. Slow
Vedran Corluka has been the tournament's worst central defender. He's given up fouls that've led to goals, missed assignments in set pieces, been poorly positioned and not as strong in the air as you'd expect. And that was against Italy and Ireland.
Suffice to say, Corluka also hasn't gotten any quicker since moving to Bayer Leverkusen mid-season. His partner, Gordon Schildenfeld, is also slow. They're a pair ripe to be picked of by Spain, begging coach Slaven Bilic to reinforce his midfield. Ognjen Vukojevic can't protect them by himself.
It makes the inability to find a second goal against Italy even more important. Spain looks like a terrible matchup for Croatia, who really couldn't afford to go into this game needing points.
Thankfully (from their point of view), Italy's yet to beat Ireland since Giovanni Trapattoni took over.
ProSoccerTalk is doing its best to keep you up to date on what's going on in Poland and Ukraine. Check out the site's Euro 2012 page and look at the site's previews, predictions, and coverage of all the events defining UEFA's championship.