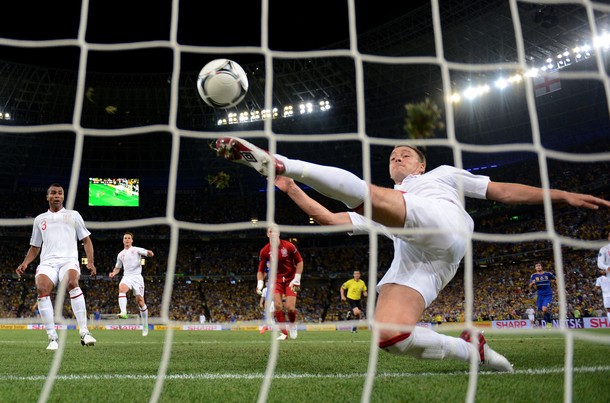 Man of the Match: For all the controversy that he courts, John Terry is still capable of being a pretty good defender. Adjusting to playing right center half (as opposed to his normal spot on the left), Terry has steadily given better performances as the tournament's gone on. Against France he was untested. Versus Sweden he started showing form assertiveness, while today he was the best player on the field. His recovery from a non-offside call to save a goal will be the highlight. Though he was beaten in the buildup to the shot, that play came after a dominant hour that kept Ukraine from threatening despite their dominance of possession.
NBC Sports: England beat Ukraine 1-0 to advance
Packaged for takeaway:
The talking point won't be England winning or finishing at the top of Group D. It will be goal line technology; or, the lack of it.
In the 61st minute, a blown offside call allowed Artem Milevskiy behind England's defense. He puts Joe Hart to ground and fires a left-footed shot toward an empty net from 14 yards out. Terry gets back and saves it, kicking it out, though replays show the ball clearly went over the line.
Most disconcerting for replay advocates will be the positioning of the goal line official. The man in black anticipated the play, was straddling the line and leaning into the field so he could see the shot. He still made the wrong call.
Prior to the controversy, it'd been a pretty stoic match, goal included. Wayne Rooney's 48th minute opener came out of nowhere, to a certain degree. The second ball in after a corner was a Steven Gerrard ball into the six. Andriy Pyatov was a bit lazy, didn't get down to play a deflected ball, and ended up tipping a ball put for an easy Rooney header.
The only other England chance before the goal was a first half Rooney header that went wide. This was the same England that cowered to France, only this time, they were cowering to a team they were expected to beat.
That's why Rooney's goal was more reason for relief than joyous breakthrough. The way the first half played out, Ukraine looked capable of sending England home, and England looked willing to let it happen. Pyatov's mistake let the Three Lions off the hook.
This is what Roy Hodgson's philosophies are built on. Implicit is his approach is the view that these types of mistakes happen, and if you can mitigate yours while exploiting your opponents, you can win. The problem with that view is that it's too reactive. One missed assignment on a set piece, a poor penalty call, a sending off that leaves you down a man – one groundball with eyes, a dying quail – and suddenly all your conservativeness has done is waste time you should have used building your lead – a lead that becomes insurance against a blow offside call that can turn the match. You never impose your game on your opponents, and therefore never try to exploit your advantages. All you do is wait for errors, and if they don't come, you're screwed. Today, one came.
By the end of the match, however, Ukraine was pressing for an equalizer, testing Joe Hart and demanding a heroic moment from Joleon Lescott. The co-hosts, however, seemed to realize their tournament was over. There was no frantic final push.
Despite the goal, Wayne Rooney looked rusty. His first touches weren't matching his ideas, as evidenced on the missed chance in the first half. He played 87 minutes, and his fitness didn't look like a major issue; still, some rust needs to be knocked off.
Theo Walcott didn't start. James Milner did, and it's unclear to me why. The theory is that Milner's better defensively, an idea with which I agree. Is he so much better defensively that it outweighs the advantages Walcott offers going foward? Today, at least, England could have used less Milner, more Walcott.
Steven Gerrard had another good game, but I continue to be confused by some real selective analysis. Two examples that jump out.

First, Gerrard was given a disproportionate amount of credit for the ball played in for Rooney's goal. It was a well-driven ball that caused problems, but it wasn't some unique piece of skill that couldn't be replicated by most players in the tournament.
Second, a long, speculative ball in the second half was greeted with praise, though it ended up being a glorified turnover. With England struggling to maintain possession, the costs of trying that ball weren't worth it. In addition, many long balls played by Gerrard mask a the same lackadaisicalness that manifests in his periodic jogging. It's easier to hit a long ball, get credit for trying, and be done with it than play a short ball, after which you'd be expected to run into space.

Gerrard's having a good tournament, but there's no need to act like the man doesn't need bathrooms in his house. Not to mention it riles up curmudgeons like me who have no problem wasting 200 words on something that really isn't that big of a deal.

Ukraine coach Oleh Blohkin made three changes, one forced by Andriy Shevchenko not being fit to start (he'd come on in the second half). He went to the bench, as did Andrei Voronin and Sergey Nazarenko, three of the team's older players. While Ukraine could have used Shevchenko's poaching in the first half, but it's unclear they other two players were missed.
The win, combined with France's loss, gives England Group D and a match against Italy (avoiding Spain). I'd suggest brewing a lot of coffee for Sunday's game, as you're going to need help staying awake. As I mentioned on Twitter, I hope they start with penalty kicks and save us two hours of ennui.
ProSoccerTalk is doing its best to keep you up to date on what's going on in Poland and Ukraine. Check out the site's Euro 2012 page and look at the site's previews, predictions, and coverage of all the events defining UEFA's championship.