ProSoccerTalk's weekly soccer Panic Quotient (®) takes the temperature of stress and distress in the streets of Major League Soccer and along the outer boulevards of U.S. Soccer.
William Hesmer: You have to feel for the Columbus goalkeeper, who may or may not remain the solid No. 1 at Crew Stadium. Hesmer is out with a long-term injury, which didn't sound good at all for Robert Warzycha's side. At first, longtime backup Andy Gruenebaum was doing quality work as a replacement. But after a while "quality work" seemed insufficient to describe what was going on in the Crew goal.
Gruenebaum was flat out getting it done. So says the eye test, and there's statistical evidence, too. He is first in MLS in saves, third in save percentage and fifth in goals-against average.
Again, none of this is Hesmer's fault, and you have to feel for the longtime guardian of Crew Stadium goal. Still, looks pretty concerning.
Panic quotient: Girlfriend asks what you're doing tonight … mentions something about grabbing some popcorn and a Desperate Housewives marathon.
Paul Mariner: Are you kidding me? The gang that couldn't shoot straight, the stumbling, bumbling lads of TFC, are now battling the po-po, running from said po-po, and jeopardizing their contracts and maybe their careers for a little Sunday night fiesta. That's not to mention some moments in defense from the night before (in a loss to Kansas City) that really could be a "how not to" video. And Mariner is the man charged with putting it all right?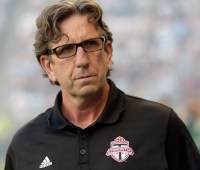 Usually, this is where we'd imply that a coach is panicked about his employment. In this case, Mariner may actually be panicked because he's employed. Why do we get the feeling this thing is going to get worse before it gets better?
Panic quotient: The house cat looks happy; the pet parakeet is nowhere to be found.