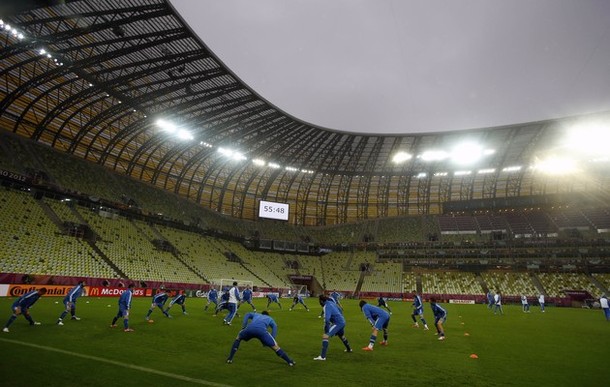 Giorgos Karagounis may have played hero last Saturday when Greece secured an unlikely place in Euro 2012's quarterfinals, but against Germany on Friday, Greece's 35-year-old captain will be watching from the stands, having picked up an unfair yellow card in the 2004 champions' upset of Russia. Already been booked once in group stage, the caution triggered an obligatory suspension for the Panathinaikos midfielder, one of the team's last links to the 2004 squad.
Goalkeeper Kostas Chalkias was also on that 2004 team, as was Kostas Katsouranis, who partners Karagounis in midfield (just as he does at Pana). They're the only three links to that title winner, though you wouldn't have known it by watching Saturday's win. It was the same kind of smash and grab Otto Rehhagel used to orchestrate one of the most unlikely titles in international soccer history.
Were Greece to replicate that success, this year's run will trump 2004's for more far-fetched success. If forms holds (which, it probably won't), Fernando Santos's team will have to beat Germany, the England-Italy winner, followed by Spain, the favorite to come out of the bracket's other half. The teams Greece beat to claim 2004's title? France, the Czech Republic, then Portugal. If the difference in names isn't convincing (and really, it's not that persuasive), consider the element of surprise. Greece isn't sneaking up on anybody this year.
Germany's lore says they're the least likely nation to be caught by surprise, but if Greece is looking for cracks in the dike, there are three reasons for hope.
First, the team Joachim Löw chose for Denmark was the youngest German side to ever start a European Championship game. Inexperience might see this lauded group overlook the lightly regarded Greeks.
Second, Germany has had trouble closing out matches. At the end of their three group games, all of Portugal, the Netherlands, and Denmark were given reason to think an equalizer was within reach.
And finally, although the trumpets are sounding for Mats Hummels, the German defender is very mistake prone. Undoubtedly talented, the young defender often commits to tackles too easy, and as Robin van Persie showed while exploiting him for his only Euro goal, mental mistakes are known to happen.
None of this should obscure the fact that Germany have a big edge in this one. The only team to go through group stage with a perfect record, the Germans have been made 4-to-11 betting favorites by British sports book William Hill. To put that in perspective, Spain are 4-to-5 to beat France. Greece are 9-to-1 to win on Friday.
Match kicks off at 2:45 p.m. Eastern. Here's your playlist.
1. Someone to sign
As we're reminded every time a team's outplayed but gets a result, soccer is a bottom line business. Dominate possession and chances and leave with nothing? Then all you have is nothing. The standings have no silver linings.
The bottom line's wins, and it's written in goals, and right now, Greece is short on men to score. The team has only three goals (one off the foot of the suspended Karagounis), and nobody's scored more than once.
It gets worse. Except for their winner against Russia, Greece's goals have come courtesy of opponents' goalkeeping errors. Either Manuel Neuer's going to oblige them on Friday, or they need somebody to step up.
Theofanis Gekas (right) is the most likely hero. Having lost his spot against the Czech Republic, Gekas was restored to the starting XI after coming off the bench to grab a goal. His 22 goals in 61 appearances makes him Greece's only legitimate scoring threat, and with six years' experience in the Bundesliga, Gekas will have some familiarity with his opponents.
2. Problem solved?
Greece's biggest weakness over their tournament's first two matches was the left side of their defense, but Santos benched left back José Holebas for the Russia match, elevating Girogos Tzavelas to the starting XI. Tzavelas nearly repaid Santos' move with an insurance goal, clanging Vyacheslav Malafeev's crossbar late.
Whether Greece's problems on the left are really solved remains to be seen. Russian apathy and a tendency to get too narrow left Tzavelas largely untested. He won't be so lucky against a Germany team that tends to lean right, taking advantage of Thomas Müller's ability on the wing. With Mesut Özil drifting in that direction while Sami Khedira and Bastian Schweinsteiger support through the middle, we're sure to find out if Greece's leak has been plugged.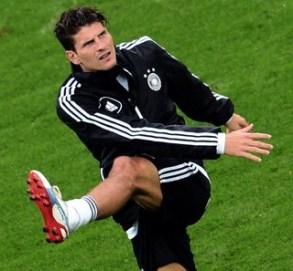 3. A little patience
Germany already has some experience breaking down a deep-sitting defense. In their first game of the tournament, the favorites faced a Portugal team that sat back in their 4-3-3. It's a near-identical approach to what they're likely to face on Friday.
After an hour of trying to flow through the Portuguese, Germany found a solution. Just start pumping balls in to Mario Gómez. It didn't take them long for find a winner.
Gómez isn't always so clinical. More often that not, he's silent, choosing to stay between the goal posts rather than drift and help his teammates build the attack. It's a big change from Miroslav Klose, whose willingness to go right helped Thomas Müller win the Golden Boot in South Africa.
When he's not silent, Gómez is often doing the wrong things, as evidenced during the Champions League final. Against Greece, however, he'll be Bayern's best chance to break through. Rather than needing somebody to combine with Müller, Germany's more likely to need somebody who can be served.
4. Next step in the process
Upon reflection, it seems Germany hasn't been that impressive. At least, that's been the critical evaluation in the wake of Sunday's victory. If Germany doesn't have another gear, the thinking goes, they're unlikely to win their first major title since 1996.
The squad's age needs to be kept in mind. None of its starters are over 27 years old. Euro 2012's the first senior tournament they've entered with favorites' expectations. When they came home from South Africa, third place was enough. This time, however, the team's supposed to win.
It's all part of that process we've alluded to all tournament; however, that process ends with first place. Given a meeting with England or Italy is looming, Germany has to start improving now.
ProSoccerTalk is doing its best to keep you up to date on what's going on in Poland and Ukraine. Check out the site's Euro 2012 page and look at the site's previews, predictions, and coverage of all the events defining UEFA's championship.