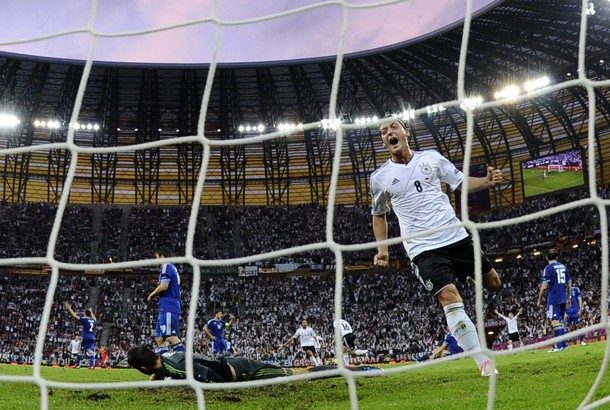 Man of the Match: Sami Khedira has had to take another step forward in this tournament. Whereas his introduction to the national team saw him as more of a midfield stopper, he's now Germany's main shuttler, often serving as the fifth man in attack. Today, that role producing a crucial goal – a volley from 14 yards out responding to a shock Greek equalizer. It was payoff for an hour's worth of running that saw Khedira make up the space in a more fluid Germany attack. It also becomes the standout moment in what has been a strong competition for the 25-year-old.
NBC Sports: Germany beats Greece 4-2 to reach semifinals
Packaged for takeaway:
Germany head coach Joachim Löw surprised us by making three changes to the team that went 3-0-0 in group stage. Miroslav Klöse was back in the team, pushing Mario Gómez to the bench, Marco Reus came in for Thomas Müller on the right, while André Schurrle took Lukas Podolski's spot on the left.
With the changes, Löw implied Germany wasn't going to try to break through Greece; rather, they were going to try to move through their opponents. All of Klöse, Reus, and Schurrle are more mobile options than the players they replaced. There's also an interchangeability to the trio that you don't have with the team that started group stage. Early in the match, Mesut Özil and Reus were constantly switching, with Schurrle coming into midfield from the left, opening the flank for Lahm.
That lack of movement has been a concern for the Germans, a concern that has grown louder as the tournament's progressed. As much as Friday's lineup may have been a response to Greece's tactics (as well as Löw implicitly acknowledging Greece as weak), it may have been an audition. If it was, Klöse did fine (but we knew he was good), Reus was different though not necessarily better (or worse) than Müller, while Schurrle was disappointing, putting only one of six shots on goal.
The changes produced a number of first half chances, and Greece was a bit lucky to have only given up a first half opener to Philipp Lahm. The goal, however, was preventable, as Sotiris Ninis lazily let Lahm move toward the penalty area after challenging the German defender for a Özil pass 30 yards from goal. Lahm moved in and past Ninis, let go of a shot from 23 yards out, and beat Michalis Sifakis into the right of goal.
Greece made two changes at halftime (Ninis included) and came out with renewed determination. Surprisingly, it paid off, with a long pass from Theofanis Gekas breaking Dimitrios Salpingidis into the counter. Salpingidis played a ball across to top of the six for Giorgos Samaras, who beat Jerome Boateng to put home an equalizer.
Fernando Santos's substitutes came back to hurt him on the next goal. Santos had taken out left back Giorgos Tzavellas, moved Vassilis Torossidis to from right to left, and dropped defensive midfielder Giannis Maniatis to right back. When Boateng's cross came in, Maniatis waited for the ball to drop rather than attack it. That gave Khedira time to run onto a volley for the go-ahead goal.
From there, the dam broke. Sifakis made a poor read on a set piece, allowing Klöse an easy goal. Marco Reus added a fourth, blasting a rebound into an empty net. Although Greece added a ;ate penalty kick, the match was already out of reach.
Some will see selecting Khedira over Mesut Özil as a bit of a reach for Man of the Match. Ozil had another great game dictating Germany's attack, but even though he had two assists, most of his work was ultimately marginalized by the actual goals. Lahm did the work on the first assist, while Sifakis's error gifted him his second. Özil deserved enormous credit for setting the tempo and providing for most of the chances Germany created. He was (as almost always) Germany's most impressive talent, if (by circumstance) not necessarily the Man of the Match.
Germany now moves on to face the winner of England-Italy where they're likely to face another very defensive approach. Will Löw again choose a more mobile lineup? Or will Gómez, Müller, and Podolski be restored to the team?
Even with major changes, Germany looked like favorites. If their group stage starting XI isn't restored, isn't unclear the team will be worse off.
ProSoccerTalk is doing its best to keep you up to date on what's going on in Poland and Ukraine. Check out the site's Euro 2012 page and look at the site's previews, predictions, and coverage of all the events defining UEFA's championship.