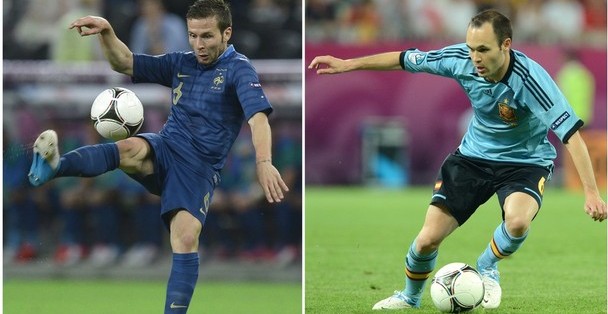 If Sweden was France's wake-up call, what do we call Spain? Les Bleus face the defending world and European champions Saturday in Donetsk, a match that asks France to complete one of the more remarkable one-match turnarounds in recent memory. On Monday, the Group D favorites lost to a Sweden team that had failed to record a point through two rounds. In the process they gave up first place in their group. Just under one week later, their tournament lives depend on beating a team that has lost just two competitive matches since 2007.
Stylistically, it's a bad matchup for France. The two losses Spain's suffered have come to teams that played for counter attacks – defending deep and rarely challenging Spain's control of the game. The United States defeated Spain 2-0 at 2009's Confederations Cup by sitting on the early lead gifted them by some horrible Spanish defending. Switzerland upset Spain 1-0 at the last World Cup on the back of one lightning bolt counter attack. If this type of approach is in the French repertoire, we've yet to see it.
Of the teams that qualified for the quarterfinals, France may have been the least efficient in the final third. They've had a lot of the ball and at times have looked quite fluid, but they've generated a disproportionately small number of chances, scoring only three times. The biggest concern when they face Spain: Two of their three goals have been the product of a possession-based attack. Against Spain, they won't see much of the ball.
Not proficient at counter attacking, without a killer dead ball specialist, and not particularly good on set pieces, what can France lean on against Spain? The same thing the United States used in South Africa: Patience and opportunism. Perhaps the United States are a better counter attacking team than France, and surely they were more used to playing without the ball, but there's always a chance Spain (or any team) can replicate those errors. No matter the style Laurent Blanc employs on Saturday, France is going to have to make the most of those few chances Spain grants them.
Kickoff is at 2:45 p.m. Eastern time. Here is your playlist.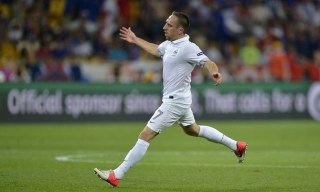 1. Let's be, Franck
France does have one option beyond pure opportunism. On their left, they have one of the best wide attackers in the world: Bayern Munich's Franck Ribery. When Laurent Blanc sketches out the Spanish formation, the pairing of right back Alvaro Arbeloa opposite his best attacker carries a lot more promise than any other match up.
The problem comes in getting the ball to Ribery. Think back to Spain's three group games, and it's hard to remember very many players having a lot of chances on the ball. Luka Modric stands out, but he played through the middle. Italy's Antonio Cassano and Mario Balotelli had a few opportunities thanks to Andrea Pirlo, a combination that provides France some hope. Blanc may need Yohan Cabaye to do his best Pirlo impression in order to take advantage of Ribery.
2. More left versus right
In the corner opposite Ribery and Arbeloa, Spain will be pressing one of their advantages: Andres Iniesta on anybody. By formation, it should be France right back Mathieu Debuchy, though with Iniesta often coming inside, midfielders Alou Diarra and Yann M'Vila will be pressed into action. It will likely take a team effort to slow down a man making a claim as the tournament's best player.
The battle could be the biggest test of M'Vila's young career. The highly touted defensive midfielder is projected to be one of the world's best at his position, precisely the reason why Arsenal has considered spending some very un-Arsenal-like money to get him from Rennes. But to live up to that hype and price, he'll be expected to perform in these types of situations.
M'Vila won't be expected to completely shut down Iniesta, but he must prevent him from influencing the game coming in from the left. While M'Vila providing that deterrent means Debuchy will likely see more of the Barcelona star, at least it will be in a less dangerous spot on the field. And Debuchy's unlikely to have to handle him alone.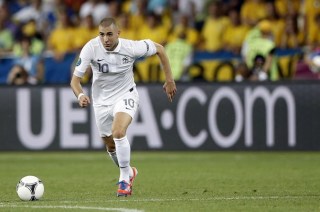 3. Haven't missed you so far
One of our major reasons for downgrading Spain's prospects going into the tournament was the absence of Carles Puyol. The holders' best defender underwent knee surgery last month and won't be available against until late summer. That's forced Sergio Ramos inside, Arbeloa into the starting XI, but most importantly, it's deprived Spain of the player most likely to handle people like Karim Benzema.
France's number nine hasn't had a huge impact challenging for goals mostly because he's been playing like a nine-and-a-half or ten. While Samir Nasri orchestrated the attack against England, Benzema has served as the focal point in the matches that have followed, providing both assists on France's goals versus Ukraine.
Against Benzema, Puyol could be particularly missed. Benzema's willingness to drop from his position and take the ball to feet will require strong decision making from Spain's central defenders. If they can break up the play, follow him, but they better be sure. One touch to Nasri or Cabaye gives another skilled passer a chance to target the space that's been vacated.
With Puyol, you have somebody who makes the right decision almost every time. Can we say the same about Sergio Ramos and Gerard Pique? It's a high standard to meet.
4. Too soon?
France has come a long way in two years, and by almost anybody's post-South Africa expectations, they are ahead of schedule. Their status as Group D favorites showed the regard the rest of Europe's cultivated for their new core. With nine of their potential starters 26 or younger, France's best days are ahead of them.
This game, however, seems like too much, too soon. The steep climb from South African's trough to where they are now leaves them a promising but untested team. This core doesn't have the experience of leading a team into must win games. That may have shown against Sweden.
Spain's a big ask for any team, and as we saw when Germany and the Netherlands met La Roja in the World Cup, the champions have a way of taking the best teams out of their game. It all just feels like a little too much, too soon for France to handle. Saturday may prove to be a valuable if disappointing learning experience.
ProSoccerTalk is doing its best to keep you up to date on what's going on in Poland and Ukraine. Check out the site's Euro 2012 page and look at the site's previews, predictions, and coverage of all the events defining UEFA's championship.