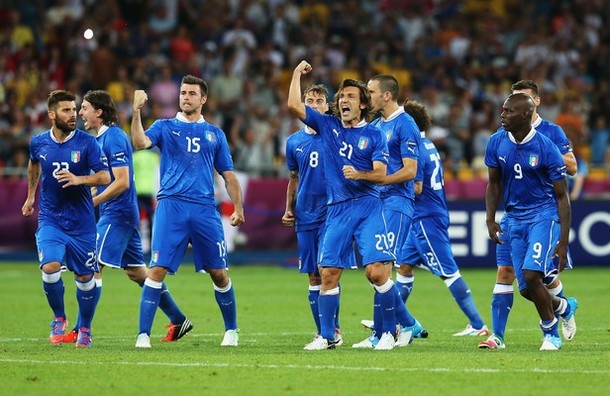 Man of the Match: The week off must have done him good, because Andrea Pirlo looked anything but a old, tiring playmaker. The 33-year-old midfielder gave his best performance of the tournament, and although none of this efforts bore fruit, it wasn't for a lack of quality. His diagonal passes from deep midfield defined Italy's play in their attacking phase, while long passes from his own half frequently made England's high defensive line look misguided.
NBC Sports: Italy beats England in shootout in quarterfinal
Packaged for takeaway:
Remember all the doom and gloom I conjured before the match? For half the match, they looked utterly idiotic, the teams giving us the tournament's best game. The second half of the match (the last hour) was pretty terrible. We got our dramatic ending, but boy did we have to sit through a lot of England passivity before we got it.
Formation paralysis: 3-5-2? 4-3-1-2? 4-4-2? 1-2-3-2-1-1-1? Italy's formation was the talking point coming into the match. Would they start four at the back? And would Mario Balotelli return to the starting XI? Yes to both of those questions.

Balotelli returned to the lineup after being benched for Ireland while
Leonardo Bonucci and Ricardo Montolivo got starts for the injured Giorgio Chiellini and the reportedly hobbled Thiago Motta.

England started strong. That ponderous team that seemed reluctant to attack through group stage? They didn't show up until later. At the onset, England attacked decisively, their best chance coming when Glen Johnson ran through the middle of the box and onto a James Milner cross. It should have been a goal, but Johnson overran the pass, let the ball get caught in his feet, and ended up pushing a shot at Gianluigi Buffon.
It was the second goal scare of the match. In the third minute, out of nowhere, Montolivo spun a ball from 25-yards into Joe Hart's right post.
After  being on the back foot for 15 minutes, Italy starting coming into the match. They took another 10 minutes to assert themselves, but over the first half's final 20 minutes, they were the better side.
By then, Wayne Rooney and Danny Welbeck, who had been so diligently monitoring Andrea Pirlo at the beginning, were giving the Italian regista more room. Part of that may have been Italian adjustments. Throughout the tournament, Pirlo had been the main provider for Antonio Cassano, who'd been the team's driving force in the final third. In the first half, Italy had better success playing directly to Cassano and then, after the defense collapsed, playing back to Pirlo, who could then target Italian attackers.
Once that was established, the game opened up for Italy, who had a much more direct presence about them when the halftime whistle blew. Going into the locker rooms, Italy had held 60 percent of the match's possession.
No changes in the second half meant Italy could pick up where they left off. Soon, Pirlo was picking up the ball deep, playing as he would against a team that had no intention of stopping him. This led to a number of long balls played over the top for Balotelli, the striker's speed constantly beating England's curiously high line.
Over the half's first eight minutes, Italy missed three great chances. Daniele de Rossi was delivered a sitter on the second ball in from a corner. Balotelli couldn't covert a ball blocked in front of goal by Hart, while Montolivo was a step too slow getting to the rebound of Balotelli's shot.
Hodgson had to make the first move, though judging by the timing, there was no "had to" about it, in his mind. At the hour mark, Andy Carroll and Theo Walcott came on for Danny Welbeck and James Milner, substitutions that seemed planned prior to kickoff. Both players had done good work, particularly Milner, who gave his best performance of the tournament. If that substitution was pre-ordained, Hodgson should have reconsidered.
Carroll nearly paid off within six minutes, backing Andrea Barzagli down to the edge of the six before knocking down a ball for Ashley Young. It was England's best chance since the fifth minute, but Young scuffed it wide.
Still, England had a slightly better presence in the match after the changes, perhaps spurring Cesare Prandelli's first changes. Antonio Cassano, playing 18 minutes more than his customary hour, gave way for Alessandro Diamanti. One minute later, Antonio Nocerino came on for De Rossi.
It wasn't long until Italy regained control of the match, dominating possession as England started playing like a team that was either conserving their energy or coming to grips with their status as second best. Were they playing for extra time? Penalties? Hodgson's subs had fail to restore England's drive.
Just before full time, Claudio Marchisio chipped a ball over the defense for Nocerino, whose fine first touch set up a volley from 13 yards. Glen Johnson (also putting in his best match of the tournament) tracked the run and got a foot to the shot.
England's entire defense played well, as did Joe Hart. The high line was a problem, but that was the coach's tactic. Steven Gerrard and Scott Parker were strong in midfield, but up top, Rooney gave another performance covered in rust. England would have probably been better without him.
England had a final chance before full time, a Rooney overhead kick sent into the stands, but after 90 minutes, the match had started to become what we'd expected: Lots of Italy possession; England not really caring; few good chances. Where England's speed, six, strength and athleticism had given Italy problems in the first half, they neglected to use those qualities in the second. Instead, they sat deep, waited, hoping for something to happen, just as they'd done against France and Ukraine.
Thirty extra minutes were useless. Italy controlled extra time, generating a slew of half chances and a Nocerino goal that was called off for offside. England provided the periodic scare. It wasn't much different than we saw over the last 30 minutes of regulation. Italy were clearly the better side but lacked the know how in the final third to take it.
Bemoan penalty kicks if you want, but they're better than a coin flip. At least they test a few soccer skills. They were also the only way this match was going to end. Without them, these teams would still be playing, and after two hours of seeing England siphon off their own will, this one needed to end.
The kicks:

Italy went first and chose Mario Balotelli. Hesitating before hitting it, Balotelli nuzzled it into the lower left corner. 1-0, Italy.
Steven Gerrard went first for England and hit it in the same spot. 1-1.
Ricardo Montolivo was next and, trying for the same spot, pulled it wide, leaving it 1-1.
Wayne Rooney went high and into the middle of goal, he put the Three Lions up 2-1.
Andrea Pirlo was third for Italy, putting a beautifully "cheeky chip" into the middle of goal as Joe Hart dove left. 2-2.
Ashley Young was next and had a chance to restore England's lead, but his high shot into the middle of goal nailed the crossbar. 2-2.
Antonio Nocerino showed Hart right and went left, putting Italy up 3-2.
Ashley Cole, a constant in his teams' shootouts, was fourth for England. He went right and saw his shot swallowed up by Buffon, giving Italy a chance to close it out with their fourth kick.
Alessandro Diamanti, who flamed out at West Ham two years ago, got the chance to put Italy into the semifinals. Again Hart went right, and again the shot went left. Italy won the shootout, 4-2.

England fans will lament their country's poor luck in penalty shootouts, but it's difficult to have too much sympathy for a team that put no effort into winning the match. Except for the game's first 15 minutes, Italy were clearly the better side, finishing with 64 percent possession and almost all of the dangerous moments. They played like semifinalists. England didn't.
More numbers: Total shots: 35-9, Italy; Totals on target: 20-4, Italy. They're Barcelona-esque numbers, even if the performance's style wasn't very Barça at all. England let them dominate.
And after two hours, it seems like a very English performance. Solid at the back with a certain strength and athleticism throughout their team, England had little else. They lacked the tactical nous to break the Italians.
And for Italy, it was a very Italian performance. This week, Buffon mentioned Italy has always kept matches close. This was no different, though not for lack of trying. Italy was the better team throughout, and although they go into the semifinals having only beaten Ireland, they are still in the final four.
Next up is Germany, a team that has the tactical nous to complement their speed and technical quality. The Azzurri will be decided underdogs, but starting to embody the spirit of champions' past, anything seems possible.
ProSoccerTalk is doing its best to keep you up to date on what's going on in Poland and Ukraine. Check out the site's Euro 2012 page and look at the site's previews, predictions, and coverage of all the events defining UEFA's championship.