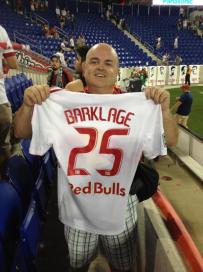 NBC colleague Arlo White and I had some fun last night with the Brandon Barklage post-game interview on NBC Sports Network, where a strategically placed towel was the only thing that prevented his chat with Kyle Martino and Russ Thaler from dipping dangerously close to PG-13 territory.
That's a slight exaggeration, but the man was a little naked from the waist up.
As Arlo put out via Twitter: "First naked guy on #MLSonNBC. What a story!"
Turns out, there was a pretty good reason. From Barklage, via the NewYorkRedBulls.com blog:
After the game, I went and applauded the fans and thanked them for their support. I decided to hand out my jersey to a fan and I didn't realize I was going on national television right after! It just so happened it was the case."
And you thought maybe Thierry Henry had requested Barklage's shirt for his personal collection, didn't you?