I know that everyone talks about the passing prowess of Italy offensive conductor Andrea Pirlo, and rightly so. His work in moving the ball from here to there is precise as a Swiss watchmaker, as carefully detailed as an expert at Italian art restoration.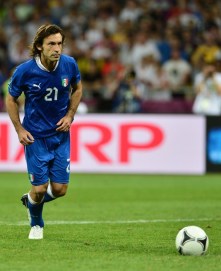 But on my mind Sunday as I watched that virtuoso performance in Kiev was something else, something that must come before the sweet connections with Azzurri teammates.
The only way a player can craft those wonderfully angled and weighted passes is through the creation of space. And on this Pirlo is also an ace. He never seems in a hurry because he isn't, because he doesn't usually need to be. His incredible instincts and awareness serve to direct Pirlo into the perfect spot to receive possession, and alerts him then where to direct that first touch, which creates even more operating and thinking space.
With the necessary room, he is free then to move balls forward, which is the other striking element of his day in Kiev: so many players at his position are content to move balls laterally or negatively (backward), when they can work out of trouble long enough to direct them anywhere at all. Pirlo understands when to keep things safe but fully comprehends the advantages of forward progress, too.
That's a big reason why Italy had 39 shots to England's 13 on Sunday.
(Speaking of impressive numbers: Pirlo completed 131 passes, by far most on the field. England's best was Ashley Cole with 44. Pirlo also covered more ground than any player on the field, 11.58 kilometers.)
And my ranting rave here is all about Pirlo's passing and spatial awareness. Can we talk about that absurdly audacious penalty kick, the perfect exclamation point on his night of wonder? Heavens!
But do not take my word for it. Here's what others are saying about Pirlo's peerless work:
Guardian correspondent Barnay Ronay:
Andrea Pirlo, from a strolling start, ended up dominating England's midfield, maintaining the same stately pace through the entire 120 minutes, sure in the knowledge that as others dissipated their energies his own gentler tempo would rise above the hubbub.
UK commentator Alan Hansen:
Pirlo has been fabulous, he controlled and dictated the game and was absolutely masterful. It was a masterclass in technical ability. Steven Gerrard has been by far England's best player, but he spent the night chasing Pirlo around.

"You can't give Pirlo the time and space to pick the passes that he did. How many times did you see Gerrard have the same sort of time and space? The answer is: he didn't.

"England need somebody with the technically ability of Pirlo."
England defender Rio Ferdinand
On a pure footballing note, Pirlo just put on a pure footballing master class, and the penalty was too much.