Chelsea is clearly top-shelf stuff, a blue blood team in a blue blood league.
So anyone who thinks that haphazardly rolling out a bunch of offensive crowd-pleasers for the upcoming MLS All-Star contest is the way to go – they might need to report to the nearest quiet place and give it a re-think.
Me? I'd want two strong center backs, a little bit in the midfield, just enough pressure from fullbacks up the wings, a smattering of creative influence and enough big-game know-how to settle the troops.
Selected media were asked to do two things for the upcoming All-Star contest in Philadelphia, where Ben Olsen will direct the All-Stars against Philadelphia: pick a deserving six from each MLS club, and then pick a team that we think could actually stay on the field (and maybe even win) against Chelsea.
We all know what happens lately when a good club faces a hodgepodge of inconsiderately (or inaccurately) chosen All-Stars: Splat! Ka-pow! Ugh! … that kind of thing.
Manchester United put the hammer on MLS All-Stars a couple of years ago in Houston, 5-2. And Sir Alex took out the Scottish whuppin' stick one more time, last year in New York, this time 4-0.
So MLS clearly needs to regain some lost yardage on the credibility front.
Here's how I would do it. (This is my o-fficial ballot, as submitted to the proper authorities. Explanations to follow …)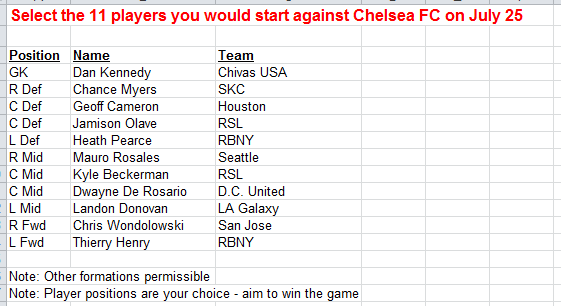 I may have done it a little different today. But since this was submitted as required in late-May, well, I did the best I could.
Dan Kennedy in goal? Not an easy call, but not a bad one. Honestly, there's not a clear standout in 2012, so the Chivas USA man is as good as three or four others.
Chance Myers may be a bit of a surprise at right back. But for me, he's got pace and stamina, some crossing ability (not the best, but "some"), and he's gradually added a real edge to his game. Olave and Cameron in the middle? Pretty solid, I would say, other than recent dips related to injury (Olave) and potential transfer-related distraction (Cameron).
Rosales in midfield is a sticky little wicket. He hasn't been all he can be lately for Seattle, but that may be related to the team around him, too. Beckerman over Osvaldo Alonso as the holding man in midfield? It was a coin flip for me; when in doubt, I go with the U.S. international.
I know Donovan hasn't been at full rev this year, although his work of late for the resurgent Galaxy has been outstanding stuff. There some "benefit of the doubt" attached to the pick, which he's earned. Plus, I picked him for that experience and know-how factor; say what you will about Donovan, but the man typically shows up for big occasions.
De Rosario's numbers aren't outstanding this year, but anybody who has watched his larger body of work for D.C. United this year knows why I'd want him on the field. Besides, talk about a guy who loves the big occasion; that's "De Ro."
I know Wondolowski can be underwhelming at the highest (international) levels, but I don't care. To not put the league's leading scorer on the field (and leading scorer over the last three years by a long way) would be silly.
Henry? Yes … you go with Henry, no questions asked.