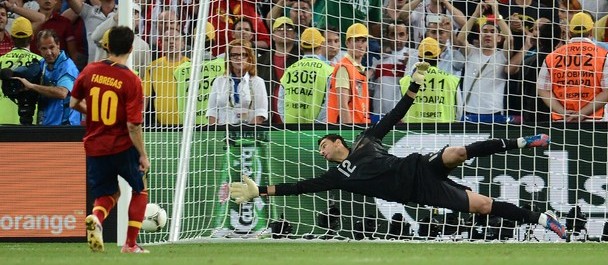 Cesc Fabregas beats Rui Patricio in Wednesday's shootout, sending Spain past Portugal into Euro 2012's final. (Getty Images)
Man of the Match: Sergio Ramos has always had the potential to be a world class center half, but having spent much of his career as a right back, the Real Madrid defender made his reputation on his ability to lock down the right flank. Today, he added another line to that resume, serving as clean up man against a Portuguese team that had a number of chances chances to flash their counterattacking prowess. Opta credits Ramos with a team-high seven clearances, five of them of the effective/influential variety. Ramos was also second on the team with 80 successful passes, hitting at an 89 percent clip.
NBC Sports: Spain tops Portugal in shootout to make Euro final
Packaged for takeaway:
Prematch, Vicente del Bosque threw us (and Portugal) a curve ball that never really broke. Despite not cracking the starting XI for any of Spain's first four games, Sevilla's Alvaro Negredo got the start at striker, relegating both Fernando Torres and Cesc Fabregas to the bench. Despite Spain going two hours in search of a goal, Torres never took his track suit off.
The logic? Perhaps the physically stronger Negredo would hold up better against bruising Portugal duo Pepe and Bruno Alves (Alves affirmed his bruising tendencies by four times going up and through the back of Spanish forwards ahead of aerial challenges).
There was one instance where the Negredo logic seemed to work. In the 29th minute, a long ball out of the defense found Negredo deep in the right of Portugal's area. Holding up play, Negredo eventually found Xavi Hernandez, who played to the left to Andres Iniesta, who put a 16-yard shot out of play.
Portugal's performance was the biggest reason Spain wasn't able to better utilize Negredo. Implicitly disagreeing with the Blanc Doctrine (France's coach implying Spain demands major adjustments because of the amount of time you're without the ball), Paulo Bento's surprisingly team played with more ambition than they did in the tournament opener against Germany (and, arguably, any opening 15 minutes this tournament).
They didn't sit back. They came out and met Spain on the ball and only rarely allowed the holders' quick passing game to get through their line. At halftime, Portugal's possession number was in the mid-40s and would finish at 43.
Another close number at halftime: Chances. Neither team had any. Spain saw a couple of Iniesta shots fail to test Rui Patricio, while Portugal's best chances came from crosses eventually swallowed up by Iker Casillas.
This wasn't your normal No goals, no shots, but Spain has control, and it's only a matter of time game. Portugal was not only on even footing with the champions, but there was a feeling that the match was being played on their terms.
Perhaps that's why del Bosque was the first to make major changes. Negredo was off  in the 54th, giving way to Fabregas. Six minutes later, Jesus Navas came on for David Silva. The changes made Spain more dangerous, with Fabregas combining with Iniesta to start puncturing the Portuguese defense, but by the time Pedro Rodriguez came on for Xavi (80th minute), it was clear Spain needed more than just new personnel.
The big question: Xavi? Why was Xavi Hernandez coming off? Perhaps it was a fitness concern, with Vicente del Bosque skeptical his best playmaker could make it to minute 120. It's just curious to see Silva (who'd had a decent game) and Xavi come off while Xabi Alonso – who'd had little to meaningfully do – stayed on. Why del Bosque can't, no matter the scenario, get away from playing two deep-lying midfielders?
Portugal held off on their changes until late in the half before an obligatory substitution, bringing on Nelson Oliveira for Hugo Almeida. Just as in the first half, it seemed the half played out as they wanted, with a 90th minute chance for Cristiano Ronaldo nearly sending Portugal through:

Spain drew a foul 35 yards out on the left flank, the inswinging restart cleared out to Raul Meireles, who broke Portugal into the counter. He found Ronaldo on the left, who was able to set up an open chance for himself at 15 yards out. His left-footed shot was skied into the crowd, sending us to extra time.

After full time, Spain seemed to realize how close they were cutting things. Come minute 91, they took full control of the match. It wasn't typical Spanish work you `til you wilt control. It was a more measured, deliberative response.
In the 104th minute, the approach paid off with the best chance of the match. Building down the left, Spain got to the line and cut a ball back to Iniesta, six yards out at the near post. He redirect was saved by Patricio.
By the time the second extra period started, Portugal had regressed into a much more passive stance. They were allowing Spain to keep the ball, more concerned about containing their opponents than regaining possession. For 15 minutes, we saw the match we had expected before kickoff.
Spain got one more chance before kicks. A throw-in down their left saw play move across the middle for Jesus Navas, who worked  with Alvaro Arbeloa to break down the left side of Portugal's defense. Eventually, Navas had a shot from 12 yards out to the right of goal, Patricio's right hand blocking a ball headed far post.
Spain had five shots and created four chances in extra time. Portugal: Zero and zero.
Penalty kicks:

Xabi Alonso went first, with a kick to the right of goal saved by Rui Patricio.
Joao Moutinho, first for Portugal, had his shot to the left saved by Iker Casillas.
Andres Iniesta was the first to score, going right after sending Patricio left. It was the only kick on which Patricio guessed wrong.
Pepe pulled Portugal even, side-footing a ball inside the left post, beating a driving Casillas.
Gerard Piqué restored Spain's lead, skipping a shot over Patricio, who had correctly guessed left post.
Bruno Alves looked to go next, but Nani quickly came and took his spot, the order temporarily confused. Putting into the top-left of goal as Casillas dove right, Nani made it 2-2.
Sergio Ramos chipped a ball high into the right of goal, over Patricio, putting Spain back in front: 3-2.
Now it was Alves' turn, with Cristiano Ronaldo apparently set to do fifth. If Alves missed, however, Ronaldo may never get to kick. Going for power, Alves hit the cross bar, leaving Cesc Fabregas in control of the match.
Fabregas nailed a perfect kick off the inside of the left post, leaving a moment's doubt as to whether it would stay in. The ball rolled along the inside of goal, into the right side netting, by then well inside the goal. For the third time in a row, Patricio guessed right, but for the third time in a row, Spain scored, winning the shootout 4-2.

Though Spain was the slightly better team on the day, it wouldn't have been unjust to see either team go through. But for Portugal to go out before Ronaldo kicked leaves a huge what if. It's strange, because there's no reason to think Alves wouldn't have missed his kick had he gone fifth, but when you leave a tournament, you never want to feel like you could have done something else. Even if this something else is born from superstition, it's still there.
Had Portugal won, Pepe would have been the clear Man of the Match. Mats Hummels' exploits have drawn more attention because (amazingly) he was still unknown to most before this tournament. He also is a more skilled than more central defenders and thus is more apt to open eyes. But Pepe has been the best defender of this competition, having given multiple dominant defensive performances. He remains in the discussion as the world's best defender (when he's on the field), a status Pepe re-affirmed on Wednesday.
Spain moves on to their third straight major tournament final having likely transcended their most difficult obstacle. True, Germany may be a better team than Portugal, but as we saw today, Portugal was a good stylistic match against Spain. But Spain survives, moves on, and now awaits the winner of tomorrow's Germany-Italy showdown.
ProSoccerTalk is doing its best to keep you up to date on what's going on in Poland and Ukraine. Check out the site's Euro 2012 page and look at the site's previews, predictions, and coverage of all the events defining UEFA's championship.