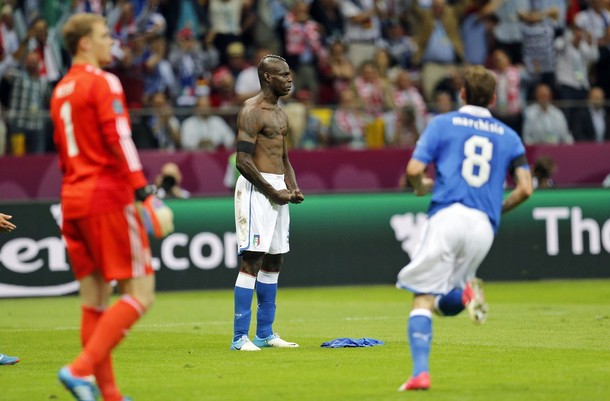 Man of the Match: Though most of the work was done before Mario Balotelli headed Italy in front, the Italian striker soon got his chance to assert himself as this game's best player. With a blistering right-footed blast in the 34th minute, Balotelli left Manuel Neuer no chance to keep Germany within one, the eventual match-winning goal curling into the side netting from 18 yards out. The shot was hit so hard, Neuer never bothered to move.
In a match where Italy came in decided underdogs, it was apropos that their rebellious long shot had his international breakthrough, rewarding the faith a patient Cesare Prandelli had put in his recalcitrant star. Scoring twice to put his country into a major tournament final, Italy's enigmatic 21-year-old is no longer unfulfilled promise.
NBC Sports: Italy beats Germany 2-1 to reach Euro 2012 final
Packaged for takeaway:
Germany's need to avoid mistakes was a theme pre-match, and true to form, mistakes were the favorite's undoing.

Mats Hummels' tournament went from 'promising' to 'decidedly mixed' after he was beaten badly by Antonio Cassano in the 20th minute, the Italian attacker providing for Balotelli's first goal. It was the second time this tournament Hummels was the main culprit on a goal allowed.
Germany was caught in transition on the second, with Philipp Lahm losing track of Balotelli, allowing Ricardo Montolivo to hit the attacker with a 40-yard pass ahead of Italy's second goal.

The goals came after a promising start from the Germans, who were able to exploit Italy's lack of width to get down the flank and aim crosses at the edge of Gianluigi Buffon's six-yard box. The most dangerous of their chances came in the 12th minute when Jerome Boateng hit a ball toward Buffon, whose weak block nearly gifted Sami Khedira the opening goal.
It was all part of an opening sequence that looked eerily similar to the England-Italy match. Germany were the more energetic team, quick transitioning into their attacking third while doing a good job containing Andrea Pirlo.
Joachim Low had surprisingly inserted Toni Kroos into the starting XI instead of Thomas Müller (Mario Gomez and Lukas Podolski returned to the lineup). It quickly became apparent why. The Bayern Munich star, making his first start of the tournament, was tasked with keeping tabs on Pirlo, with Mesut Ozil moving out right in the defensive phase.
Unlike England, Germany persisted with Operation Disrupt Andrea, forcing Italy to be more direct into attack. Long balls for Balotelli frequently established possession or drew fouls, with Cassano proving an influential alternate outlet, often turning long passes to the left into shots 25-plus-yard shots on Manuel Neuer. Eventually Cassano changed tact and, still operating through the left, created the opening goal.
After Italy's second goal, Germany was ceded control of the ball, though they failed to stress Buffon before half time. With the match playing out exactly as Italy wanted, Löw needed to change things up.
That's exactly what he did coming out of halftime. Gomez and Podolski were out. Miroslav Klose and Marco Reus were in. The changes, perhaps coupled with a Germany's newfound desperation, led to a number of early second half chances:

(49′) Lahm played off Kroos to create an open shot from the edge of the box, one which eventually went out of play.
(55′) Khedira ghosted onto a Ozil cutback from the line only to see his shot from six yards out blocked.
(56′) Klose burst through the left channel only to be thwarted by nice support from Leonardo Bonucci.
(62′) A direct kick from Reus was put off the cross bar after Kroos earned a foul (and card) from Bonucci.

Just before the hour, Prandelli started making his changes, a series of like-for-likes portraying his comfort at how Italy was set up: Cassano gave way for Alessandro Diamanti (58′); Montolivo came off for Thiago Motta (63′); and Balotelli was swapped for Toto Di Natale (70′). By that time, Germany's momentum was gone, and although Löw eventually added another attacker (bringing on Müller for Boateng), the match seemed settled.
If anything, it was Italy that was more likely to score the next goal, with Claudio Marchisio having good chances to ice the match in the 67th and 75th minutes. With Germany putting themselves down a defender, Italy searched for an insurance goal goal, pushing midfielders forward in the 79th minute in an attempt to put the match to rest.
In the 82nd minute, Di Natale was put in alone from 40 yards out only to pull up, try his chances from the edge of the box, and put his shot into the outside side netting. Seconds later, an offside call on a Federico Balzaretti goal kept Italy up two.
Balzaretti gave Germany a late life line, handling a cross at the edge of the six that led to a penalty shot. Finishing to the right above the diving Buffon, Mesut Ozil pulled German within one with two minutes left in (four minutes of) stoppage time.
But two minutes were nowhere near enough for a team who had been second-best all day and had just spent 20 minutes thwarting a third goal. The Germans never got another chance at Buffon, the referee blowing the whistle just after the clock hit 94:00.
It was a masterfully exploitive performance for Italy, taking advantage of two early mistakes en route to the upset. Given the low expectations they carried into the tournament – troubles on the homefront, disappointing performances in their last two competitions, attempts by Prandelli to change the team's style of play – it's difficult not to root for them. There is something reassuring when a team reminds you most conventions are best served when they're defied.
For Germany, the disappointment comes on multiple levels. Not only were they favored, more talented, and the form side coming into the game, but the match represented one of their best imaginable chances to exorcise their Italian demons. Instead, they give a performance that lends credence to the incredible: that Italy has some kind of cosmic advantage over the Germans.
That advantage sets up a Sunday meeting with Spain, a rematch of Group C's opening game. Then, Italy took a second half lead through Di Natale before being drawn after a Cesc Fabregas goal.
Italy still hasn't trailed or been beaten at Euro 2012, but against Spain, they'll face a team won't make near as many mistakes as the Germans. However, as Italy has reminded us over the last three weeks, the on-paper match ups only mean so much.
Spain will be favored on Sunday in the same way Germany was favored to day. It's nothing the Italians can't overcome.
ProSoccerTalk is doing its best to keep you up to date on what's going on in Poland and Ukraine. Check out the site's Euro 2012 page and look at the site's previews, predictions, and coverage of all the events defining UEFA's championship.