How We'll Remember …
Spain 4, Italy 0 – As the signature performance of Spain's dynastic run.
Having won their previous finals 1-0 (versus Germany in 2008; versus the Netherlands in 2010), La Roja had provided too much fuel for detractors. Now, after a tournament where Spain's passive aggression wasput on trial, the best international team of our time provided an irresistible closing argument.
Facing Italy for the second time in three weeks, there was no reason for caution. Spain knew what to expect, and they exploited it, posting the most lopsided win in European finals' history.
Crystal Ball: What Needs to Happen, Going Forward
If Spain can defending their world title with a win in Brazil, they'll be no argument as to who's the best team of all-time. A European squad winning a World Cup in South America would be impressive on its own, but for Spain to do so on the back of three consecutive major titles would be provide an inscrutable claim to greatness.
The team will likely need adjustments ahead of 2014. Winning this title, they've discovered they can win without Carles Puyol and David Villa. Villa should be back for Brazil, but Xavi Hernández will be 34. Xabi Alonso will be 32. Both players will go through two more years of grueling club soccer for Barcelona and Real Madrid. Come Brazil, Spain will need backup plans, if not outright replacements.
Italy's obstacles are more daunting. Of their major contributors, only Mario Balotelli (21) is under 25 years old. The rest of their regulars are already in the prime of their careers, with a handful likely to lose effectiveness before the 2014 World Cup.
For a team that won only two of six matches in the tournament, it's incredibly discouraging. Though they've made this final, there isn't much margin for error. Grouped with Denmark and the Czech Republic in World Cup qualifying, Italy can't afford to regress.
But with Euro 2012's success, head coach Cesare Prandelli has solved one problem. He's reestablished an identity for the Azzurri, on that involves more than just waiting for their opponents to screw up. But the lingering issue, one which may be out of his control: Italy's not actually producing any players. Come 2014, Italy may have no choice but to take another recycled team into a World Cup.
PST Team of the Tournament
Best XI
Reserves
G: Iker Casillas, Spain
LB: Jordi Alba, Spain
CB: Sergio Ramos, Spain
CB: Pepe, Portugal
RB: Joao Pereira, Portugal
M: Andrea Pirlo, Italy
M: Sami Khedira, Germany
M: Xavi Hernández, Spain
AM: Mesut Özil, Germany
F/AM: Andres Iniesta, Spain
F/AM: Cesc Fabregas, Spain
G: Gianluigi Buffon, Italy
G: Joe Hart, England
LB: Fabio Coentrao, Portugal
CB: Daniel Agger, Denmark
CB: Gerard Pique, Spain
RB: Theodor Gebre Selassie, Czech Republic
M/D: Daniele de Rossi, Italy
M: Luka Modric, Croatia
M: Sergio Busquets, Spain
F/W: Cristiano Ronaldo, Portugal
AM/F: Zlatan Ibrahimovic, Sweden
F: Mario Balotelli, Italy
PST Player of the Tournament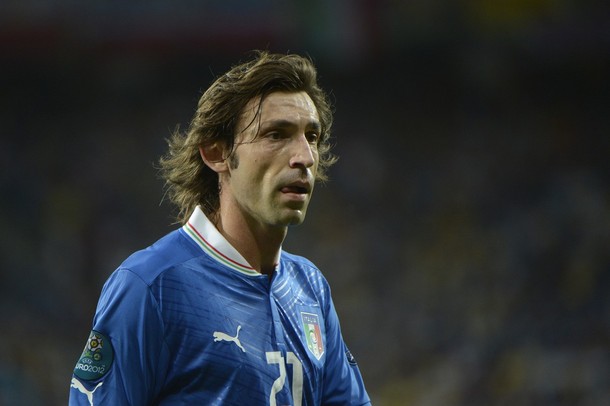 For the third straight championship, there was no true stand out player, with voters left to pick greatness from a number of good candidates. Andrea Pirlo, however, fits a number of different definitions of best player. In terms of absolute quality, he heads the discussion. He was also the most valuable player to a competitive team, and with Italy making the final, his value was part of a team important to the competition. And if you're looking for an emotional angle, Pirlo sustaining his resurgent club success helped revitalize a world power.
For us, he was simply the tournament's best player, and although Xavi Hernández's final performance gave 2008's top performer a late push, Andrea Pirlo gets our nod.
ProSoccerTalk is doing its best to keep you up to date on what's going on in Poland and Ukraine. Check out the site's Euro 2012 page and look at the site's previews, predictions, and coverage of all the events defining UEFA's championship.