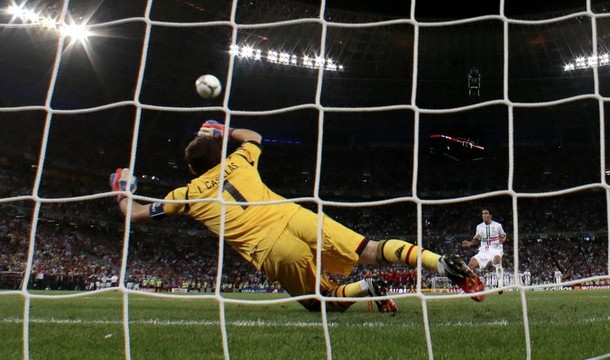 1. You have to win it in the ring
At some point, you have to actually win something, and although Germany's young talent won the European U-21s three years ago, it's been a long time since the senior team actually won anything. As even the casual soccer fan knows after a being bombarded by the fact on Thursday, 1996 was the last time the Germans won a major men's title. While there's nothing wrong with that – you absolutely have a successful program without winning anything – Germany's set higher standards. They planned to win Euro 2012, a plan most of us bought into.
But as everybody knows, a funny thing happened on the way to Germany's coronation, but rather than leaving us questioning how it happened (Italy's win was pretty self-explanatory), we're left examining why we so while-heartedly bought into the narrative that had yet to play out. How did we all become sold on Germany, and (more importantly) what mistakes led us to that state?
We probably over-valued Germany's defense, took Bastian Schweinsteiger's health for granted, and perhaps didn't have enough skepticism of Mario Gómez slotting into Miroslav Klöse's role. More than anything, we believed the young talent would work before seeing them knock off a world class international team.
It's an understandable mistake, given what we've seen from these players at club level. But it's still a lesson to take to heart. Germany had beaten England, Argentina, Uruguay, and the Netherlands in major international competition, but they had also lost to Spain the last time the teams met with something on the line (semifinals, World Cup 2010). That should have at least given us caution. Yes, they've had some impressive wins, but they need to do a little more before we anoint them.
2. Winning isn't everything
Five matches, two wins, and a spot in the finals? It doesn't sound fair until you attach Italy's name to it. They've certainly earned their place in Sunday's decider, even if an ideal world would have the finalists winning most of their games.
It's a reminder that, for all the plaudits they've earned this tournament, Italy are far from great. They're experienced, well organized, resourceful and (as evidenced against Germany) capable of a great performances, but it's still unclear how good they actually are. Though they seem to have a knack of bringing out the worst in their opponents, Italy still seems like a team that can be beaten if a good team (like Spain) can play to their potential)
How good Italy appear to us has little bearing to Sunday's final, nor should it detract from the story they've written to get there. If anything, it makes the story more compelling.
3. Can't get there without a little luck
Penalty kicks aren't a lottery. Some players are better than others at taking them. Some goalkeepers are better than others at stopping them. Just because penalty kicks level the playing field, giving the less-talented team a better chance of winning the match, doesn't mean they're a lottery. Unless I have no clue what the word lottery means. (Side note: That this paragraph needed to be written makes me very sad.)
That doesn't mean there aren't some strange things that happen in shootouts. Take Wednesday's tiebreaker, when Bruno Alves apparently forgot he was fourth in Portugal's order. Did having to be pulled back (after he'd approached to take the third kick) throw him off? Though unlikely, it may have provided the small percentage point push that moved the shootout in Spain's direction. Even if it didn't, Spain still dodged a bullet in getting through kicks.
Streaks like Spain's (now 10-straight knockout round wins at major tournaments) are almost always a combination of skill and fortune. Italy losing on kicks in 2008, John Heitenga seeing red in South Africa, Cristiano Ronaldo skying an open shot on Iker Casillas at the end of regulation on Wednesday – they're all points were capabilities and circumstances converge. The influence of neither should be overlooked.
ProSoccerTalk is doing its best to keep you up to date on what's going on in Poland and Ukraine. Check out the site's Euro 2012 page and look at the site's previews, predictions, and coverage of all the events defining UEFA's championship.